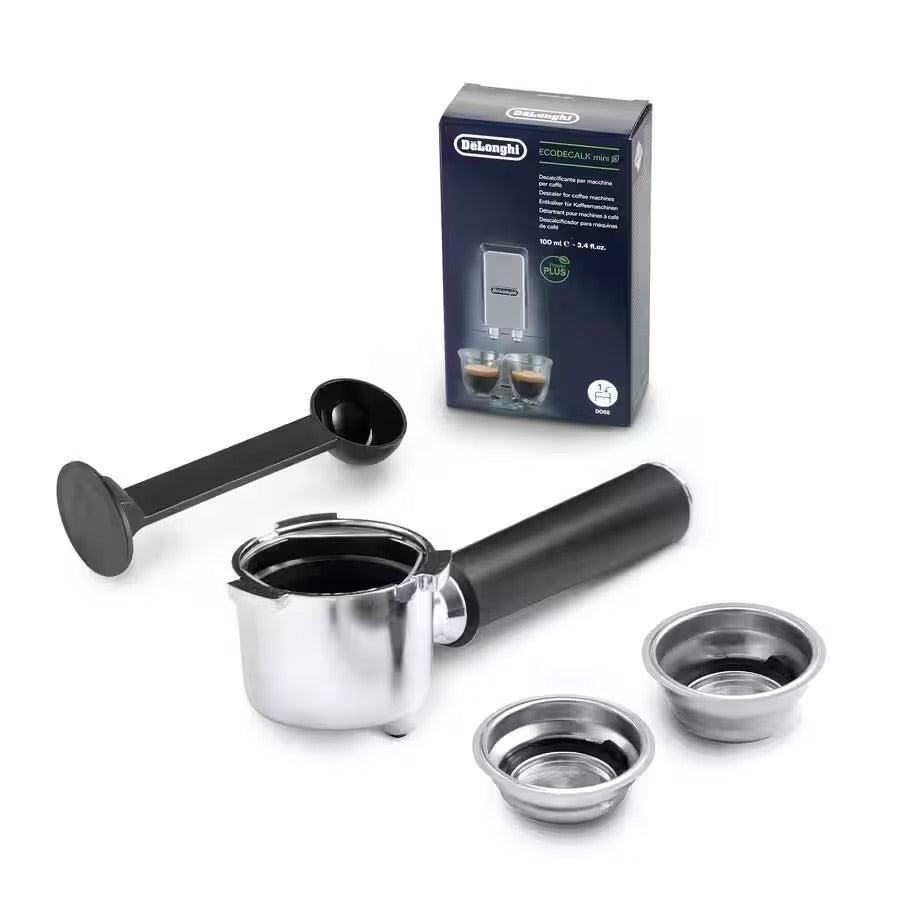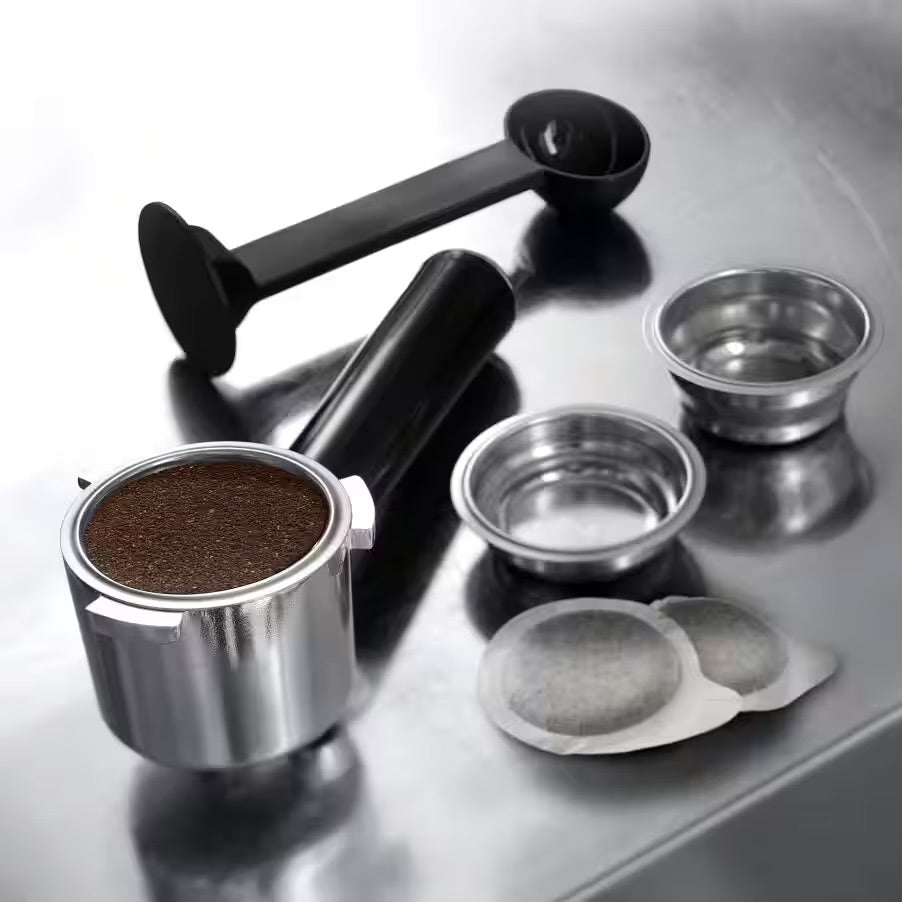 Delonghi Dedica EC695M Brushed Aluminum
The DELONGHI Dedica EC695M espresso machine is a concentrate of technology designed to offer you an exceptional espresso
The DELONGHI Dedica EC695M espresso machine in Brushed Aluminum is the economical solution for preparing quality espresso at home! Thanks to its innovative thermoblock, the water heats up quickly, allowing you to prepare an espresso in record time, around 35 seconds. The backlit control panel, equipped with 3 buttons, makes the Dedica espresso coffee machine easy to use. It is always ready thanks to its self-priming system. The Delonghi Dedica EC695M coffee machine offers you a multitude of customization possibilities. You can adjust the coffee temperature according to your preferences, choose the water hardness, select the shutdown time of the espresso machine thanks to its automatic shutdown function. You can also program and store the desired quantity for a personalized cup of coffee each time you prepare it. Finally, its steam nozzle allows you to prepare creamy milk drinks as desired.
Type of coffee machine: Espresso machine
Material: stainless steel coffee machine
Pressure 15 bars
Water tank capacity: 1L
Removable steam nozzle
Dimensions: L149x D330x H305 mm
Weight: 4.2kg
Filter type: 1 cup or 2 cups
Color: Brushed Aluminum
Energy rating: A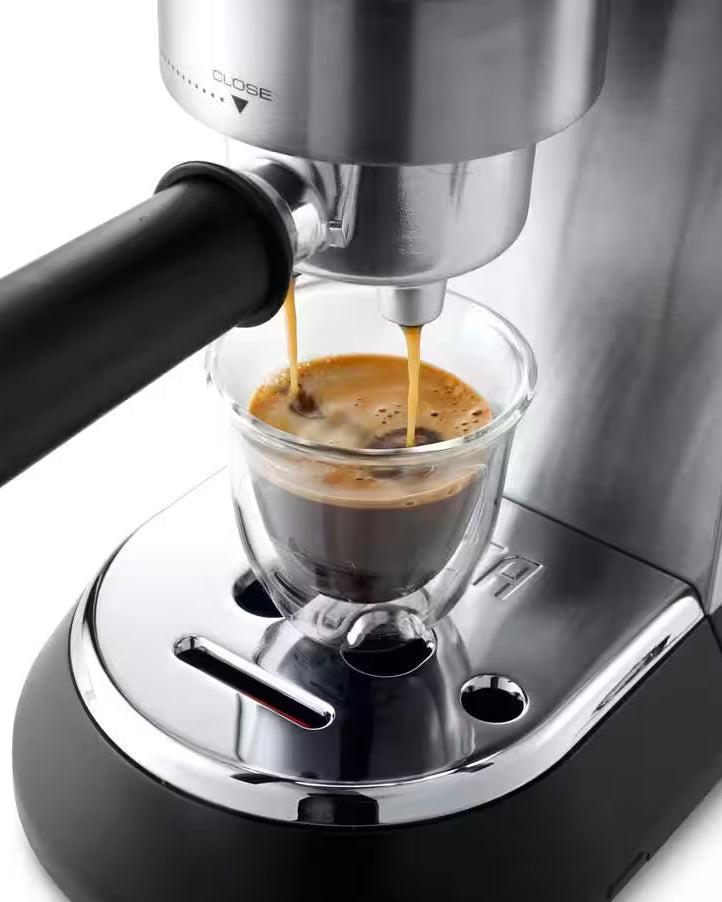 Choosing the grind for your espresso
When making espresso coffee with the Delonghi Dedica EC695M coffee machine, it is recommended to use specialty pure Arabica coffee beans and use a fine to very fine grind. This fine grind allows for optimal extraction of aromas and oils from the coffee beans, ensuring concentration and richness of flavors that are the distinctive characteristics of espresso. However, if you prefer a smoother espresso, you can try grinding the coffee beans a little coarser.
For an unrivaled coffee experience, we recommend Araku Sélection organic specialty coffee: its intense roasting is particularly suitable for lovers of full-bodied espresso.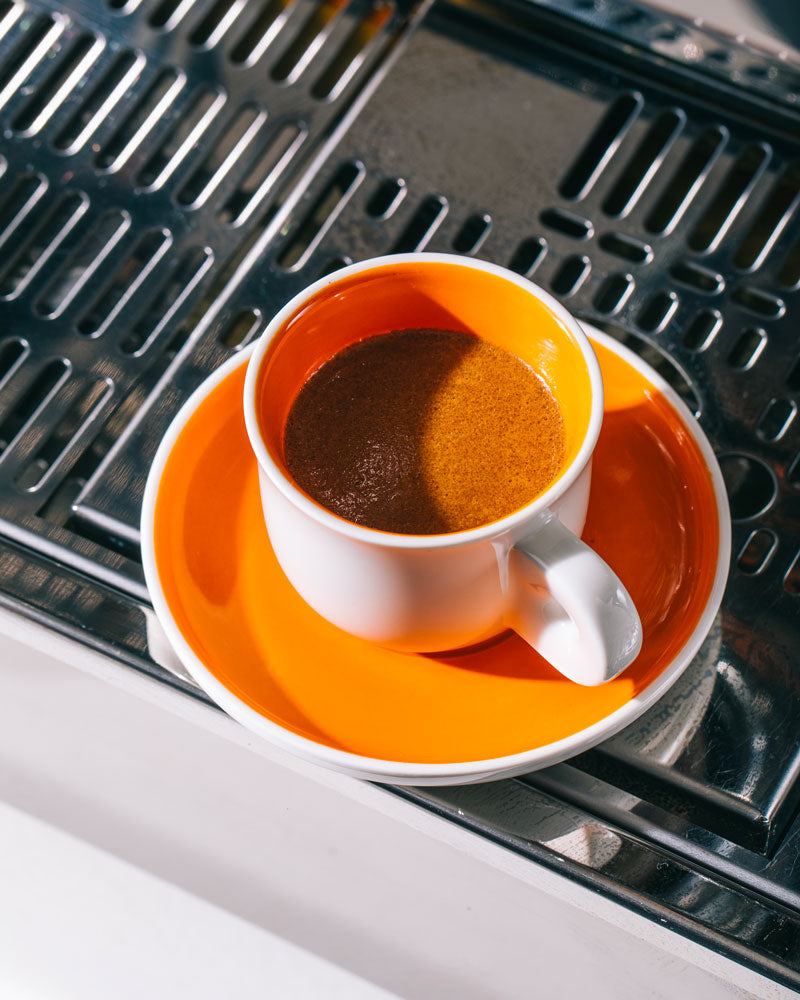 The importance of using a tamper for espresso
If you want to use the Delonghi Dedica EC695M espresso machine, tamping is important to obtain quality espresso. It guarantees uniform extraction, prevents the formation of unwanted water channels and achieves a balanced flavor and rich crema. Tamping also controls the extraction rate to refine the flavor profile of your cup. The standard pressure for tampering is 9 bars, or 9 kilos of pressure to be exerted with the tamper on the ground coffee in the filter holder.
Espresso quality is influenced by several key factors. The quality and freshness of the coffee beans, proper grind, the right amount of coffee, proper extraction pressure, water temperature, extraction time, preheating of the machine and cups, as well as as regular maintenance of the machine. By taking these things into account, you can achieve high quality espresso. Easy !
The brushed aluminum reservoir of the Delonghi Dedica EC695M espresso machine can hold up to 1L of water.
After each use, it is important to carefully empty and rinse the filter holder, filter and brewing group of your espresso coffee maker. Scale can build up over time and affect the performance of your Delonghi Dedica coffee machine. Follow the manufacturer's instructions to regularly perform a descaling cycle using a specific product. Also be sure to clean the water tank and nozzle.