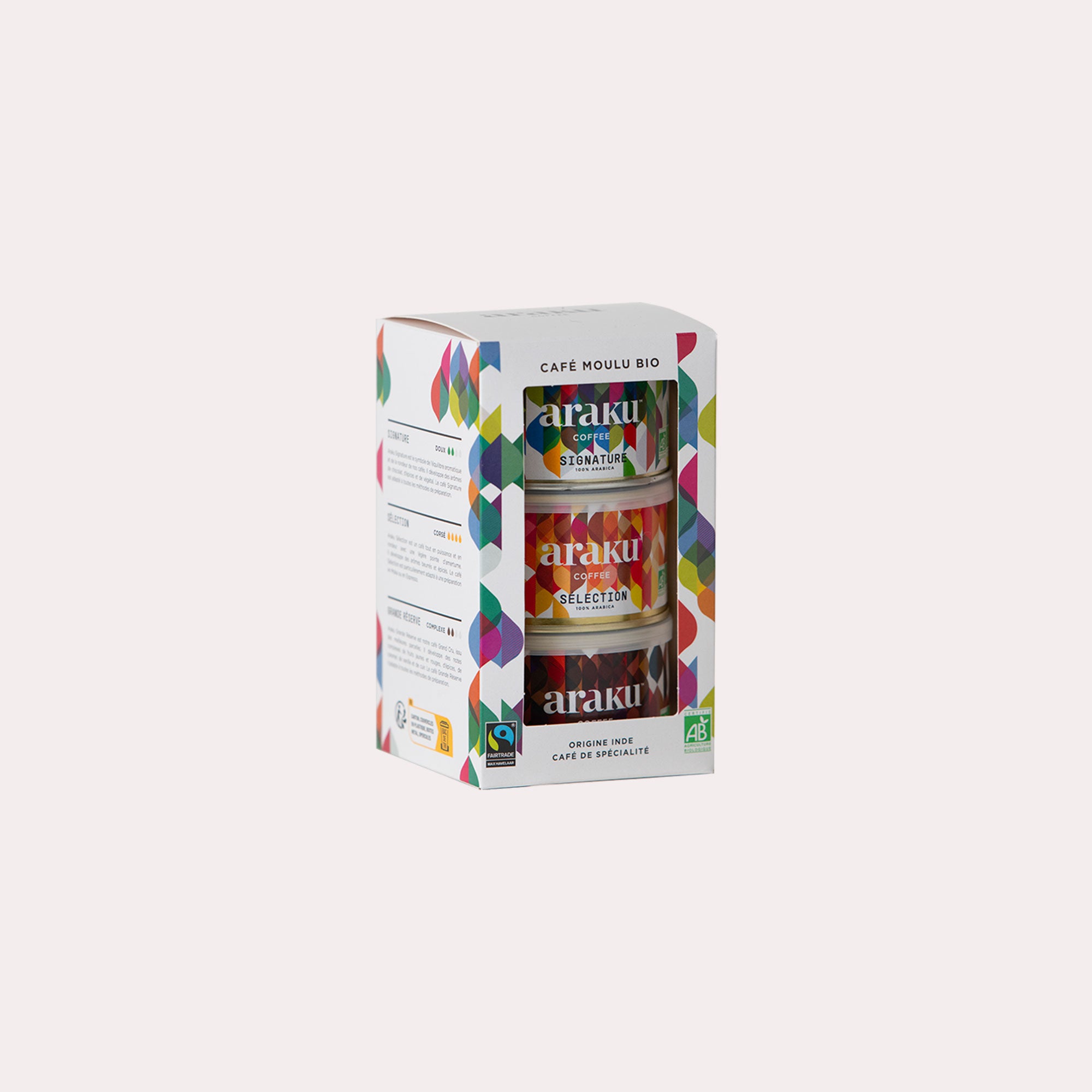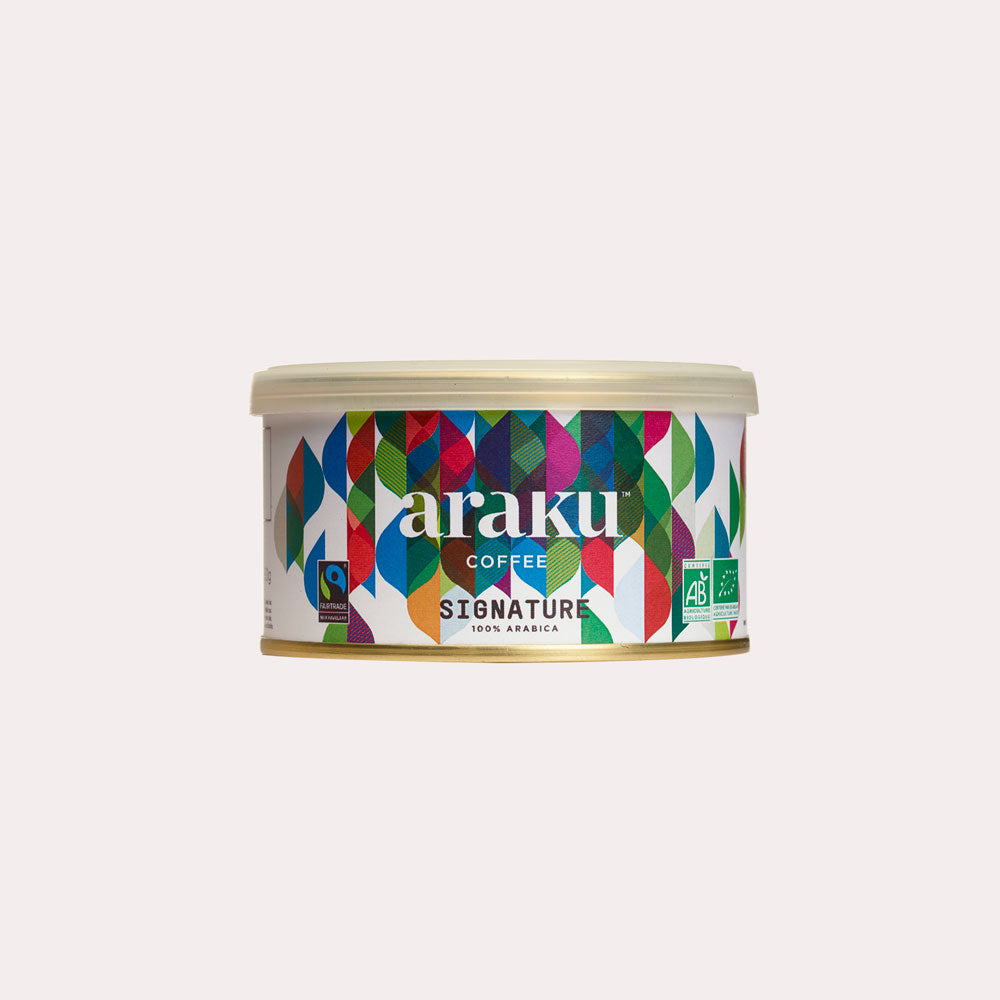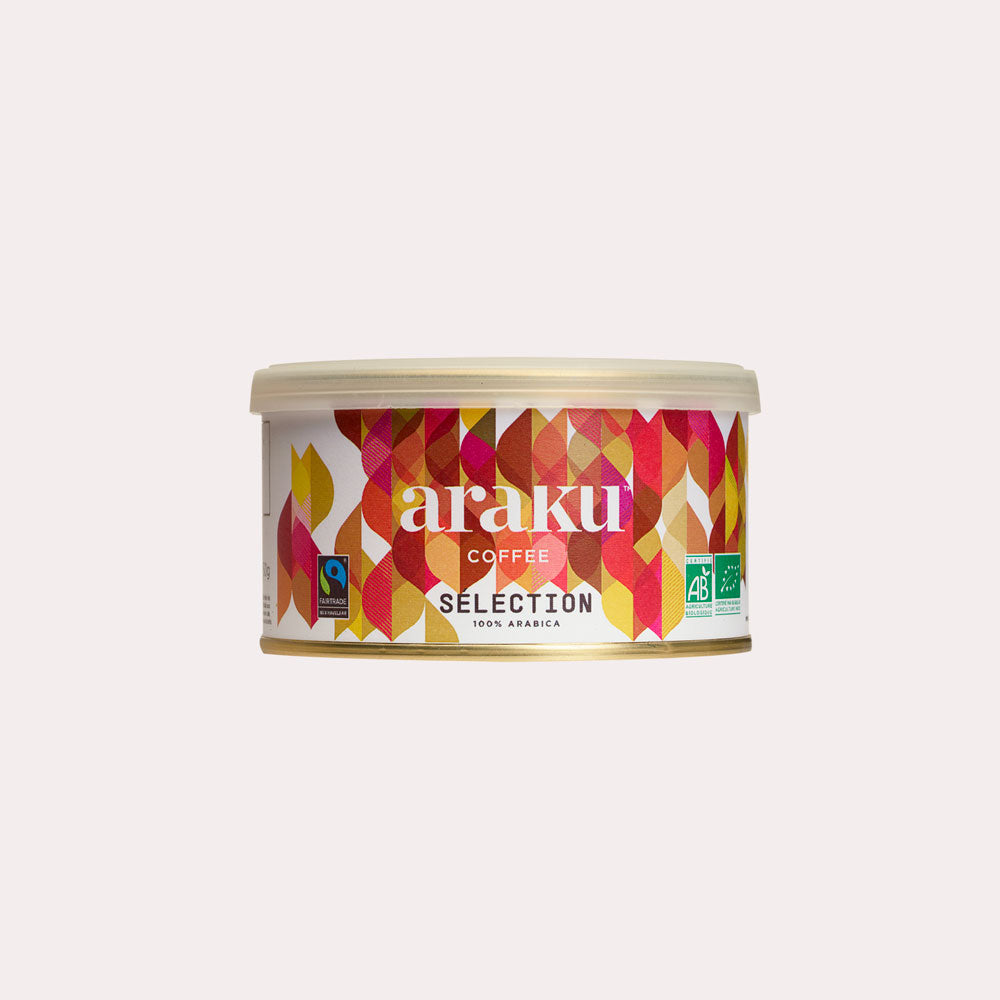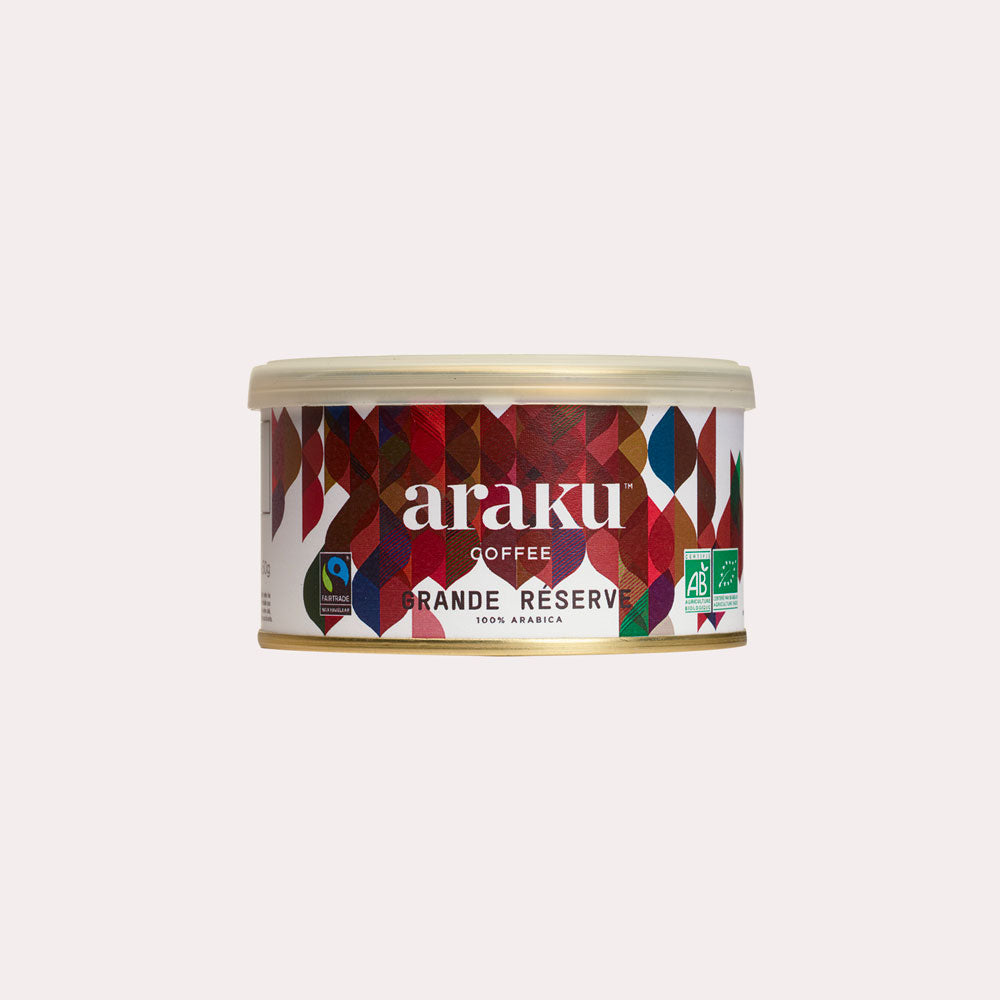 Chhota Ground Coffee - 3 Tin 50G
Miniature coffee box of 3 tin of 50g of ground coffee bringing together the 3 great classics from the Araku range.
Recommended preparation methods:

Enter the Araku adventure with this discovery coffee box bringing together our 3 50g miniatures of ground specialty coffee. Signature medium roast specialty coffee combining sweetness and balance. The specialty coffee selection for lovers of strong espresso. And finally, the Grand Reserve, Araku's grand cru coffee, from the best plots. These three organic specialty coffees are rated +86 by the specialty coffee association.
Signature Coffee: Notes of chocolate, green pepper and vegetal.
Selection Coffee: Notes of caramel, butter and dark chocolate.
Grand Reserve Coffee: Complex notes of yellow and red fruits, caramel, vanilla and leather.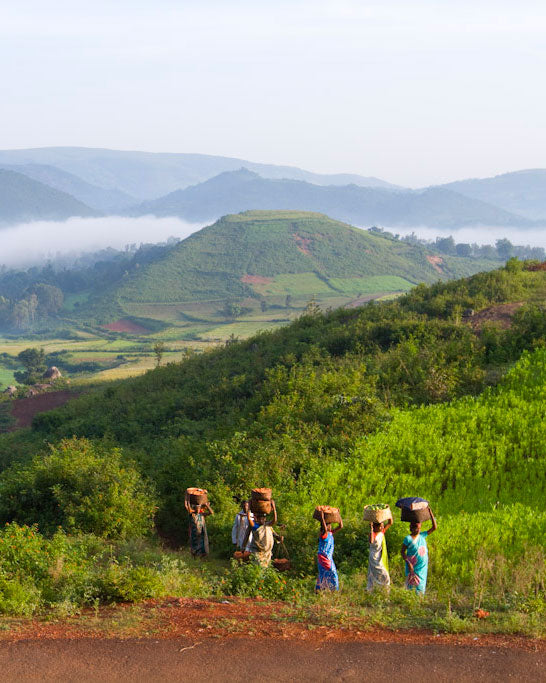 Agroforestry: organic and sustainable coffee
Specialty coffee plantations that aim to grow environmentally friendly coffee rely on agroforestry as a sustainable and necessary solution. This agricultural practice consists of combining the cultivation of shrubs with the cultivation of trees which provide them with the necessary shade. This helps create a harmonious ecosystem where trees and plants coexist in balance, creating habitats for various species. This practice is particularly beneficial for agricultural operations because it promotes biodiversity.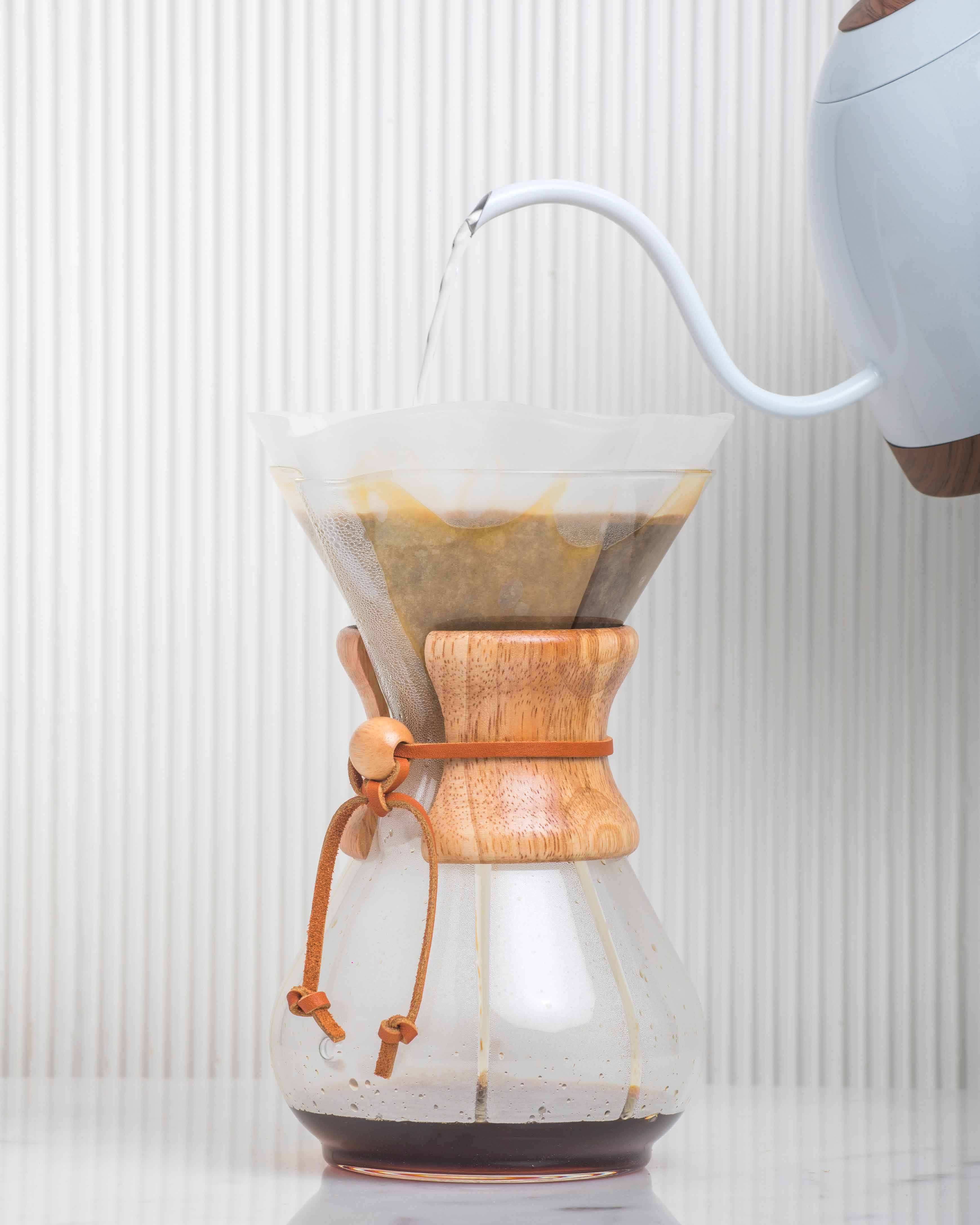 Make your filter coffee a success with a Chemex
To brew filter coffee using the Chemex method, here are the recommended steps: Start by folding the paper filter and placing it in the Chemex coffee maker. Pre-wet the filter with hot water to remove unwanted flavors, then discard the water. Add 20g of previously ground coffee beans to the filter. Pour hot water (around 92-94°C) in three stages, starting with a "bloom" of 15 to 20 seconds. Then pour the rest of the water in a spiral, starting from the center towards the edge of the filter. Once finished, remove the filter and enjoy your freshly brewed specialty coffee.
Grinding your Grande Réserve organic coffee beans properly is the key to a successful specialty coffee. In fact, the grind obtained from organic coffee beans must be more or less fine depending on the preparation methods. To prepare pure Arabica coffee beans with a Chemex coffee maker, it is recommended to use a medium to coarse grind. This grind allows you to obtain a balanced infusion, where the aromas fully develop. A grind that is too fine could result in over-extraction and coffee that is too strong, while a grind that is too coarse could result in coffee that is weak in flavor.
The best brewing method for specialty coffee depends on personal taste and aroma preferences. Different preparation methods highlight different characteristics of pure Arabica Grand Reserve coffee:
- Espresso: Intensity, richness, notes of bitterness, chocolate, caramel and ripe fruit.
- French press: Full-bodied, full body, notes of essential oils, rich flavor.
- Pour-over (filter): Clarity, delicacy, subtle notes of flowers, citrus and tea.
- Aeropress: Smooth, clean flavor, bright fruit notes, delicate aromas.
- Siphon (vacuum pot): Purity, complexity, notes of fresh fruit, herbs and flowers.
- Chemex: Clear and clean coffee, delicate and subtle notes, floral and fruity aromas.
To meet your needs, Grand Cru Grand Reserve specialty coffee is available in several formats: 200G box of coffee beans or ground, 200G bags of coffee beans or ground and 1kg bag of coffee beans.