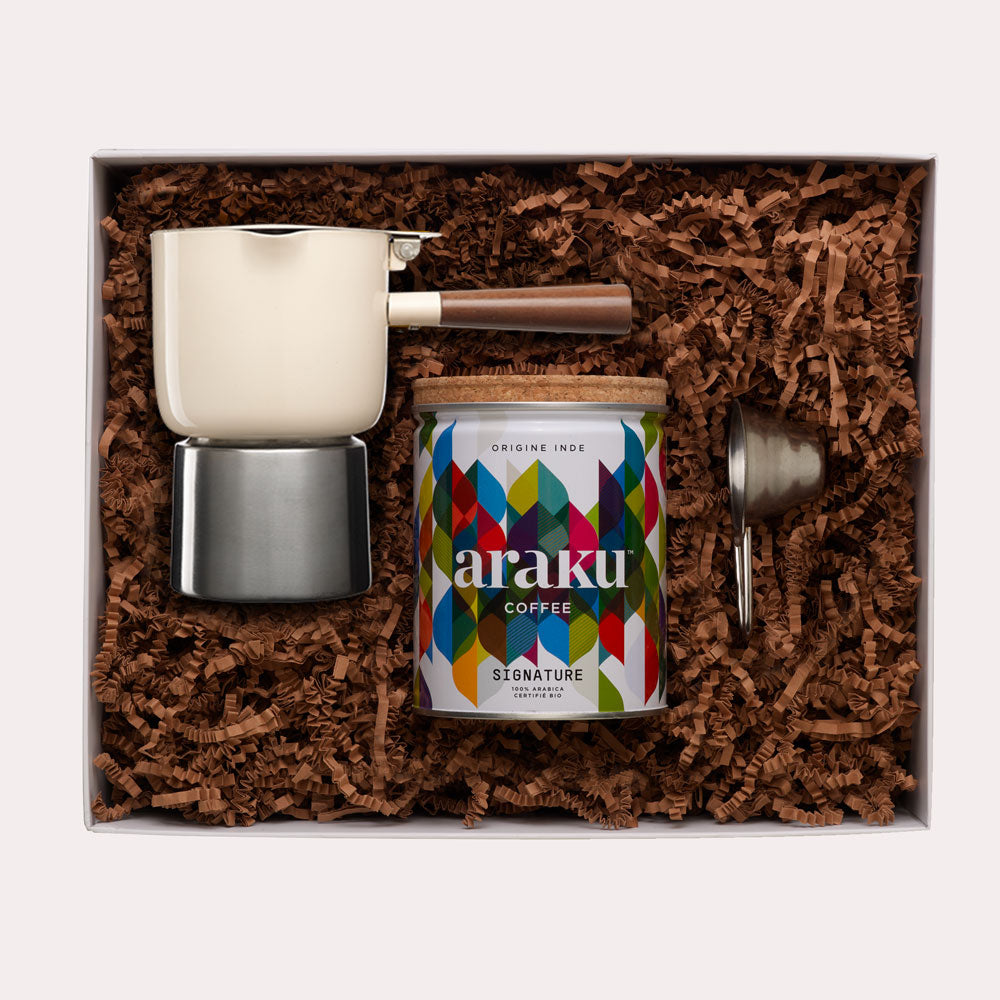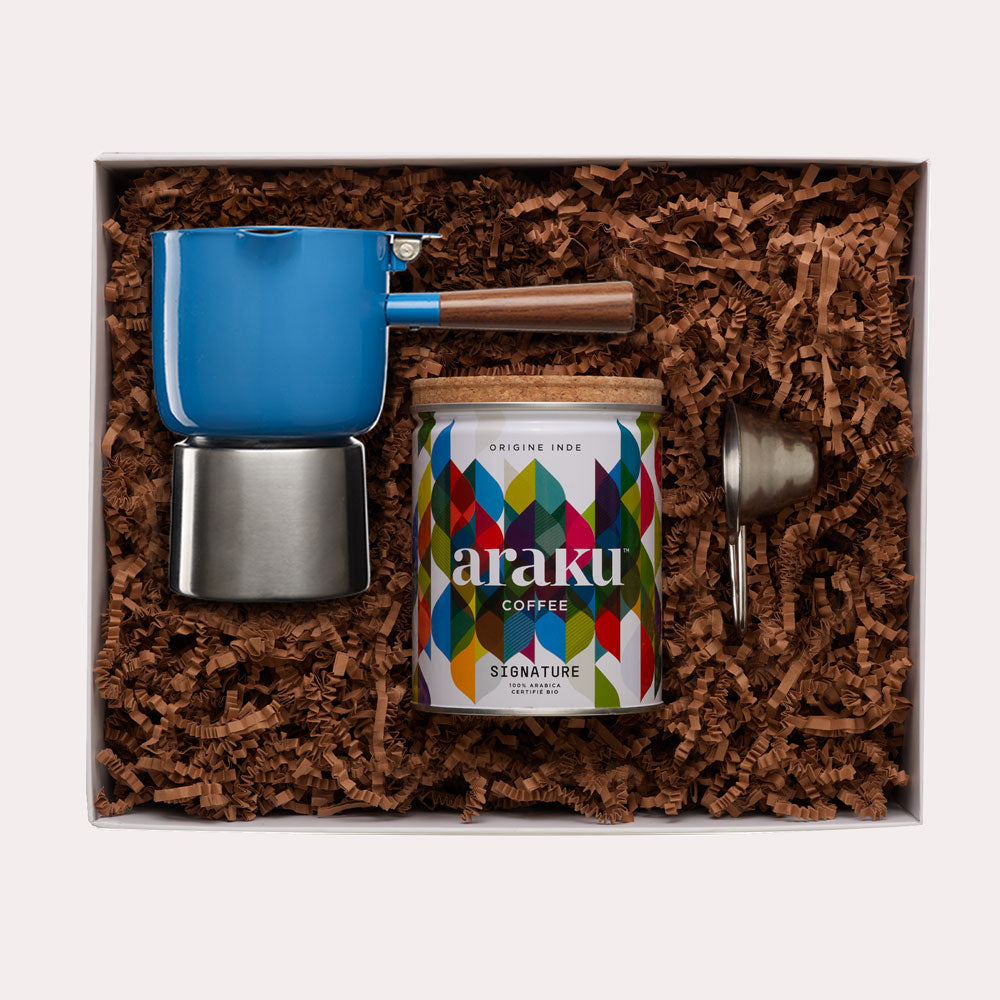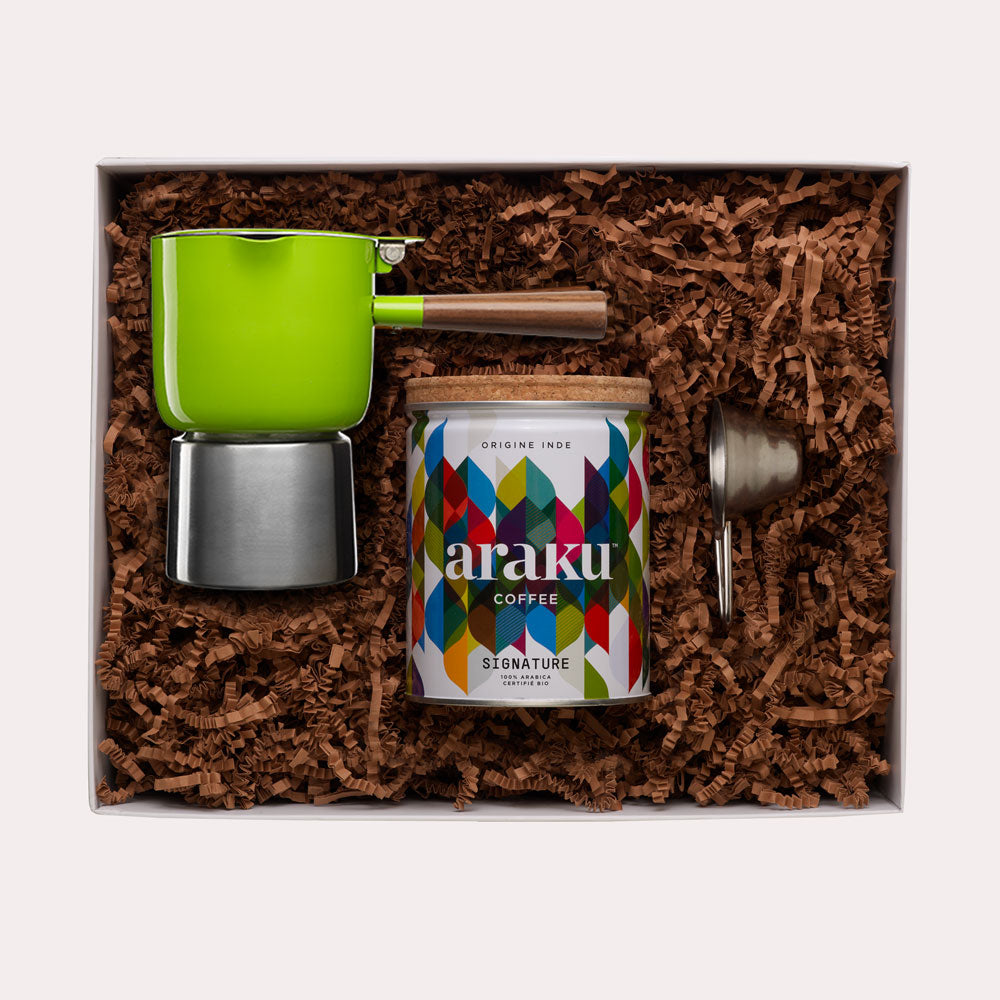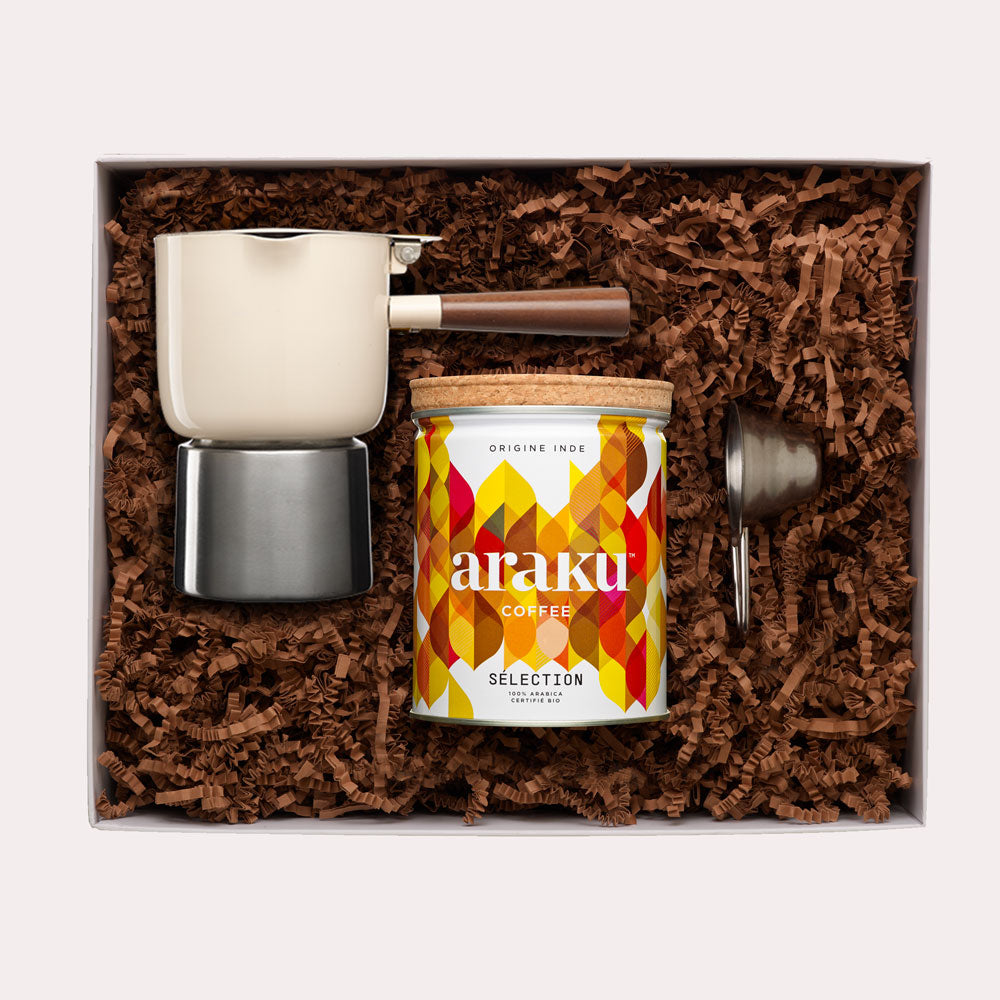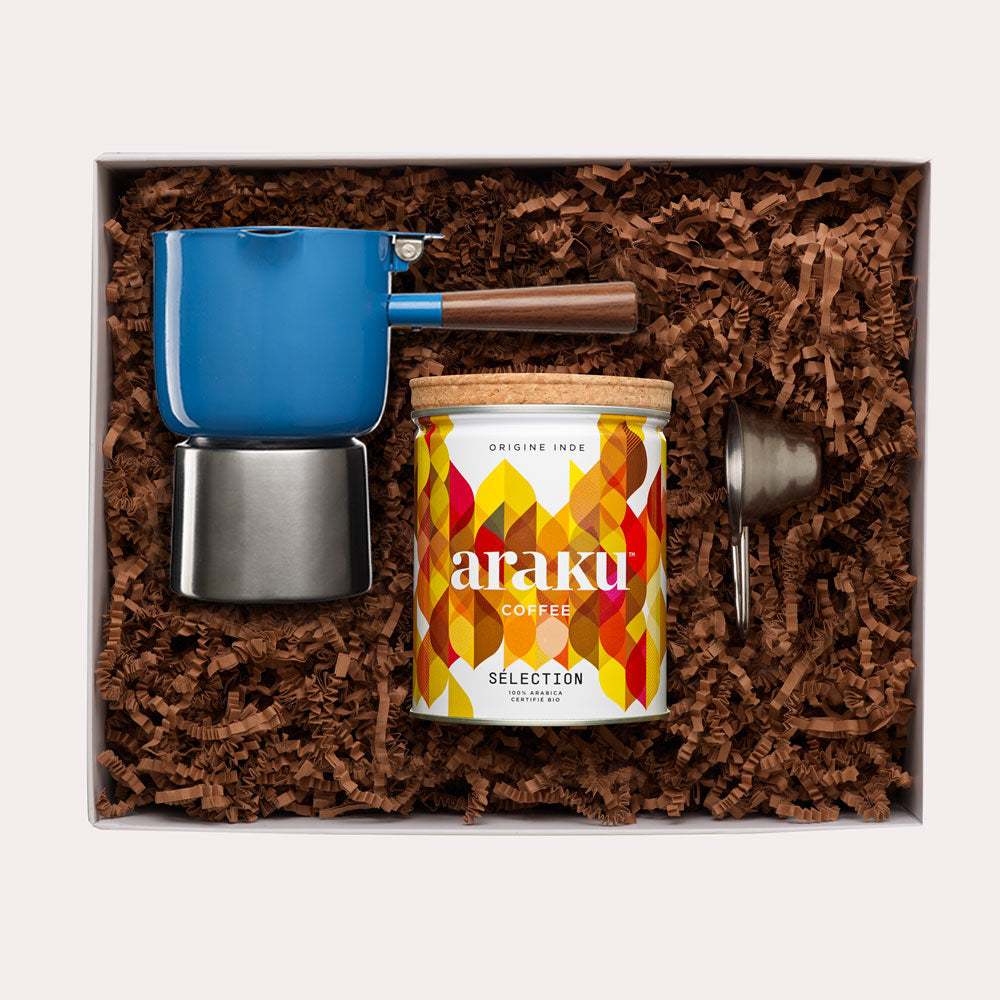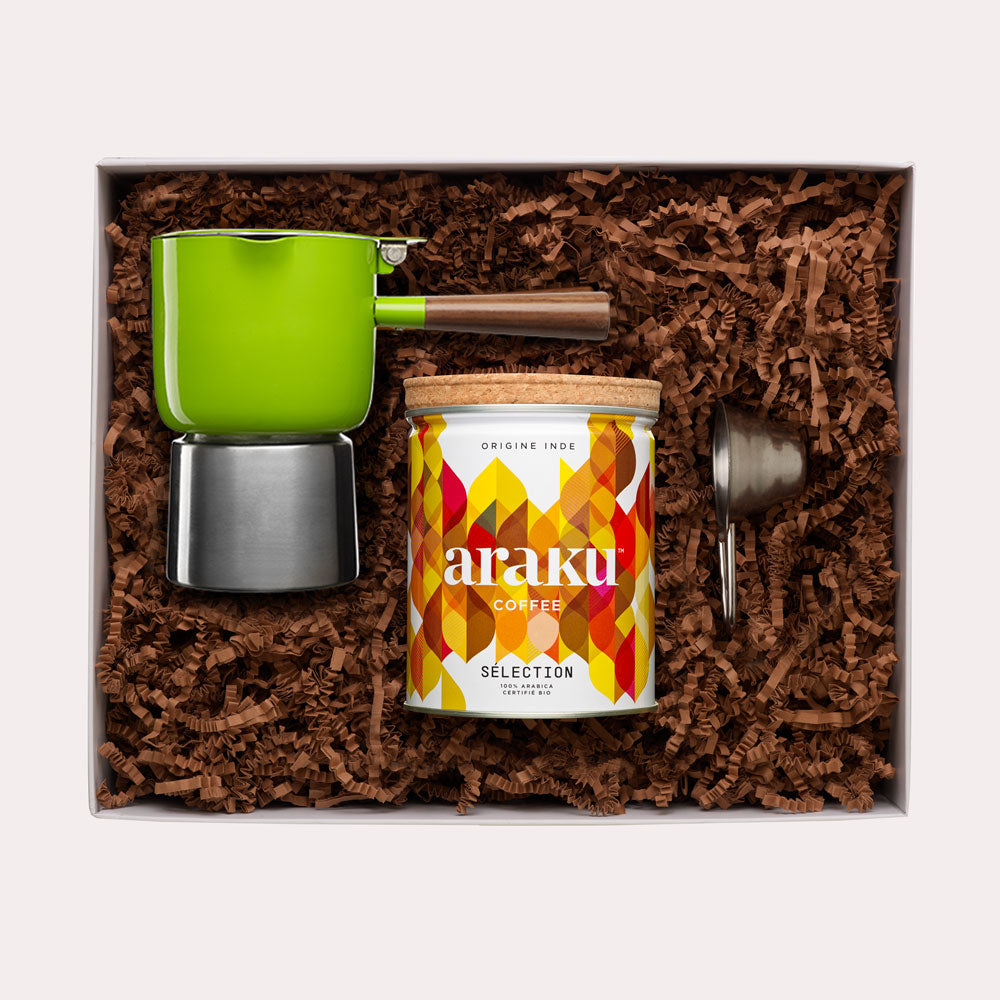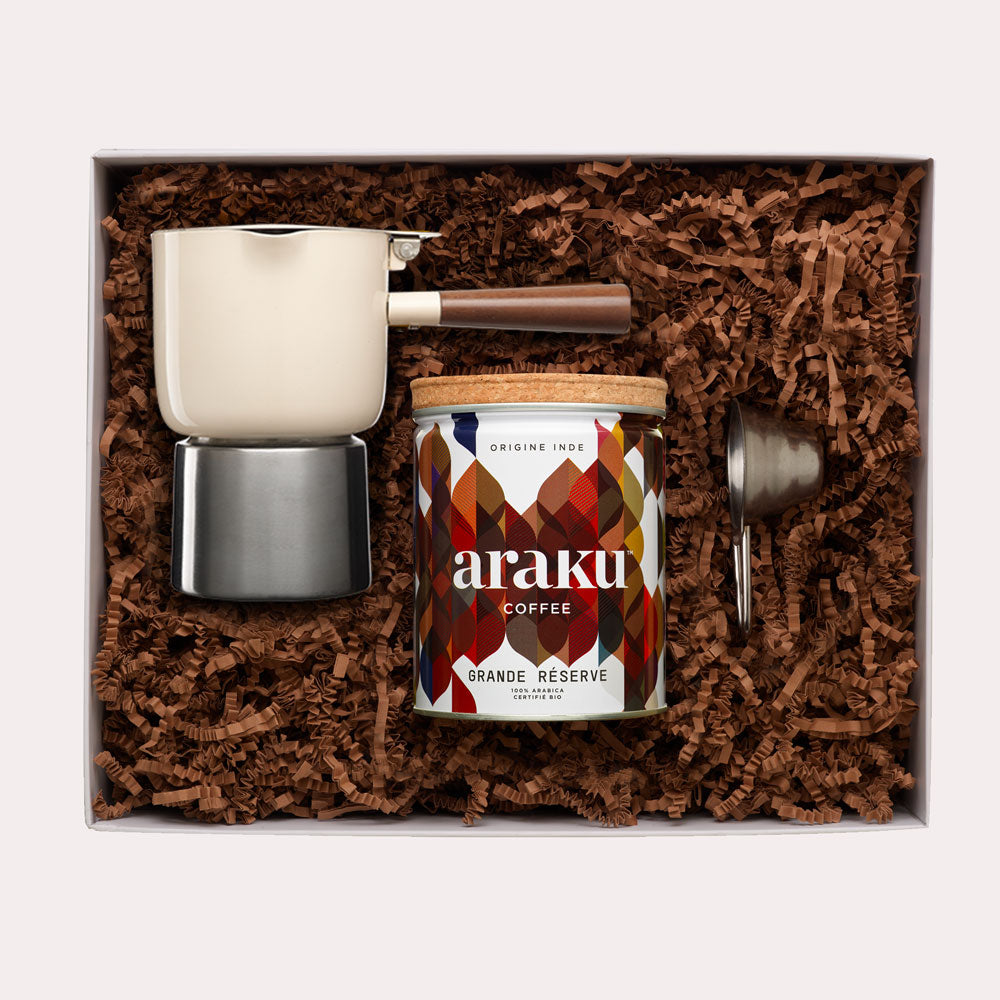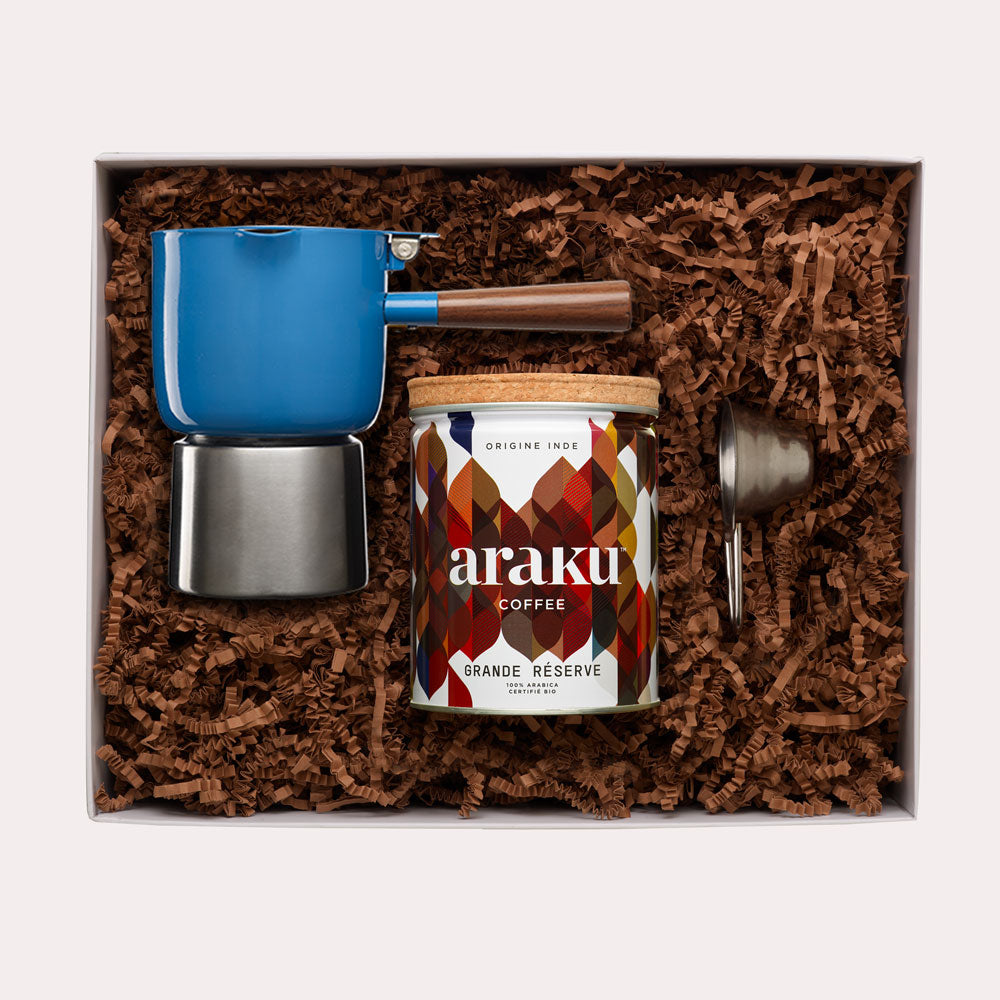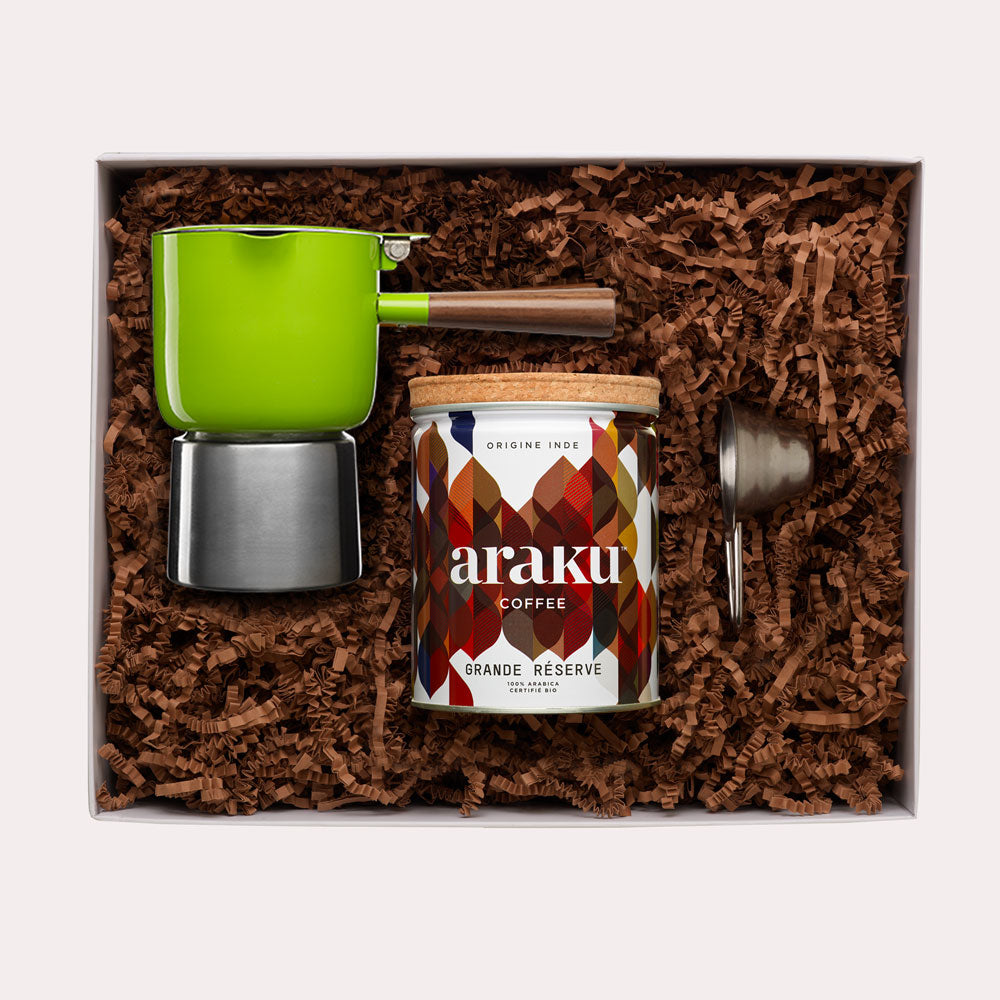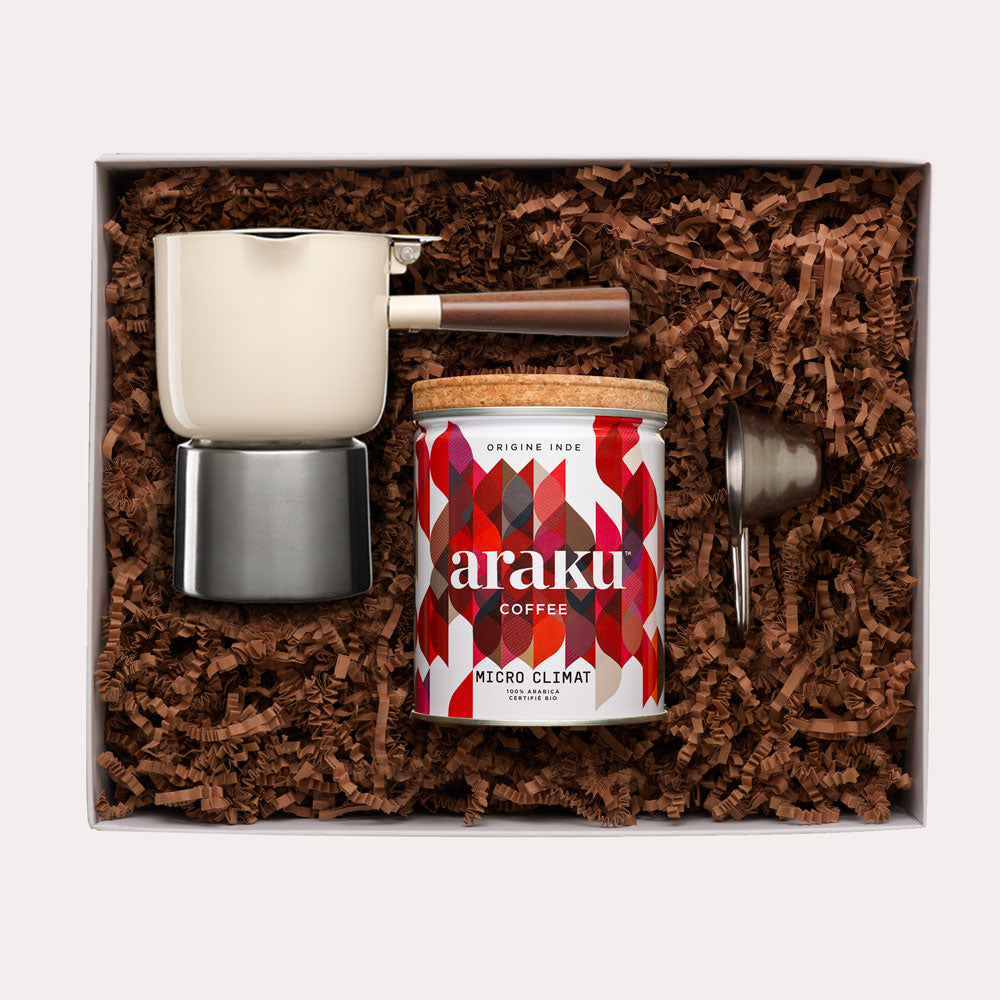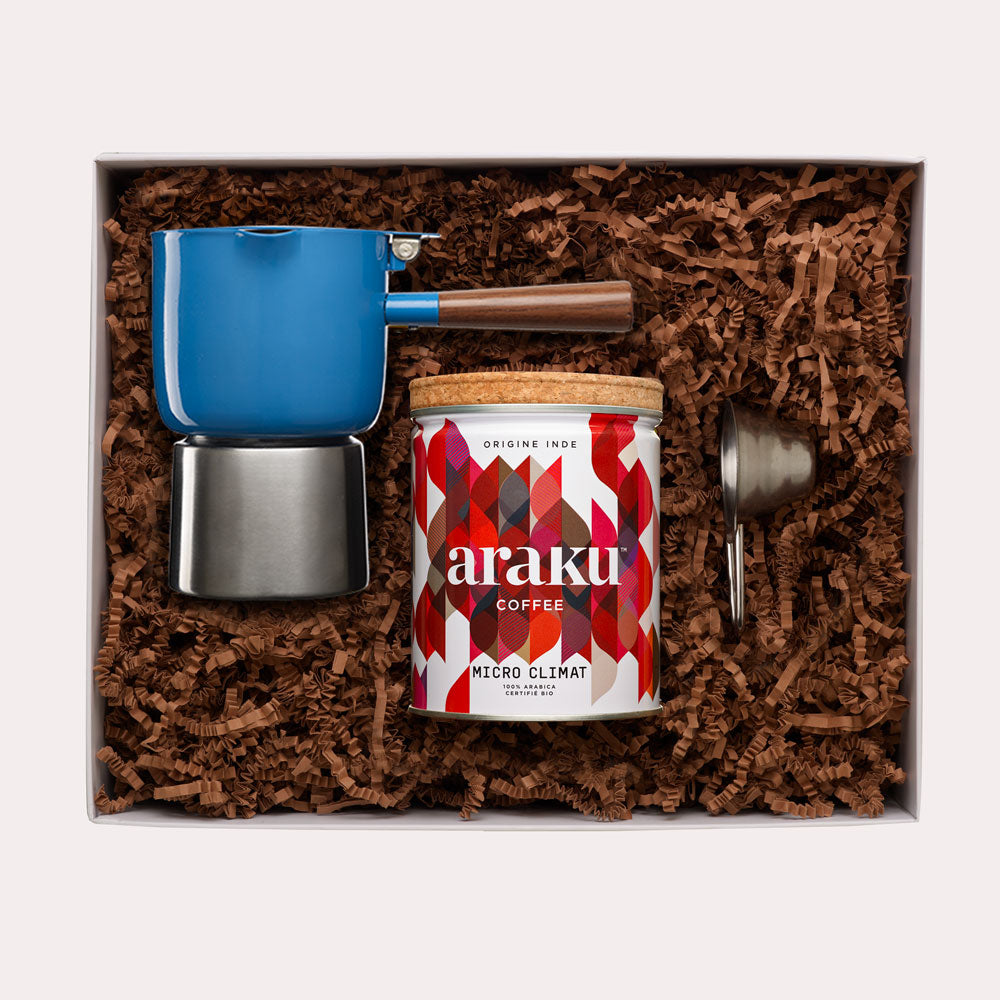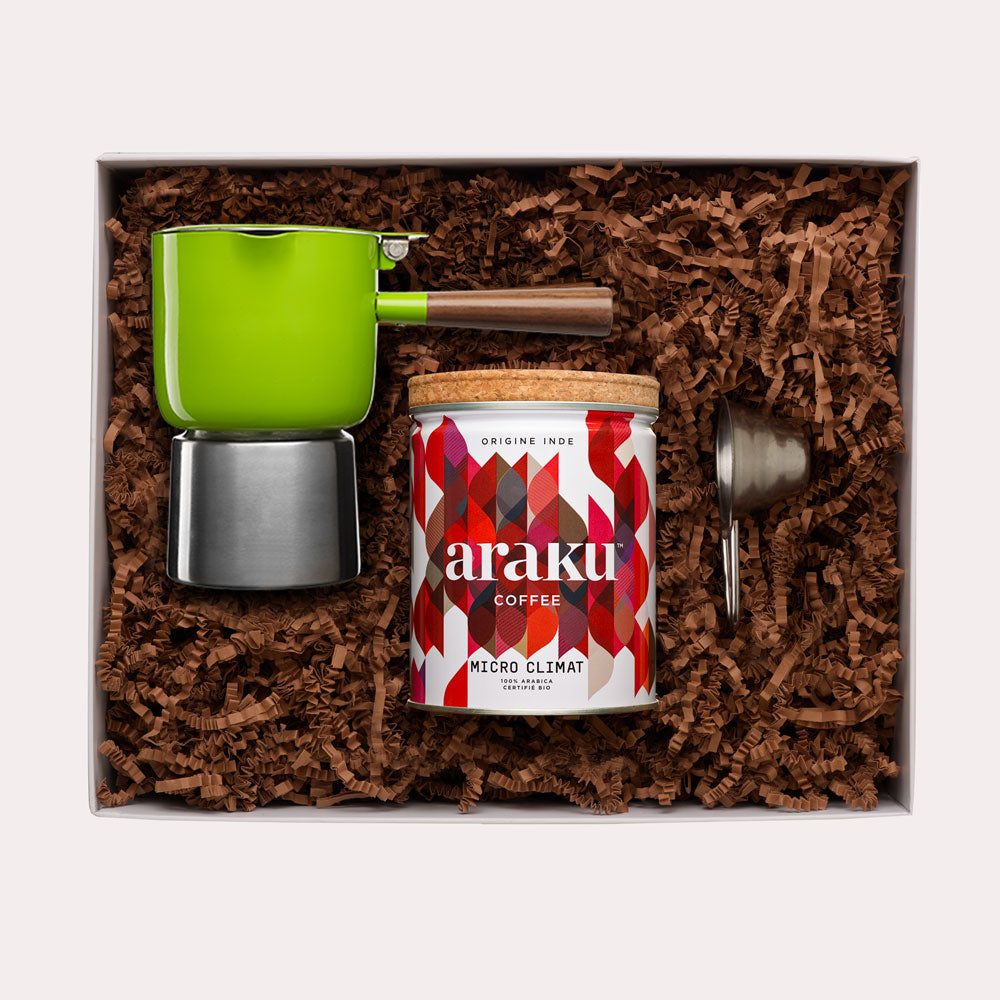 Korsika Ground Coffee - 200G Tin
Coffee box including an Italian coffee moka, a measuring spoon and a tin of Araku specialty coffee of your choice.
An all-in-one coffee set, perfect for preparing your Araku specialty coffee in style. An Italian coffee maker designed in collaboration with Anderssen&Voll in the color of your choice, accompanied by a 200g box of ground coffee (Signature, Selection, Grande Réserve and Micro Climat) and a measuring spoon. Inspired by traditional Japanese teapots and the biodiversity of Araku, the Moka Araku Italian coffee maker offers optimal extraction of the aromas of your ARAKU specialty coffee.
Signature Coffee: Notes of chocolate, green pepper and vegetal.
Selection Coffee: Notes of caramel, butter and dark chocolate.
Grand Reserve Coffee: Complex notes of yellow and red fruits, caramel, vanilla and leather.
Micro-Climate Coffee: Almost candied red fruit and a touch of bitterness.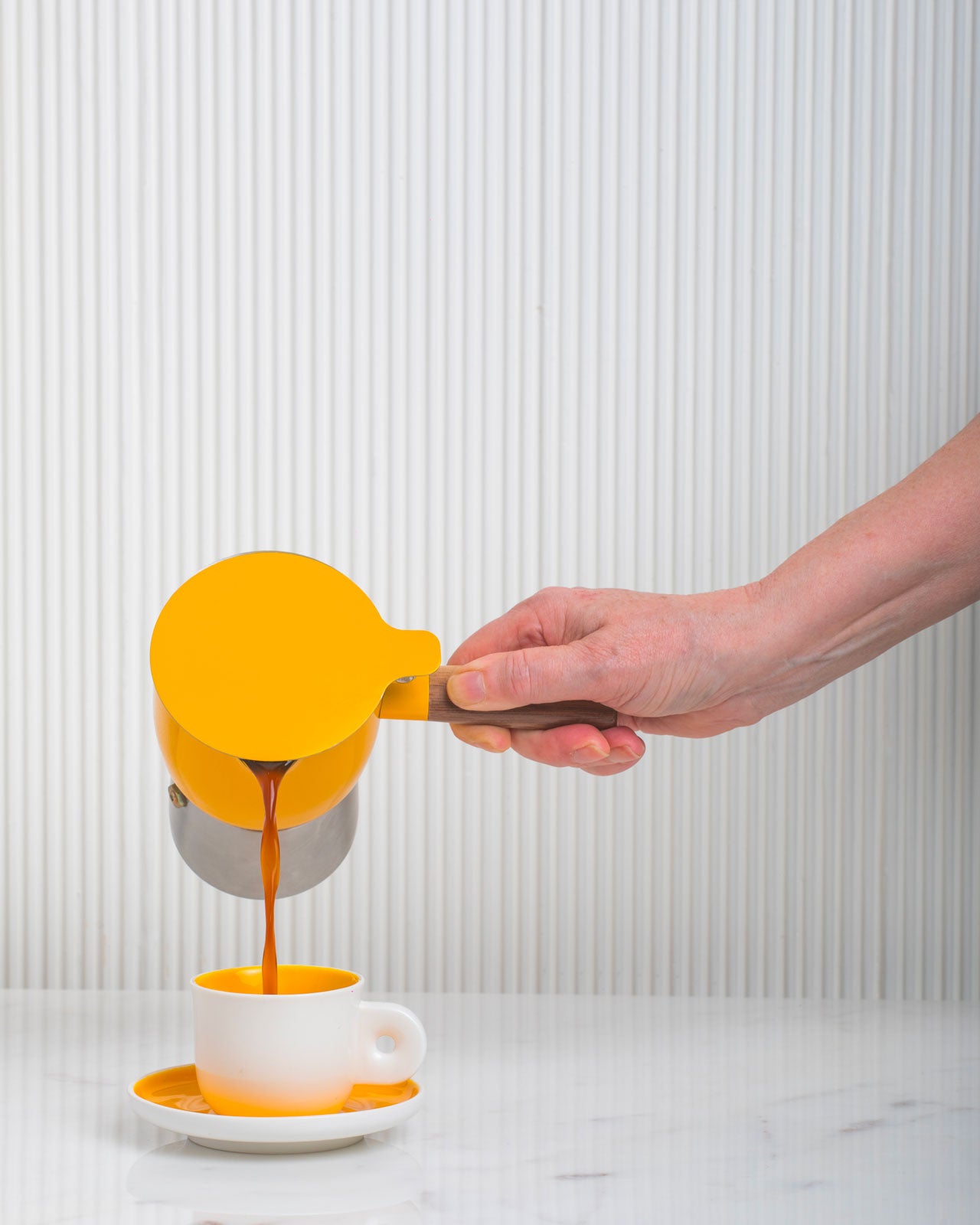 Make your coffee a success with an Italian coffee moka
Discover the delicious, rich and full-bodied coffee of the Moka Araku Italian coffee maker, which will charm you. To prepare a perfect cup, here are the tips from our baristas. Fill the lower chamber with water to the safety valve, add 11-14g of finely ground coffee to the coffee basket, then assemble the Moka coffee maker and place it over a low flame. Let it brew for 3.5-4 minutes until the coffee is ready. Finally, remove the coffee maker from the heat and enjoy your delicious cup of coffee!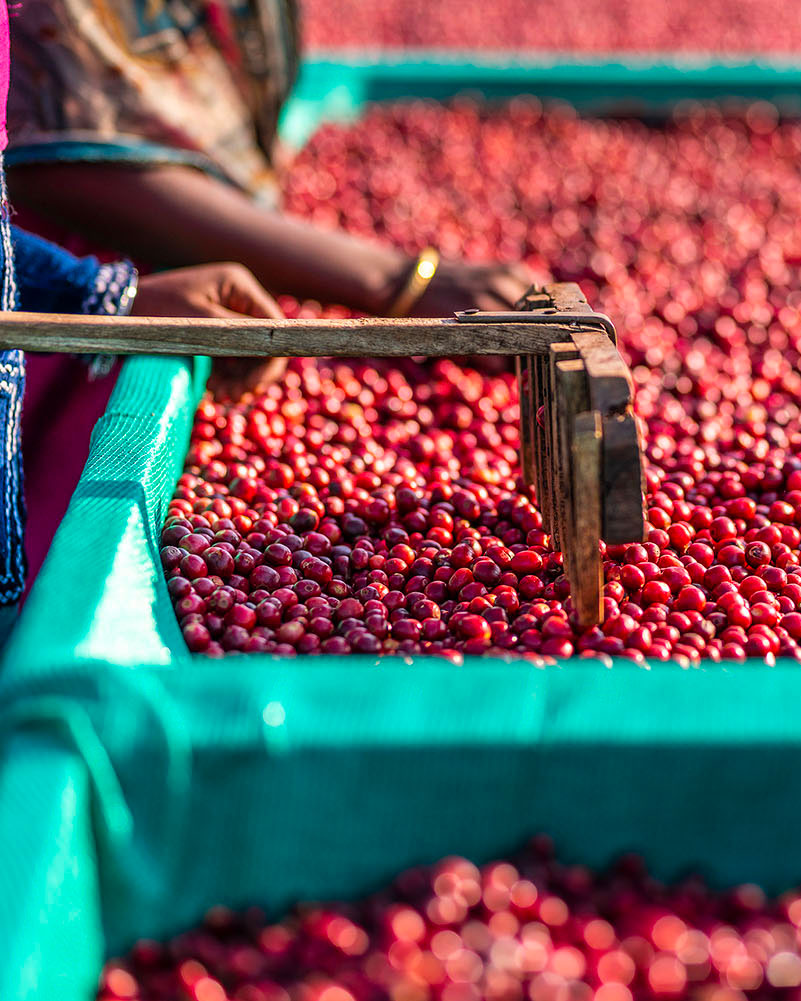 Specialty coffee: luxury coffee
To rank among the world's best coffees, specialty coffees must pass a demanding sensory assessment according to the strict standards set by the Specialty Coffee Association (SCA), obtaining a minimum score of 80 out of 100. This assessment confirms their excellence, their unique flavors and their careful preparation. Being recognized as a specialty coffee is indisputable proof of its quality. Today, all Araku organic coffees are specialty coffees rated between 86 and 88.5.
Anderssen & Voll is a Norwegian design studio founded by designers Torbjørn Anderssen and Espen Voll in 2009. Their design expertise covers textile design, table accessories and electronic furniture, working with renowned design brands. Their minimalist and functional approach to design is reflected in their creation of the Moka Araku Italian coffee makers. These stylish coffee makers come in vibrant colors and add a touch of elegance to your coffee.
Let us guide you in selecting the perfect specialty coffee for your Araku Italian coffee maker. The ideal roast level is between medium and strong, which results in rich, bold flavors. For optimal extraction, you should choose a fresh, fine to medium grind. Our Araku Selection organic coffee is distinguished by its pronounced full-bodied notes, if you are looking for something more balanced and rounder, Grande
Reserve coffee is for you.
It is recommended to disassemble all the parts of our blue Araku Moka Italian coffee maker and rinse them with hot water after each use. Avoid using soap or detergents, as they may alter the flavors of specialty coffee. It is also important to clean the rubber seal and filter regularly to remove coffee residue and prevent deposit buildup. Additionally, be sure to dry all parts thoroughly before reassembling them to prevent mold from forming. Regular maintenance and proper cleaning ensure the proper functioning of the Italian coffee maker and extend its lifespan.