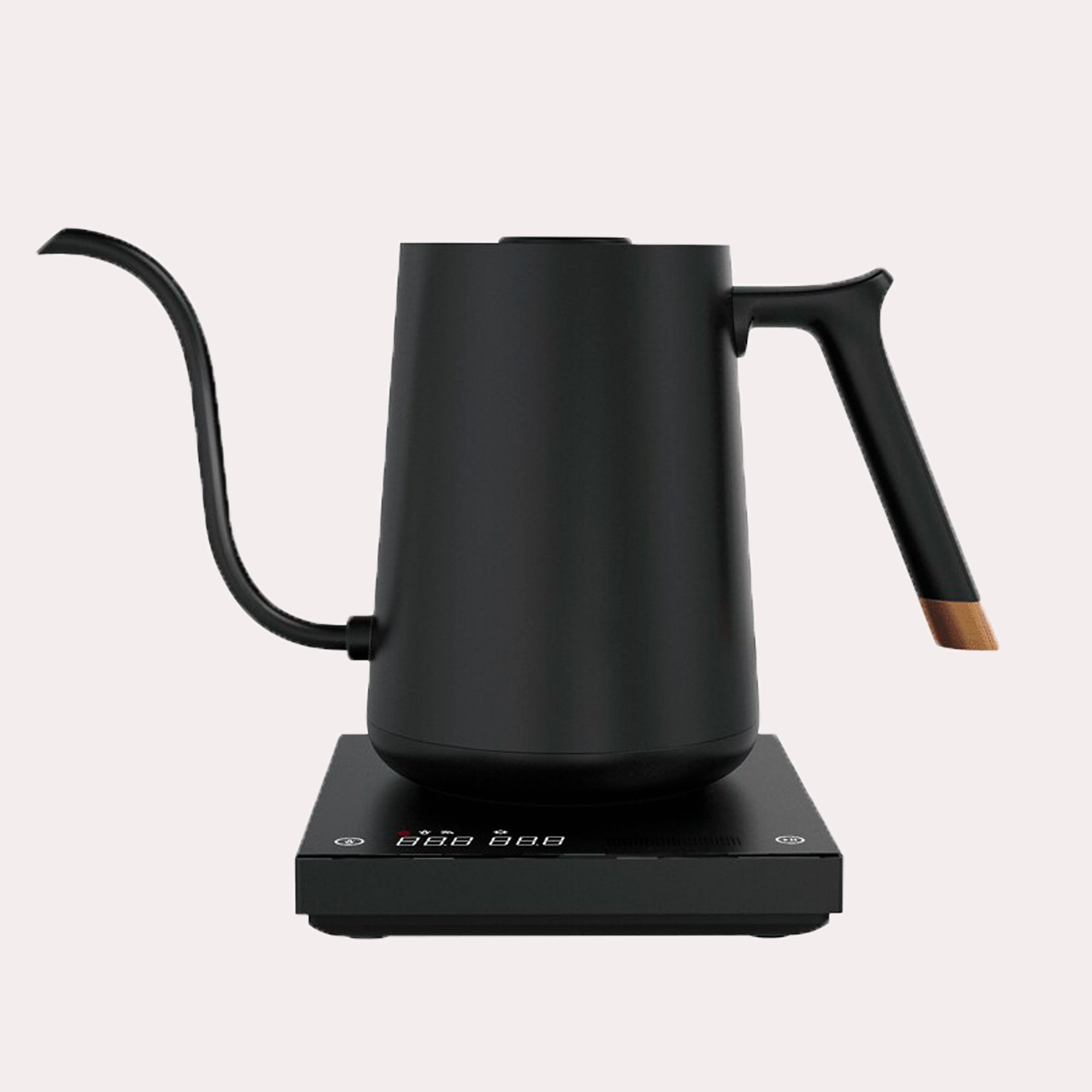 TIMEMORE Fish Smart Electric Kettle Black 0.7L
The Timemore Fish Smart electric kettle with adjustable temperature is the essential accessory for an unrivaled specialty coffee experience.
The Timemore Fish Smart Electric Kettle offers unique features. Thanks to its adjustable temperature between 40°C and 100°C (in increments of 1°C) and its power of 1000 watts, you quickly obtain the precise water temperature you want. To set the desired temperature, nothing could be simpler: the intuitive screen located on the base of the electric kettle allows you to program the temperature of your water. This allows you to precisely select the ideal temperature for your specialty coffee, whether it is filter coffee, espresso coffee or other preparation methods. The Timemore Fish Smart Coffee Kettle is made of stainless steel, ensuring durability and resistance to any test. Stop leaving water temperature to chance and enjoy every carefully prepared cup of coffee with the Timemore Fish Smart Electric Kettle.
Capacity: 70 cl
Neck shape: swan neck kettle
Operation: electric kettle with adjustable temperature (Celsius and Fahrenheit thermometer)
Material: stainless steel
Power: 1000W
Temperature adjustable by touch
Heating time: 3 minutes
Temperature holding time: 60 minutes
Cleaning: Gentle wash, by hand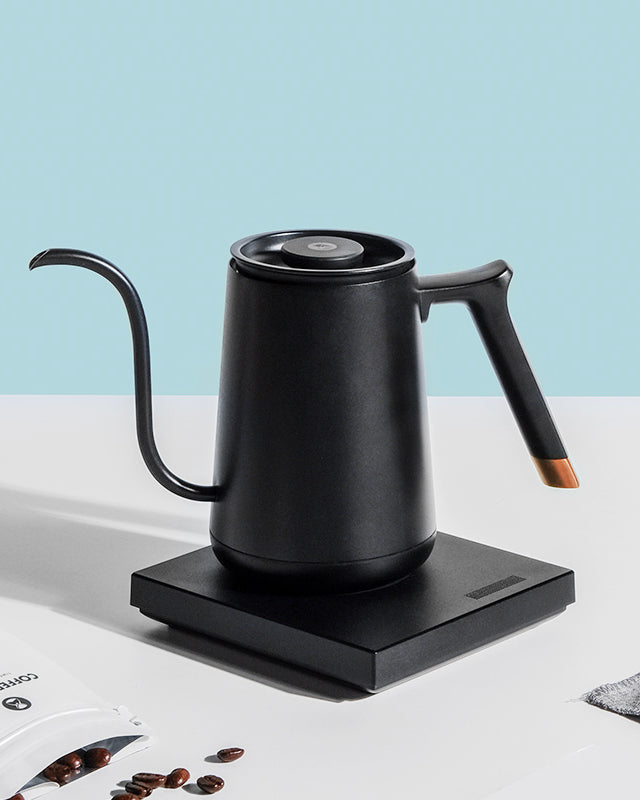 The electric kettle with adjustable temperature
To achieve optimal specialty coffee, using a quality kettle is essential. For this, choose an electric kettle with adjustable temperature. It allows precise control of the water temperature to be maintained, thus guaranteeing optimal extraction of coffee aromas. A good kettle heats quickly and evenly, ensuring consistent flavor in every cup of coffee. The non-reactive materials used in the kettles preserve the natural aromas of the coffee, providing a unique and pure taste experience. Additionally, controlling water flow is crucial for gentle brewing methods, so it is necessary for the kettle to have a swan neck to enable precise water distribution and pouring. In summary, a quality coffee kettle is essential for brewing great-tasting, well-extracted coffee customized to your preferences.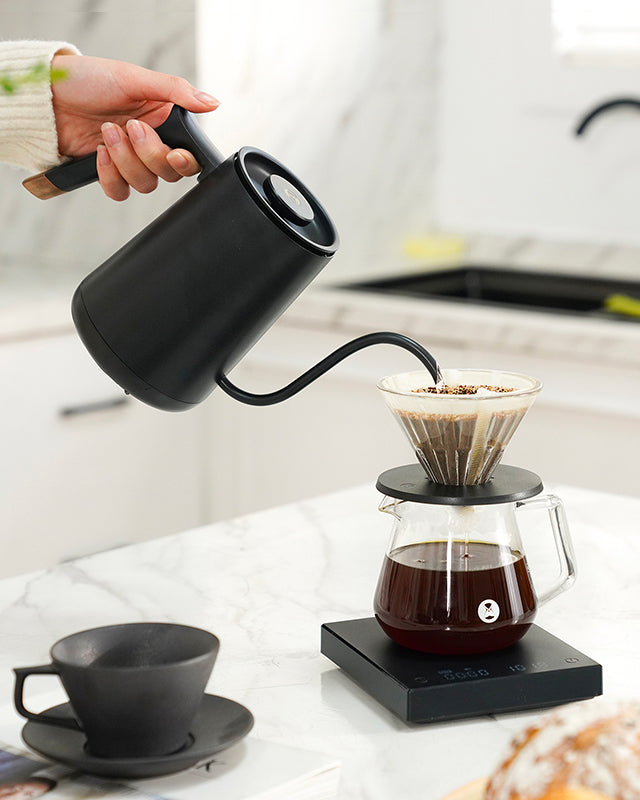 What water temperature should I choose to make my coffee?
Water temperature is crucial for brewing coffee and has a major impact on its final taste. Excessively high temperatures can lead to over-extraction and unwanted bitterness. Temperature recommendations vary depending on preparation method:

V60 and Chemex (92°C to 96°C)
French press (88°C to 94°C)
Espresso (generally between 90°C and 96°C).

Experimenting with different temperatures will allow you to discover the flavor profile that suits you best. Using a kettle with adjustable temperature is therefore very useful in improving your drinking experience, especially if you drink specialty coffee.
The Timemore Fish Smart electric kettle is equipped with a gooseneck spout, an integrated thermometer and above all a heating plate which allows precise control of the water temperature. Additionally, it has a keep warm function to keep the water at the desired temperature. With a capacity of 1 liter, it meets the needs for preparing several cups of coffee.
To clean the inside of the Timemore Fish Smart Electric Kettle, use a mixture of water and white vinegar. Boil the mixture in the kettle, leave it to act for a few minutes, then drain and rinse thoroughly. Wipe the exterior of the electric kettle with a soft, damp cloth. Be sure to empty all remaining water after each use to avoid deposits.
When heating water in your Timemore Fish Smart electric kettle, it is essential to pay attention to the quality of the water. This is essential for obtaining a tasty cup of coffee. Impurities, minerals and chlorine present in water can negatively influence the delicate aromas of coffee. It is therefore recommended to use high quality filtered or spring water in order to preserve the natural characteristics of the coffee. By choosing quality water, you will be able to fully enjoy the subtle flavors and aromas of your coffee.