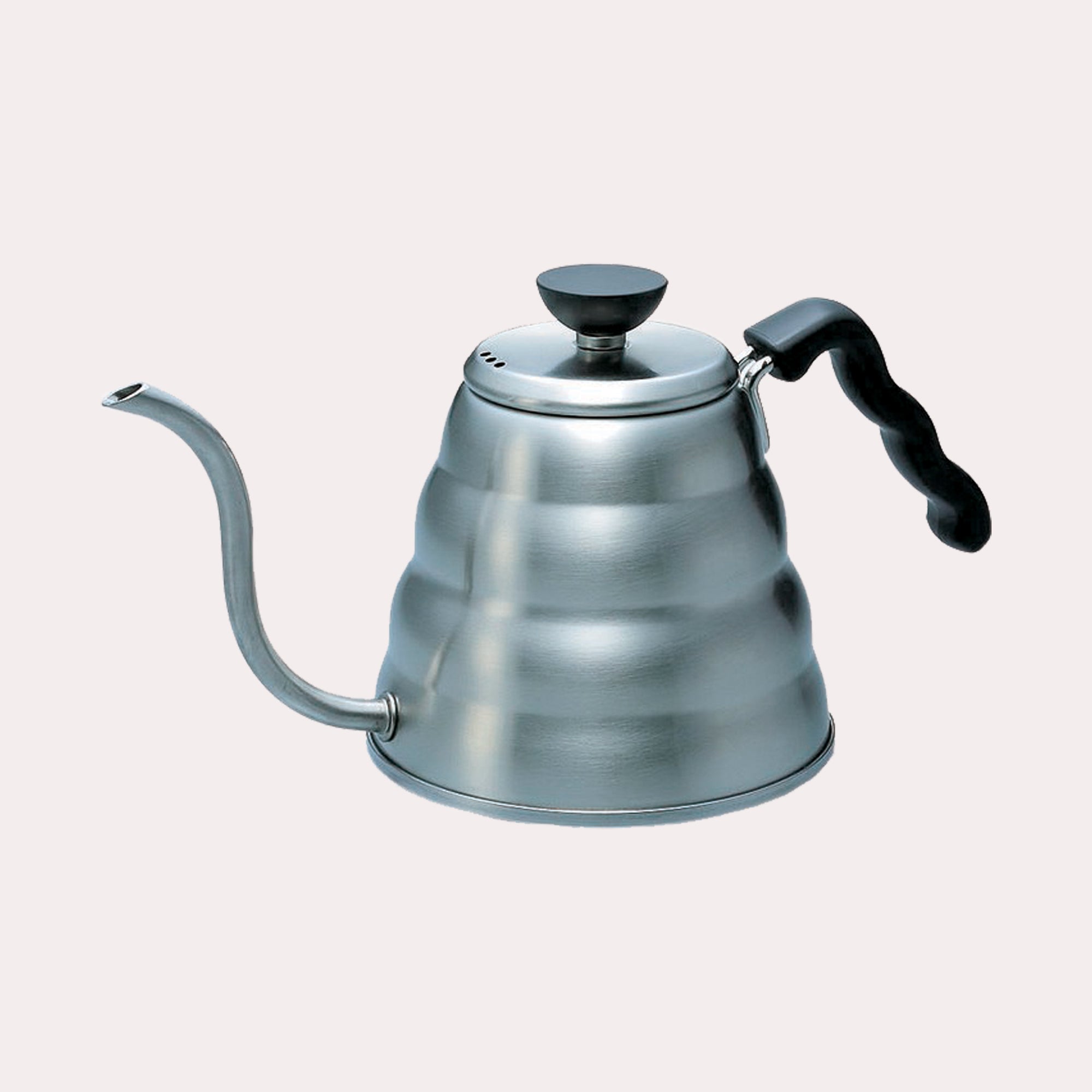 HARIO Buono Steel Kettle 1.2L
The brand's classic Hario Buono gooseneck kettle offers you an exceptional pouring experience.
The Hario Buono swan neck kettle is a true gem inspired by the iconic design of Hario's famous V60 coffee maker. Its "swan neck" spout guarantees a constant flow and perfectly controlled infusion. However, please note that the Hario Gooseneck Coffee Kettle does not have a built-in thermometer. The thin spout of the Buono Kettle swan neck kettle gives you precise control of the infusion flow, allowing you to pour water with expert precision. In addition, the ergonomic handle and the excellent balance of the masses make it easy to hold, offering you optimal comfort when using it. The Hario Buono Kettle Coffee Kettle is an undeniable choice for lovers of perfectly brewed specialty coffee.
Capacity: 1.2L
Neck shape: swan neck kettle
Operation: traditional kettle
Material: stainless steel.
Power: Heating time
Compatibility: all types of induction, gas, electric hobs.
Cleaning: heat with white wine vinegar mixed in water and rinse thoroughly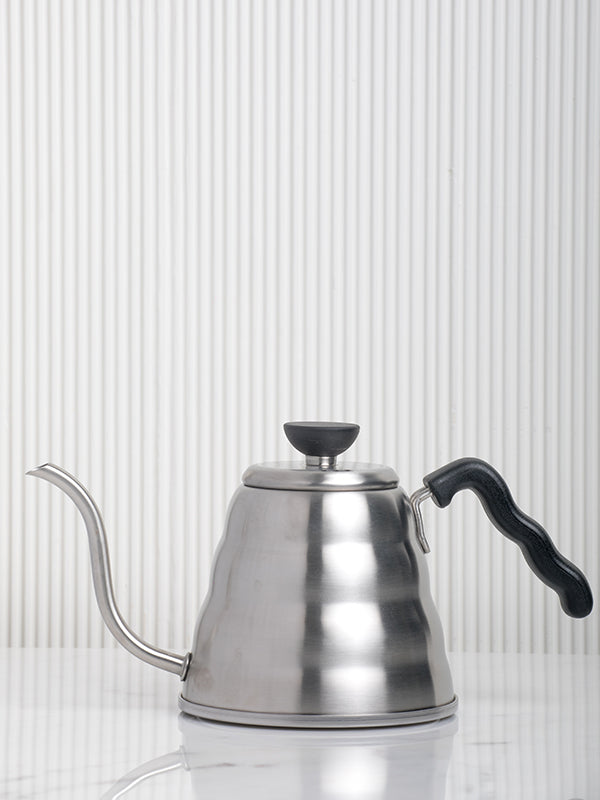 What role does the coffee kettle play in preparing specialty coffee?
A quality coffee kettle plays an essential role in preparing specialty coffee. Allowing precise control of the water temperature, the Hario swan neck coffee kettle ensures optimal extraction of coffee aromas. Additionally, a good kettle heats water quickly and evenly, saving time and ensuring consistent flavor extraction. Non-reactive materials used in quality coffee kettles preserve the natural flavors of coffee, providing a pure taste experience. Control of water flow, thanks to the coffee kettle's gooseneck spout, is important for slow coffee preparation methods, such as V60 and Chemex, allowing uniform and controlled extraction. Finally, some high-end kettles offer additional features like preset temperature settings or built-in timers, making coffee brewing even more convenient. In short, a quality coffee kettle guarantees a tasty, well-extracted cup of coffee tailored to your personal preferences.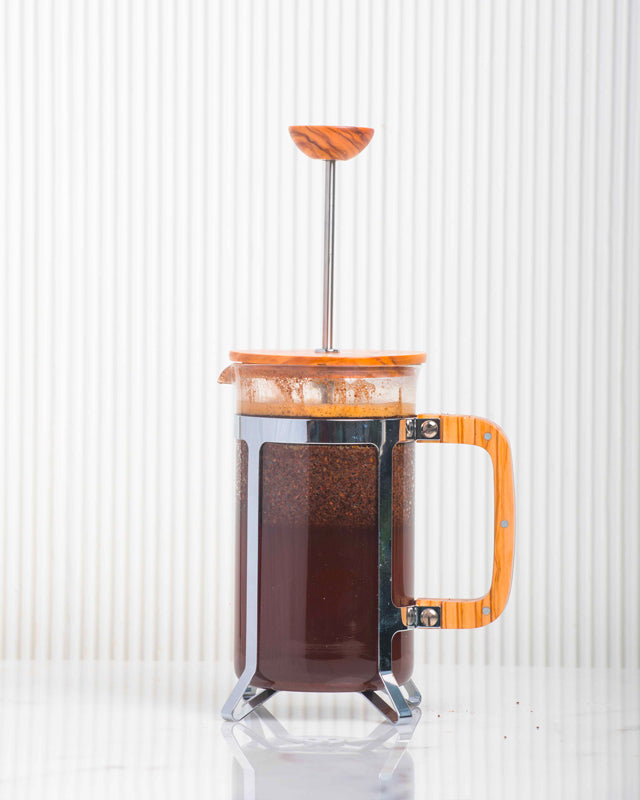 Choose the water temperature according to the desired preparation
Water temperature plays a crucial role in brewing coffee and has a significant impact on the final taste of your drink. When the water is too hot, it can over-extract the coffee, resulting in a bitter, unpleasant flavor. It is important to note that the ideal temperature may vary depending on the preparation method used:

For a V60 and a Chemex it is recommended to use water at a temperature between 92° and 96° - For a French press, heat your coffee kettle between 88°C and 94°C

For espresso, you should generally heat your gooseneck kettle between 90°C and 96°C.

Experimenting with different temperatures can help you find the flavor profile that works best for you in brewing your specialty coffee.
The Hario Buono Kettle has a precise gooseneck jug, a keep-warm function and a capacity of 1.2L.
Clean the inside of the Hario Buono Kettle with water and white vinegar, rinse well and wipe the exterior with a soft, damp cloth. Empty the remaining water in the Hario coffee kettle after each use.
The quality of water used to brew specialty coffee can have a significant effect on its final taste. Water containing impurities, minerals, or high levels of chlorine can alter the delicate flavors of coffee and result in a lower quality cup of coffee. It is recommended to use high quality filtered or spring water for the best results in flavor and aroma. This helps preserve the natural characteristics of the coffee and enjoy an optimal tasting experience.