Specially designed to precisely measure your coffee, the Hario copper measuring spoon is an efficient and precise instrument for dosing the ideal quantity of coffee during your gentle method preparations, whether for the Chemex, the V60, the French press or the Aeropress. Its cleverly designed handle allows you to hang your coffee measuring spoon wherever you want, making it easier to store and access.
Material: Copper measuring spoon
Calibrated for 12gr of ground coffee
Measurement marks: 8, 10 and 12gr
Dimensions: l.96 × L.53 × H.35mm
Choosing the material of your measuring spoon
The material used for a coffee measuring spoon can have several impacts:

Stainless Steel: Stainless steel measuring spoons are popular because they are durable, corrosion resistant and easy to clean. Stainless steel generally does not react chemically with coffee, meaning it does not affect the taste or quality of the coffee.

Wood: Wooden measuring spoons can have an attractive aesthetic appearance, but they require more maintenance

Copper: Copper measuring spoons are less common, but they offer a unique aesthetic. Copper is an excellent conductor of heat, so it can be used for a specific coffee brew."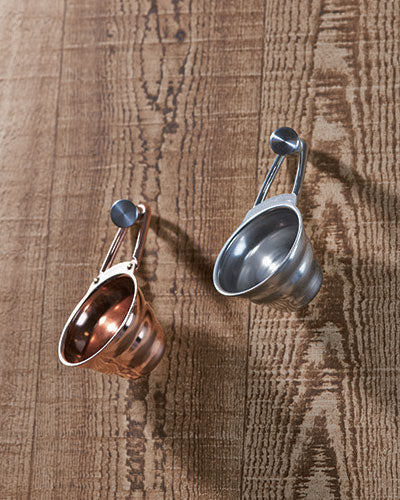 This measuring spoon is made in Japan.
The measuring spoon must be cleaned by hand with clean water.
This measuring spoon is recommended for measuring ground coffee, 1 dose corresponding to 12G of ground coffee.