When you're in a hurry or don't have a scale at hand, the HARIO steel coffee measuring spoon is your ally. It allows you to precisely dose the amount of specialty coffee needed to get the right dosage.
In addition to its functionality, the HARIO steel measuring spoon is ergonomic. Its well-designed handle allows you to hang it wherever you want, making it easy to store and access when you prepare your coffee.
Material: Stainless steel measuring spoon
Calibrated for 12gr of ground coffee
Measurement marks: 8, 10 and 12gr
Dimensions: l.96 × L.53 × H.35mm
The importance of the dosage of your coffee
The coffee/water ratio is of crucial importance in coffee preparation, as it directly determines the strength, balance and final taste of the drink. It is therefore important to measure your coffee correctly using a measuring spoon, otherwise you risk ending up with tasteless or too bitter coffee. Proper adjustment of the ratio helps extract the desired aromas and flavors from the coffee, creating an optimal taste experience. By experimenting with different ratios, it is possible to find the perfect balance to bring out the unique qualities of each coffee and achieve an exceptional cup of coffee.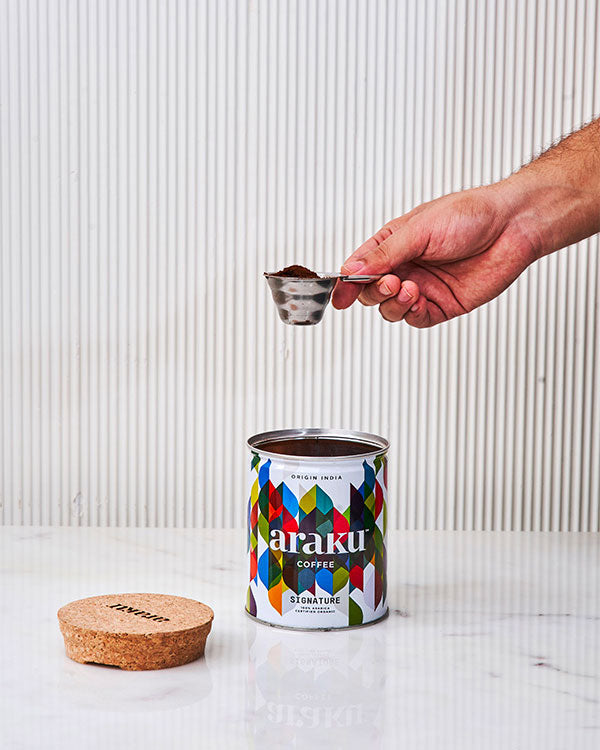 This measuring spoon is perfectly suited to gentle methods with 1 dose of 12 Gr of coffee for 100 ml of hot water at 80-85° and 4 minutes of infusion, i.e. 1 cup.
The maximum dosage for the Hario steel measuring spoon is 12g. But to make your use easier, the 8 and 10g markings are also indicated in the spoon.
It is best to clean the measuring spoon regularly with clean water by hand.