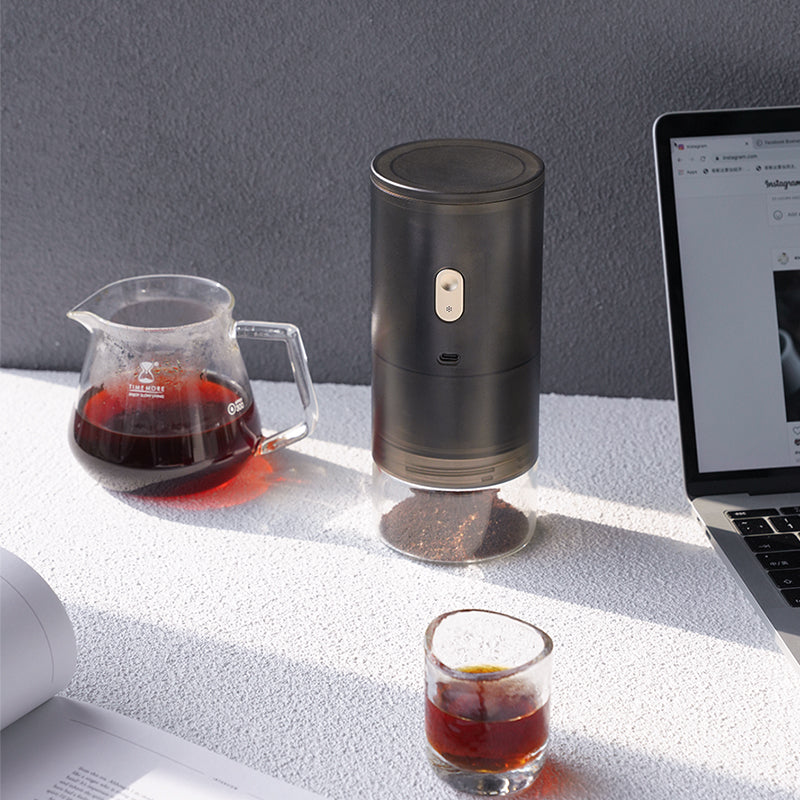 TIMEMORE Advanced Grinder Go Coffee Grinder
Compact and fast, the Timemore Advanced Grinder Go electric coffee grinder will follow you everywhere.
This electric and cordless coffee grinder offers you incomparable convenience, allowing you to enjoy fresh grinds wherever you are. In just 38 seconds, it can effortlessly grind up to 20g of coffee. Once fully charged, it is capable of grinding up to 30 times for a dose of 15g of ground coffee, guaranteeing you a long time of use without the need to recharge it frequently. Its standby time is also exceptional, ensuring extended availability when you need it. Thanks to its stainless steel blades, the Timemore Advanced Grinder Go coffee grinder is specially designed to grind specialty coffee for different types of preparation, such as Italian coffee makers, gentle methods, French presses and filter coffee makers. With its versatility and performance, this portable electric coffee grinder is an ideal companion for on-the-go coffee lovers.
Grinding wheels: conical stainless steel with titanium coating
Reservoir capacity: 60g of ground coffee
Operation: cordless electric coffee grinder, rechargeable battery via USB-C (2 to 3 hours of charging)
Adjustment: by notches, with a steel dial located below the mill
Dimensions (LxDxH): 8.6x8.6x22cm
Weight: 660g
Comes with a carrying case and a cleaning brush.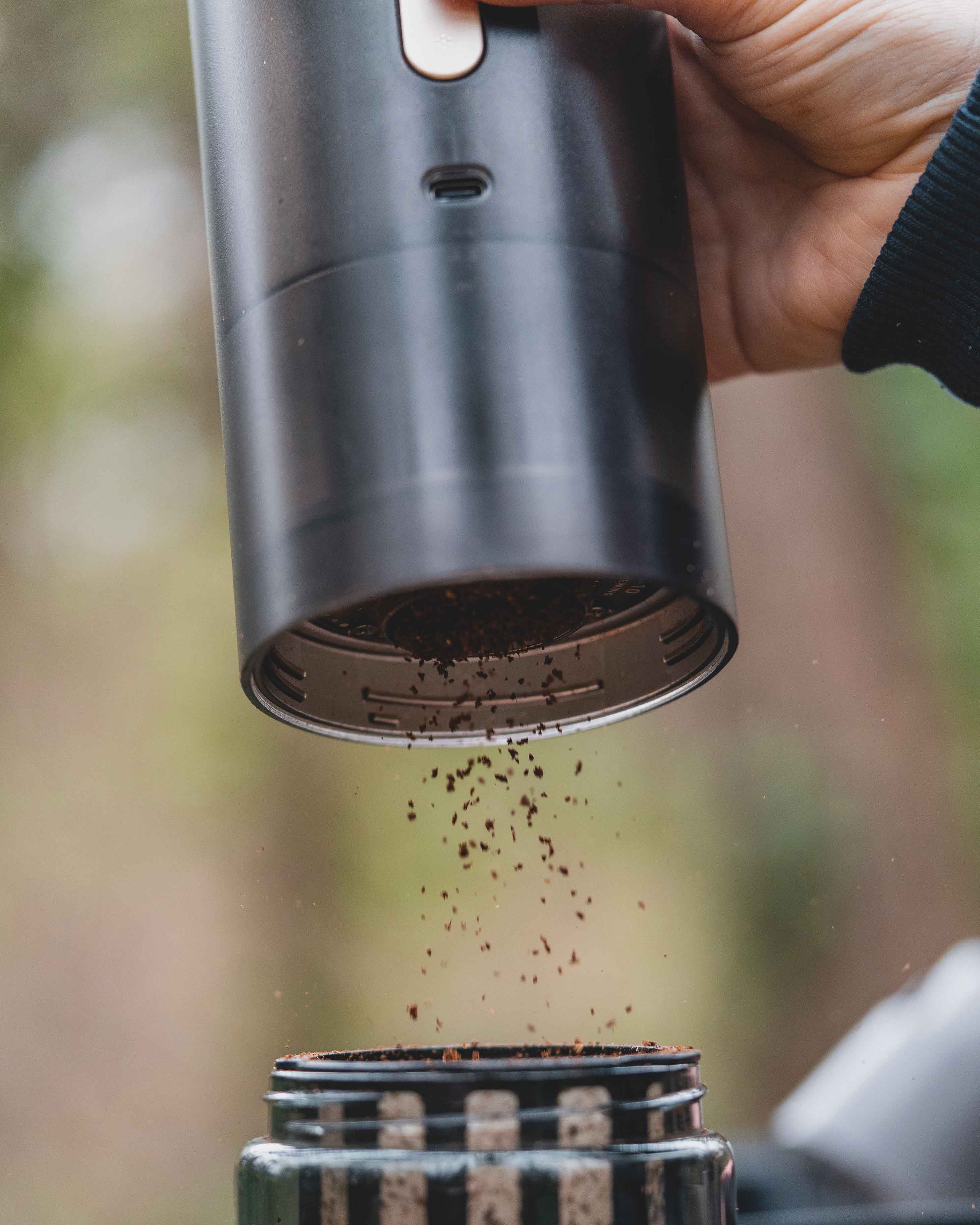 Why is it important to invest in an electric coffee grinder?
There are many benefits to using a quality electric coffee grinder. First of all, it ensures optimal freshness by grinding the coffee beans just before brewing, thus preserving its volatile aromas. In addition, by choosing the Timemore Advanced Grinder Go coffee grinder, you opt for precise control of the grind size. With 36 settings, this electric coffee grinder is suitable for every brewing method, to personalize the taste of your coffee according to your preferences. By adjusting the grinding time, you can achieve different coffee strengths while preserving the coffee's natural oils, ensuring better nutritional quality. In summary, the Timemore Advanced Gringer Go Electric Coffee Grinder improves the freshness, flavor, control, and overall drinking experience of your coffee.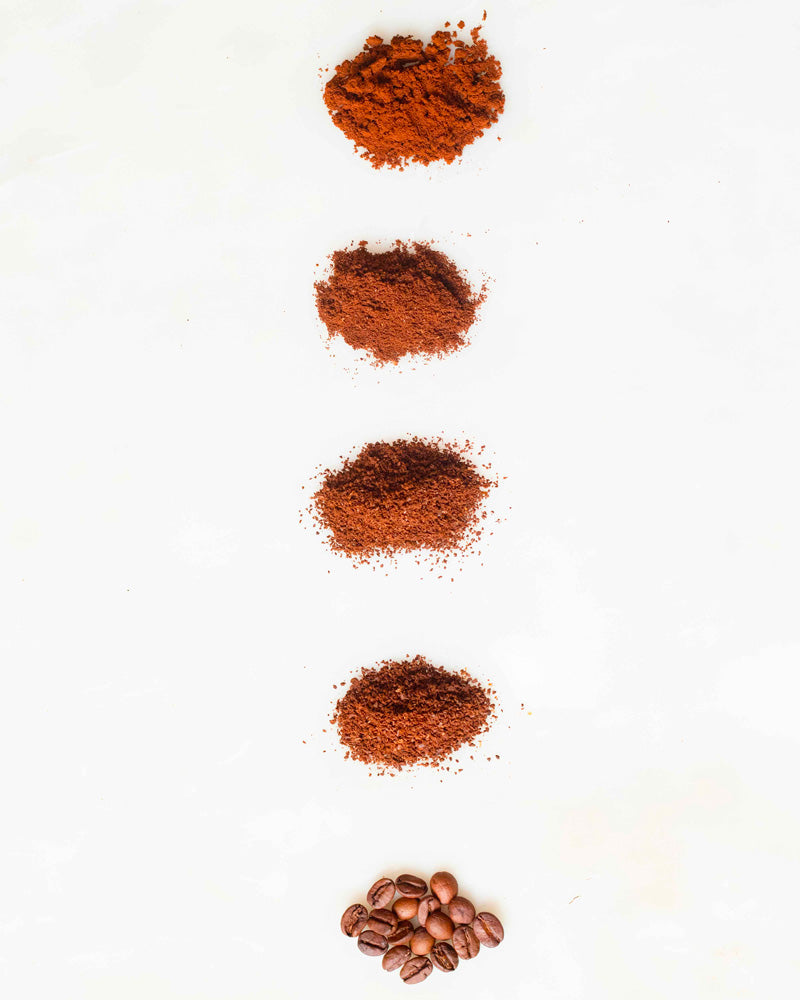 Correctly adjust your electric coffee grinder
When using an electric coffee grinder, choosing your grind is very important. It is the size of this which will allow you to obtain a perfect coffee according to your choice of brewing method. Here are a few tips :

For a French brew (pressure coffee maker), use a coarse grind by selecting the highest numbers on your electric coffee grinder.

For infusion by percolation (filter coffee maker), opt for a medium-sized grind.

For espresso, the grind must be fine and uniform. It is in particular for this finesse that an electric coffee grinder is a real asset, guaranteeing you a very precise grind thanks to its settings.

For the Aeropress, a medium to fine grind is generally suitable.

For cold brewing, choose a coarse grind.
These recommendations are starting points, but it is important to experiment and adjust the grind fineness to your personal preference.
The Timemore electric coffee grinder can grind up to 60 grams of coffee (approximately 7-8 cups of espresso).
Absolutely, the Timemore electric coffee grinder is equipped with notch grind settings. You can select the texture of the grind according to the preparation method you prefer, whether it is filter coffee, espresso, French press or other.
The Timemore Advanced Grinder Go electric coffee grinder is compact, lightweight and easy to transport. Its autonomy and ease of use make it the ideal travel companion.