Anderssen& Voll Colorful Cappuccino Cup Ceramic
Talented Norwegian designers Anderssen & Voll created this cappuccino cup in exclusive collaboration with Araku.
Each set of coffee cups comes with matching saucers, creating a harmonious and elegant set. Made of ceramic, this cappuccino cup is not only aesthetic but also durable and resistant. It has been designed to preserve the temperature of your Araku specialty coffee, allowing you to savor each sip in all its richness. Add a touch of Scandinavian style to your coffee experience with this designer and colorful coffee mug designed exclusively by Anderssen & Voll for Araku.
Set of 2 cappuccino cups and 2 saucers
Materials: ceramic
Dimensions: H 6cm x Width with handle: 11cm
4 colors available: blue, green, orange, yellow
Designer Anderssen & Voll: the design of Araku coffee cups
Anderssen & Voll is a Norwegian design studio founded in 2009 by young designers Torbjørn Anderssen and Espen Voll, formerly members of the Norman Says studio. Their expertise extends from textile design to table accessories and electronic furniture, collaborating with some of the most prestigious design brands in Europe. Minimalist and functional, the cappuccino cups take up the codes of Scandinavian design.
Their work has been recognized with numerous international awards such as the IF Prize and the Honorary Prize for Best Norwegian Design. In addition to their designer coffee cup creations, Anderssen & Voll have also collaborated with Araku Coffee on various projects, including an attractive Italian coffee maker in vibrant colors.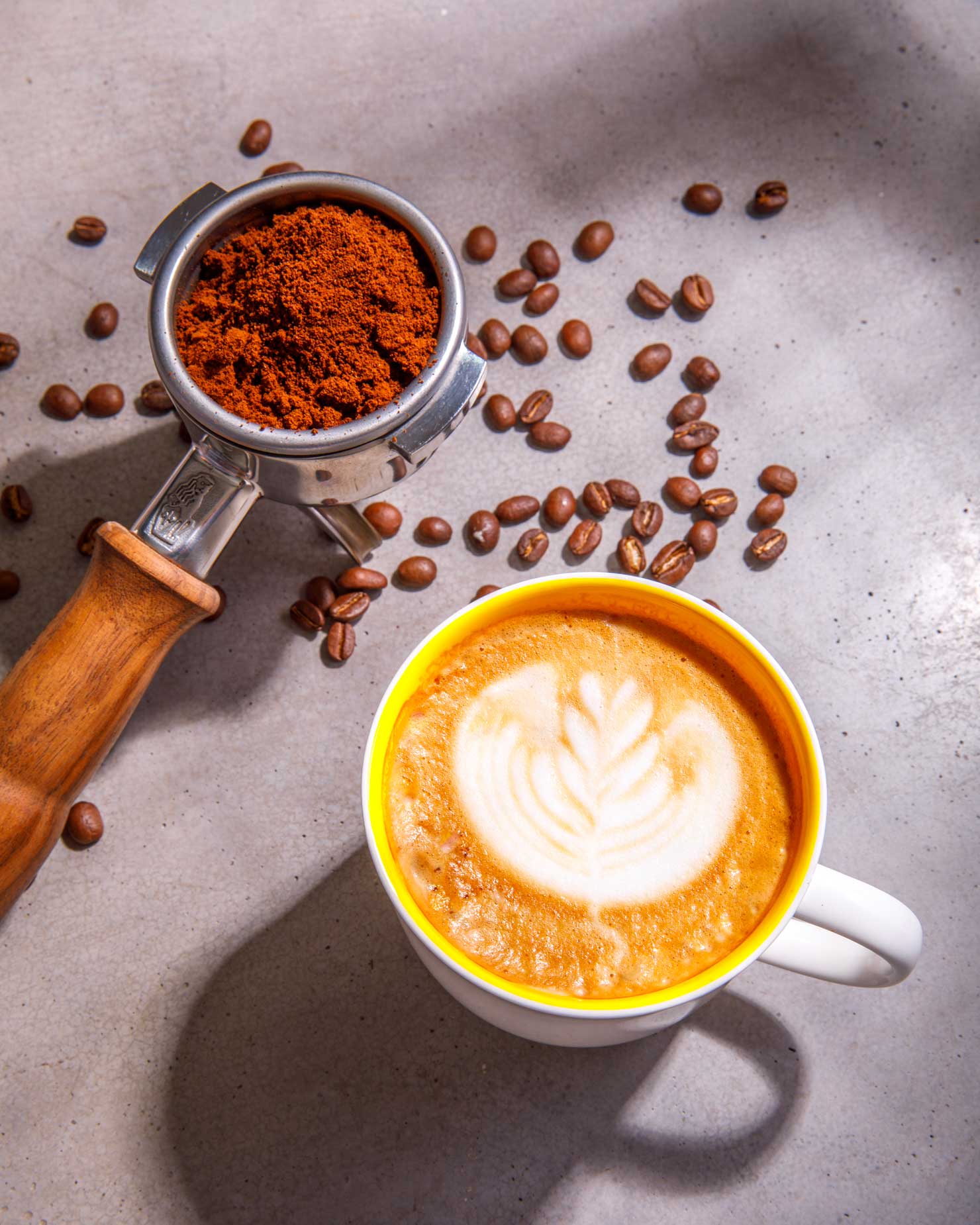 The recipe for a successful cappuccino
To make the perfect cappuccino, you will need a shot of espresso from our organic Sélection coffee and 125 ml of milk. Start by preparing your espresso using an espresso machine or moka pot. Meanwhile, heat the milk in a saucepan until it reaches a temperature of 65 to 70°C. Then use a milk whisk or milk frother to create a creamy, velvety foam. Pour the espresso shot into a preheated Araku cappuccino cup, then slowly add the hot milk, tilting the cup to create a pretty design. Finally, add a small amount of milk foam to the top of your coffee cup to top off your cappuccino.
Our cappuccino cup is made of ceramic, this material allows you to keep your coffee at the right temperature for as long as possible.
In addition to the cappuccino cup, the Anderssen&Voll firm has created espresso cups, mugs and also Italian coffee makers with Araku.
Absolutely, our cappuccino cup is perfectly suitable for use in a dishwasher. Made with high quality and durable materials, our coffee mug is safe to clean in your dishwasher.