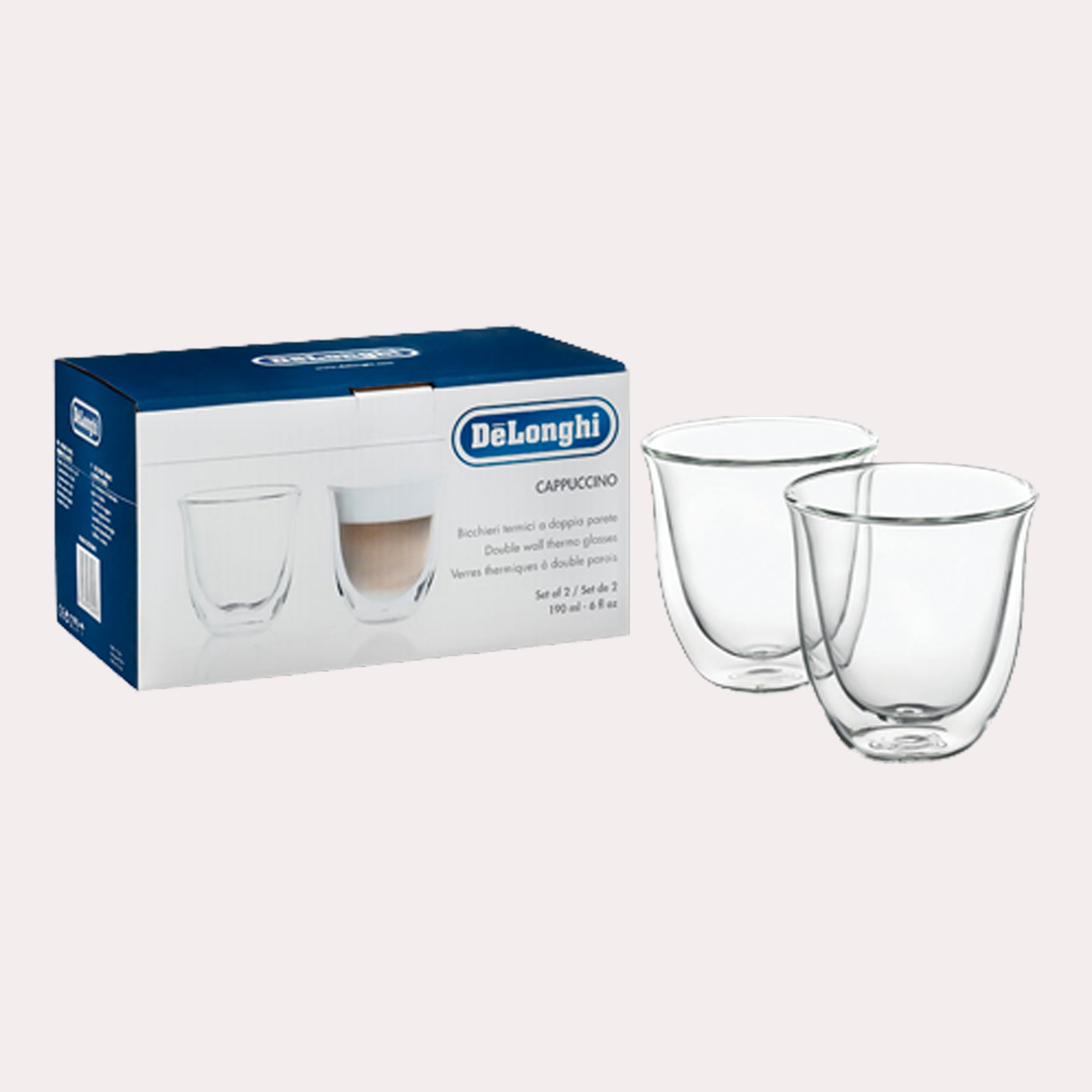 DELONGHI Double Wall Cappuccino Cup
Discover the DeLonghi double-walled transparent cappuccino cup, made from hand-blown thermal glass.
The DeLonghi cappuccino cup is not only visually unique, but also offers a comfortable grip thanks to its ergonomic shape.
This double-walled mug is
made
with a special thermal glass material that keeps your favorite specialty coffee hot, while remaining cool on the exterior walls. So you can enjoy your cappuccino at the ideal temperature without worrying about burning your fingers. Their practicality is not limited to their thermal function, as these DeLonghi cappuccino cups are also compatible with any dishwasher, giving you easy cleaning.
Set of 2 cappuccino cups
Material: Double-walled thermal glass
Capacity: 2 glasses of 19 cl
Care: Dishwasher safe
The recipe for a good cappuccino coffee
To prepare a perfect cappuccino, use a shot of espresso from our organic coffee selection and 125 ml of milk. First prepare your espresso using an espresso machine or moka pot. Meanwhile, heat the milk in a saucepan until it reaches a temperature of 65 to 70°C. Then use a whisk or milk frother to create a creamy, velvety foam. Pour the espresso shot into a Delonghi cappuccino cup, then slowly pour in the hot milk by tilting the cappuccino cup. To finish, add a small quantity of milk foam on top to enhance your cappuccino.
This Delonghi Cappuccino cup is made with a double wall of hand-blown glass.
The Delonghi Double Wall Glass Cappuccino Cup has a capacity of 19cl, allowing you to fully enjoy your favorite specialty coffee (19cl Espresso Cup Set).
Absolutely, the Delonghi cappuccino cup is perfectly suitable for washing in the dishwasher.