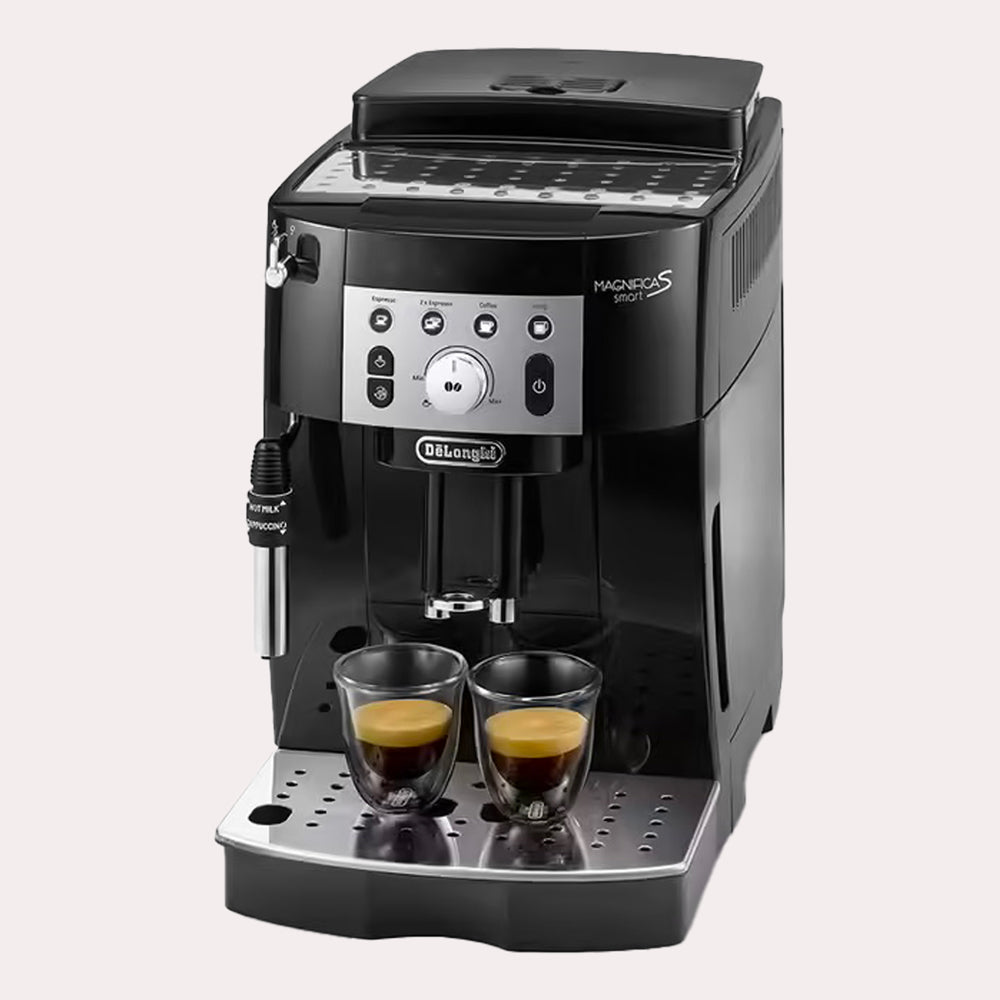 Delonghi Magnifica Smart FEB 2533.B Black
The Delonghi Magnifica Smart espresso machine with integrated grinder offers you quality coffees effortlessly!
The Delonghi Magnifica S Smart 2533.B espresso machine with grinder is a true treasure for specialty coffee lovers, offering a range of 4 carefully crafted coffee recipes: Expresso, Double Espresso, Classic Coffee and Long Coffee. Each recipe is brewed according to its own parameters, ensuring a unique coffee experience in every cup. Thanks to its all-new intuitive control panel, you can access your favorite drinks with just one click. With this bean-to-cup coffee machine, you also have the ability to personalize your drinks by adjusting the intensity, temperature, and many other parameters, to create tailor-made flavors that perfectly match your tastes.
Type of coffee machine: Espresso machine with grinder
Automatic shutdown
Volume of the grain container: 250g (approximately 14 cakes)
Built-in grinder with 13 grind settings
Adjustable temperature
Water tank capacity: 1.8L
Grounds container volume: 14 cakes
Memorizing preferences
Programmable
Power: 1450 Watts
Pump pressure: 15 bars
Weight: 9.2kg
Dimensions: W 240x D 440x H 360mm
Warranty: 3 years
Energy rating: A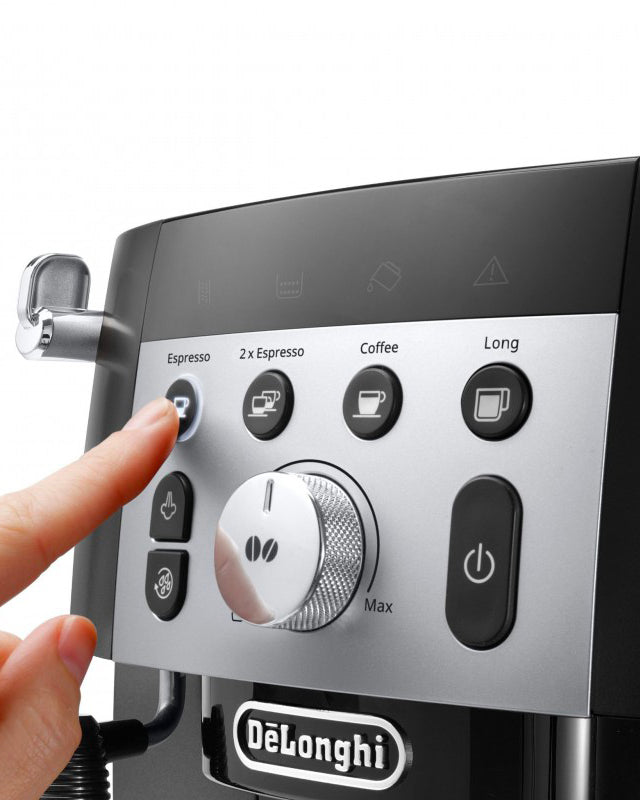 Espresso with grinder: enjoy freshly ground coffee
The Delonghi Magnifica S Smart 2533.B espresso machine with grinder offers two essential features: an integrated grinder and a 250gr coffee bean reservoir. With 13 possible grind settings, you can adapt the taste of your espresso according to your coffee beans, your preferences and your type of preparation. When making espresso, a fine to very fine grind is recommended for optimal extraction of flavors and oils from the coffee beans.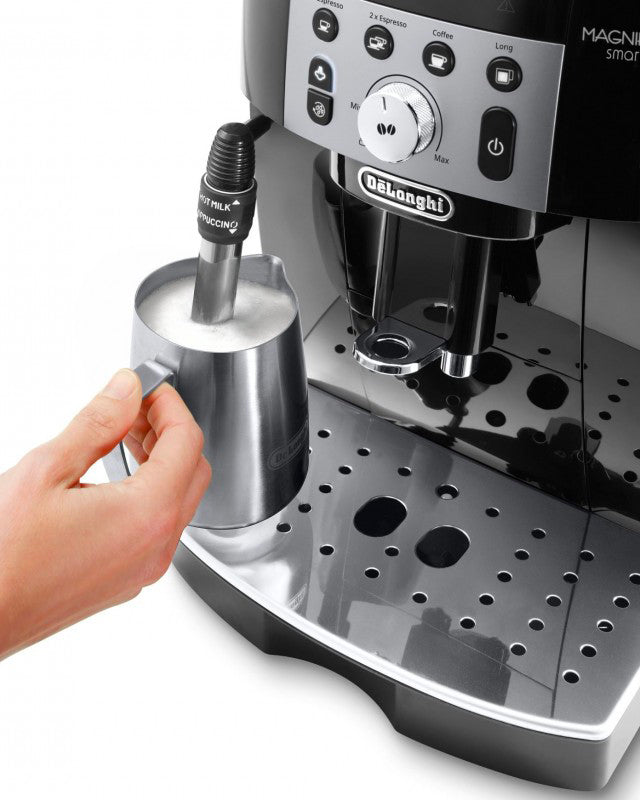 Recipe for preparing a cappuccino with the Delonghi Magnifica Smart
Preparing a delicious cappuccino with the Delonghi Magnifica S Smart espresso machine with grinder has never been easier thanks to its integrated nozzle. Fill a pitcher with 125 ml of milk, making sure to immerse the nozzle about 1 cm in the liquid. Turn the steam wand control dial to turn on the steam, then let the milk heat for about 20 to 30 seconds (do not exceed 70°C). If you want more foam, move the nozzle closer to the surface of the milk, but keep in mind that this may result in less even heating. Then pour the milk and foam into your espresso shot for the perfect cappuccino.
The different features and settings of the Delonghi Magnifica S Smart give the possibility of preparing a wide variety of caffeinated drinks: coffee, espresso, ristretto, Americano, cappuccino, latte, macchiato, mocha and many others.
Yes ! The Delonghi Magnifica S Smart coffee machine with grinder has a ground coffee hatch, allowing you to use your pre-ground coffee if you wish.
Maintaining the Delonghi Magnifica S Smart coffee machine with grinder is child's play thanks to the removable and fully removable drip tray. You can easily remove it and clean it, and if you wish, put it in the dishwasher for optimal hygiene. The coffee grounds container is also removable and is very easy to clean. A descaling cycle of the espresso machine will be requested from time to time, all you need to do is use a product suitable for Delonghi coffee machines that you can find on our site. You can also add a filter cartridge to your water tank to reduce its hardness and extend the life of your machine.