TIN OF ORGANIC ROUND AND FRUITY GROUND COFFEE
Made from the best cherries from the best plots of the Araku highlands, this grand cru Indian coffee is carefully roasted to bring out its complex notes of caramel, vanilla, yellow and red fruits and leather. Perfect balance between roundness and intensity, the Grand Cru Grand Reserve specialty coffee in the ground version expresses its complexity particularly well when prepared using the gentle method (or slow coffee).
Notes : yellow and red fruits, caramel, vanilla and leather.
Process : 50% natural / 50% washed coffee
Roast : Medium
Variety : Pure Arabica coffee
Origin : Coffee India
SCA score : Grand cru specialty coffee +88.5
Label : Organic coffee / Fair trade coffee
Altitude : +1200 meters
Harvest : 100% Manual
Agroforestry : Cultivated under diversified shade (silver oaks, mango trees, jackfruit trees, pepper trees)
Packaging : Ground coffee Tin (200G)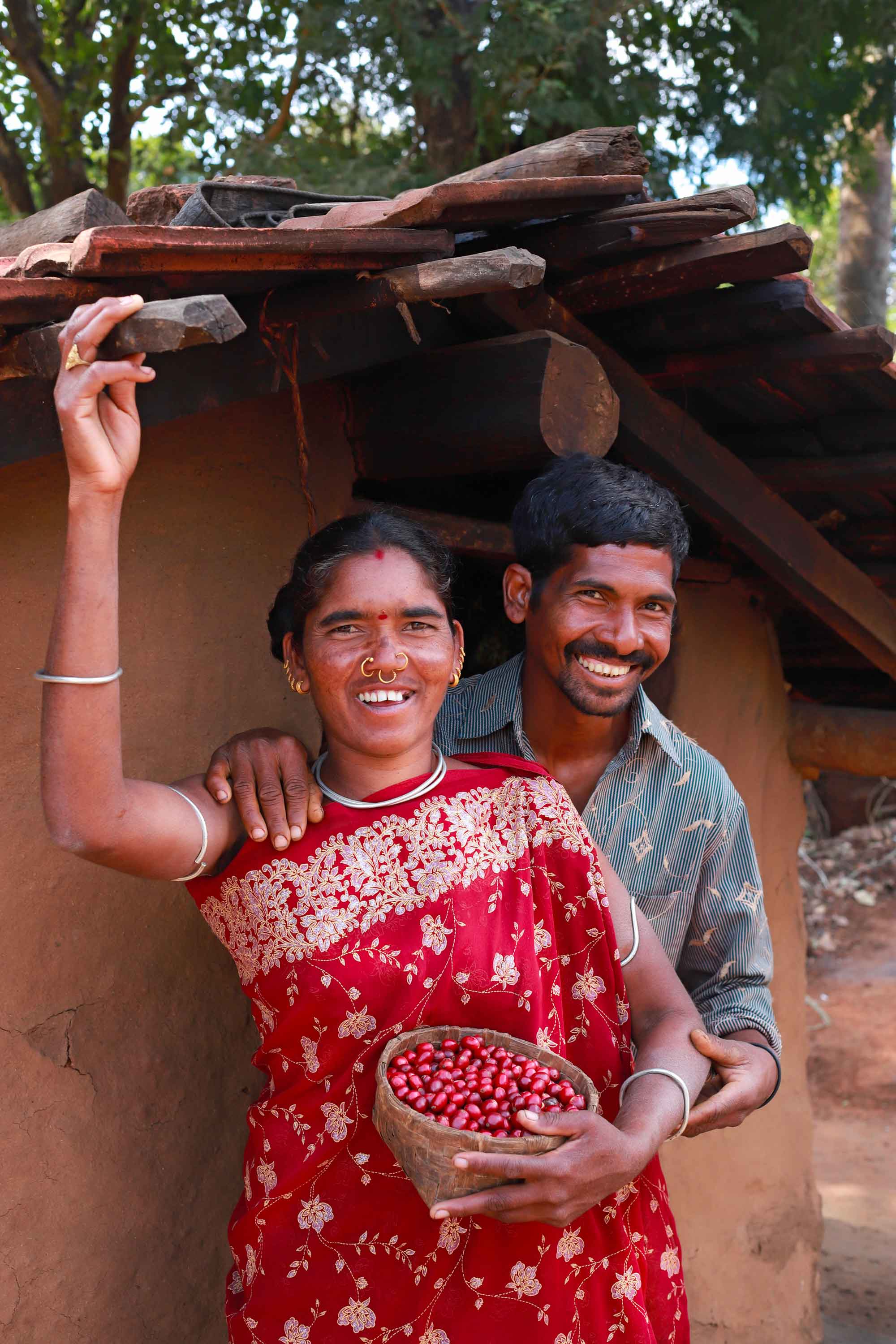 GULLELA THIRUPATHI, village of Kabada Bodaput
I have immense pride in having been rewarded for my meticulous and rigorous work on the plots: in fact my pure organic Arabica coffee was selected for the Grand Reserve specialty coffee. I take care of my plot and my specialty grand cru coffee with a lot of involvement. In addition, the form of organic farming allows my coffee to be very healthy, aromatic, while respecting the environment.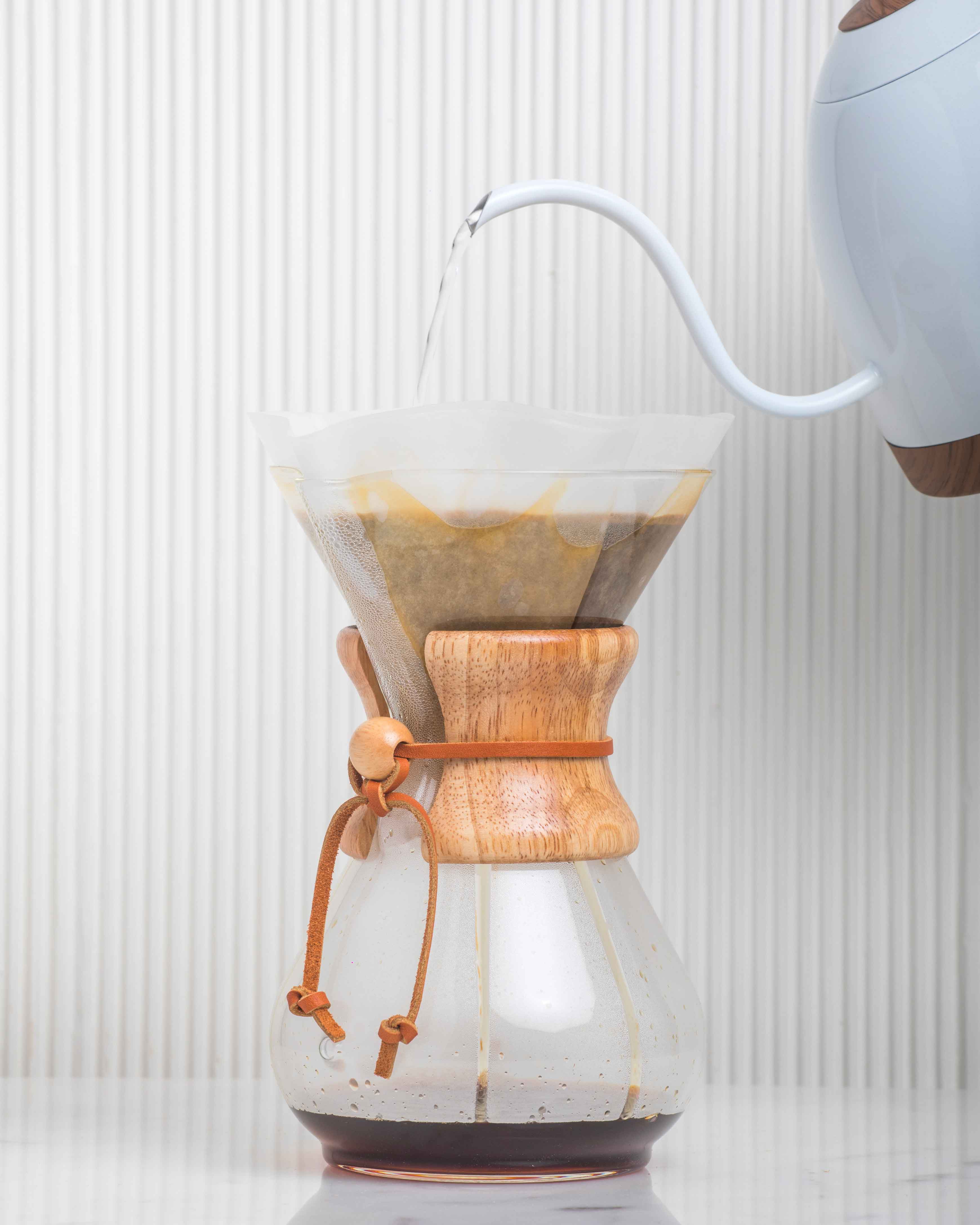 Pure Arabica coffee : our preparation tips for perfectly made organic coffee
For the perfect organic coffee, we recommend using a gentle, or slow coffee, method. So, to prepare your pure Arabica coffee, you will need :
- a Chemex coffee maker
- Chemex paper filters (or a metal or fabric filter)
- our box of organic ground coffee
- water (avoid water purified by reverse osmosis)
- a kettle with a pouring spout
- a timer
- a kitchen scale.
Grab your favorite organic coffee and use 20 grams of pure Arabica ground coffee. Use 200ml of water at a temperature of 92-94°C. We recommend starting with a coffee-to-water ratio of 1:10, meaning that for every gram of fair trade coffee, add 10ml of water. Feel free to experiment to find the ideal ratio for you. If you prefer a lighter Indian coffee, try a ratio of 1:18."
The high quality pure Arabica coffees produced in India are recognized worldwide. Grown at high altitudes, these Indian coffees stand out for their sweetness and the complexity of their floral, fruity and spicy aromas. Their cultivation under specific conditions gives these Indian coffees unique characteristics that distinguish them on the international scene and make them grand cru specialty coffees.
It is important to keep your specialty grand cru coffee in stable and optimal conditions. For this, here are our tips :
- Store your organic ground coffee in an airtight container
- Avoid direct sunlight
- Keep your tin of ground coffee away from heat
- Avoid humidity
- Do not refrigerate it
We offer our organic coffee in several forms to satisfy all lovers of fine vintage specialty coffee. Find our pure Arabica coffee in:
- 200G tin of ground coffee and beans
- 200G pouch of ground coffee and beans
- 1kg pouch of coffee beans