TIN OF PREMIUM ORGANIC COFFEE BEANS
Grand Reserve Araku specialty coffee is a true grand cru, offering a perfect balance between roundness and intensity. Grown in the best plots of the Araku Valley, this Indian coffee bean is precisely roasted to reveal its complex notes of caramel, vanilla, yellow and red fruits, and leather. Its balanced nature makes it a versatile organic coffee, suitable for all preparation methods.
Notes : yellow and red fruits, caramel, vanilla and leather.
Process : 50% natural / 50% washed coffee
Roast : Medium
Variety : Pure Arabica coffee
Origin : Coffee India
SCA score : Grand cru specialty coffee beans +88.5
Label : Organic coffee / Fair trade coffee
Altitude : +1,200 meters
Harvest : 100% Manual
Agroforestry : Cultivated under diversified shade (silver oaks, mango trees, jackfruit trees, pepper trees)
Packaging : Tin coffee beans (200G)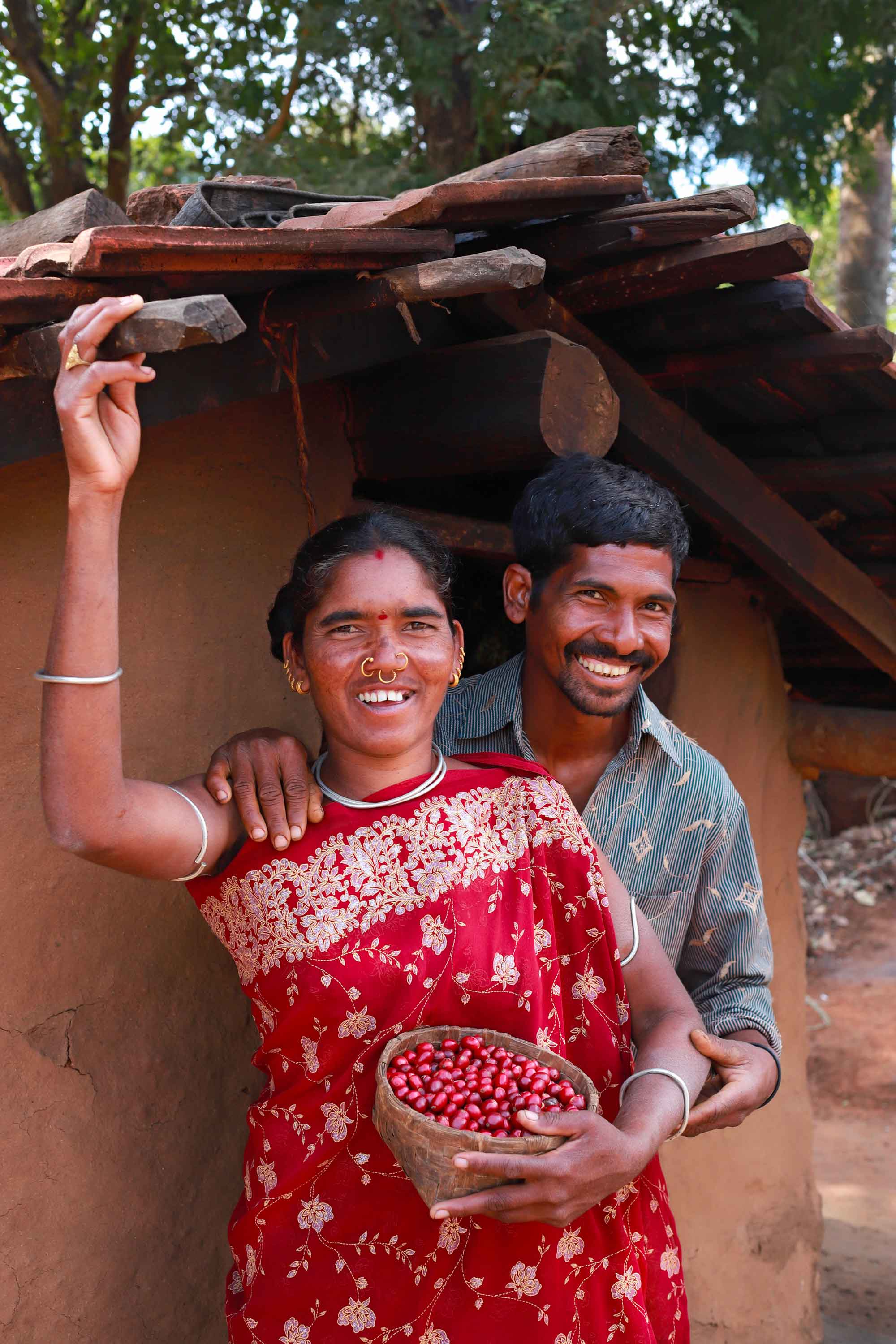 GULLELA THIRUPATHI, village of Kabada Bodaput
"I am extremely proud that my coffee cherries have been chosen to be included in the prestigious Grand Cru Grand Reserve. I devote a huge amount of effort and commitment to taking care of my plot and my coffee plants. By growing organic way, I ensure that my organic coffee beans are both healthy, full of aromas and respectful of the environment. It is a great satisfaction to know that my work bears fruit and that my specialty coffee is recognized for its exceptional quality."
Agrofestry : a culture for an organic and eco-responsible coffee
In the Araku highlands in India, we are committed to producing organic, sustainable and eco-responsible coffee. Through agrofestory, we wish to preserve biodiversity and create cohabitation allowing synergy between different ecosystems.
In this logic, all our coffee plots are organic, cultivated without pesticides, chemical fertilizers or GMOs, in accordance with organic agricultural practices. It is certified by independent organizations. Organic coffees are grown sustainably, using natural methods to prevent diseases and pests. They offer full traceability, allowing consumers to know their origin and specific certifications. Organic farming emphasizes the preservation of the environment and natural resources. All Araku specialty coffees are organic and Fairtrade certified.
When you want to grind your coffee beans, it is important to adjust the grind according to the preparation method. Here are the recommendations:

Slow brew (pressure coffee maker, vacuum coffee maker) : Use a coarse grind.
Filtration (paper filters, metal filters, percolators) : Opt for a medium grind.
Preparation under pressure (espresso, automatic espresso machines) : Choose a fine grind.
Grand Reserve coffee beans are pure organic arabica coffee, grown according to the principles of regenerative agriculture. It benefits from the prestigious specialty coffee certification with a score of +88 awarded by the SCA (Speciality Coffee Association). This certification makes Grand Reserve coffee one of the best coffee beans in the world.
Your Grand Reserve specialty coffee is available in several formats to suit all your needs :
In pouches of coffee beans (200G or 1kg) and ground coffee (200G)
In tin of coffee beans (200G)