High Altitude Coffee Beans - 200G Pouch
Organic coffee beans with slow maturation favoring aromatic complexity. Great finesse and marked hazelnut notes.
Recommended preparation methods :

200G POUCH OF SUBTLE AND LIGHT ORGANIC COFFEE BEANS
Araku High Altitude specialty coffee stands out for its slow maturation, offering exceptional aromatic complexity. The remarkable finesse of this coffee bean as well as its intense hazelnut notes are enhanced by light roasting. This exceptional organic coffee bean is harvested by hand at altitude in the best plots of the Araku region in India. Our High Altitude organic coffee beans have a harmonious, round and balanced aromatic profile, which makes it a specialty coffee particularly suitable for preparations using gentle methods (or slow coffee).
Designed to preserve its freshness, our airtight 200G pouch will preserve the aromas of your organic coffee beans.

Notes : Great finesse and marked hazelnut notes
Process : 100% dark honey coffee
Roast : Light
Variety : Pure Arabica coffee
Origin : Coffee India
SCA Score : Specialty Coffee +87
Label : Organic coffee / fair trade coffee
Altitude : +1200 meters
Harvest : 100% Manual
Agroforestry : Cultivated under diversified shade (silver oaks, mango trees, jackfruit trees, pepper trees)
Packaging : Coffee beans pouch (200G)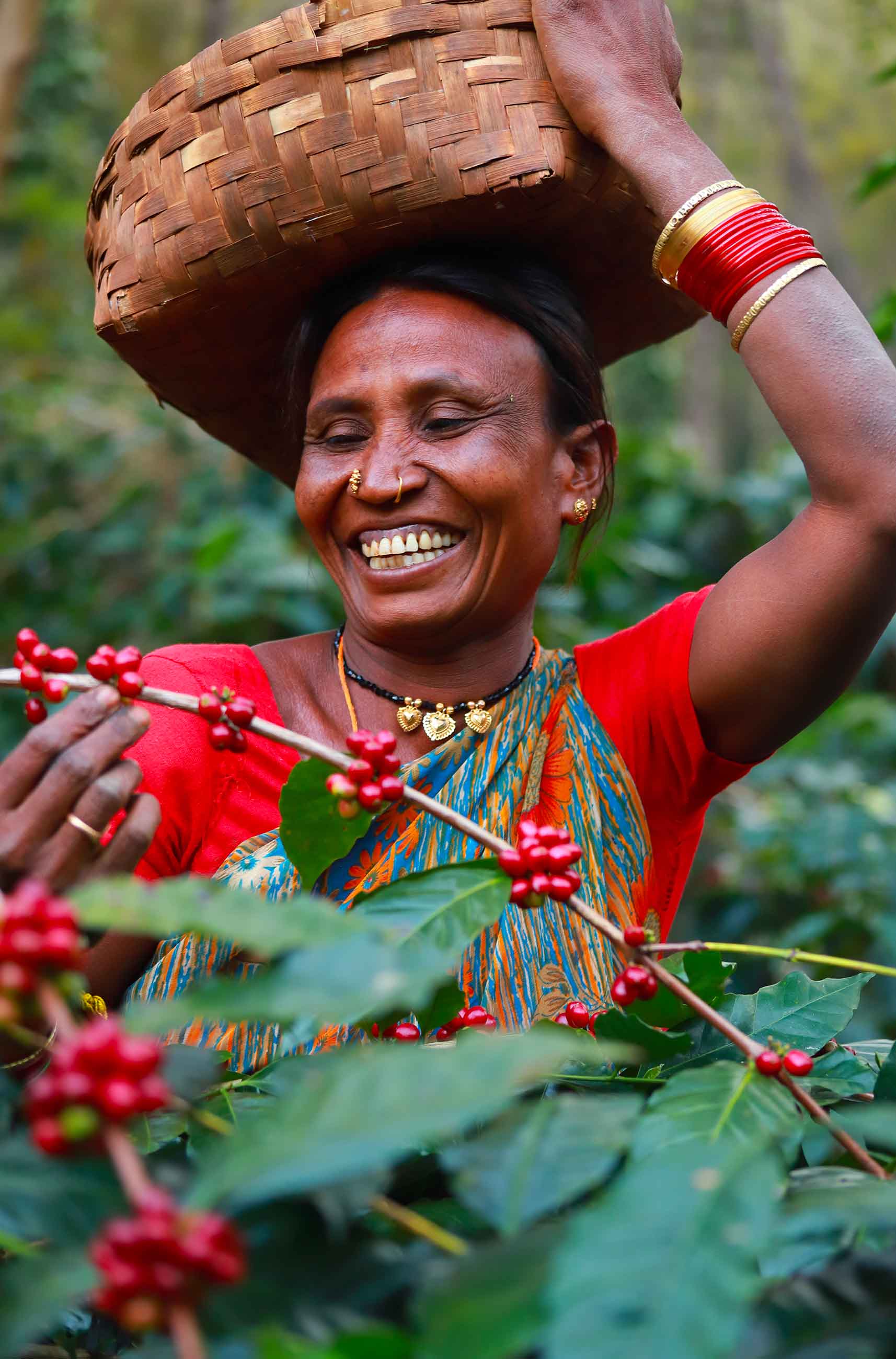 SUKURU VIJAYASHANTHI, Cheruvupakalu village
"I am much more fulfilled than before when I go to my organic coffee farms and produce organic coffee beans. The reason is simple: thanks to the organic fertilizations that we use on the plantation, the leaves sparkle and the fruits have a very beautiful reddish tint. In addition, on a financial level, the results are also positive, which contributes to my happiness."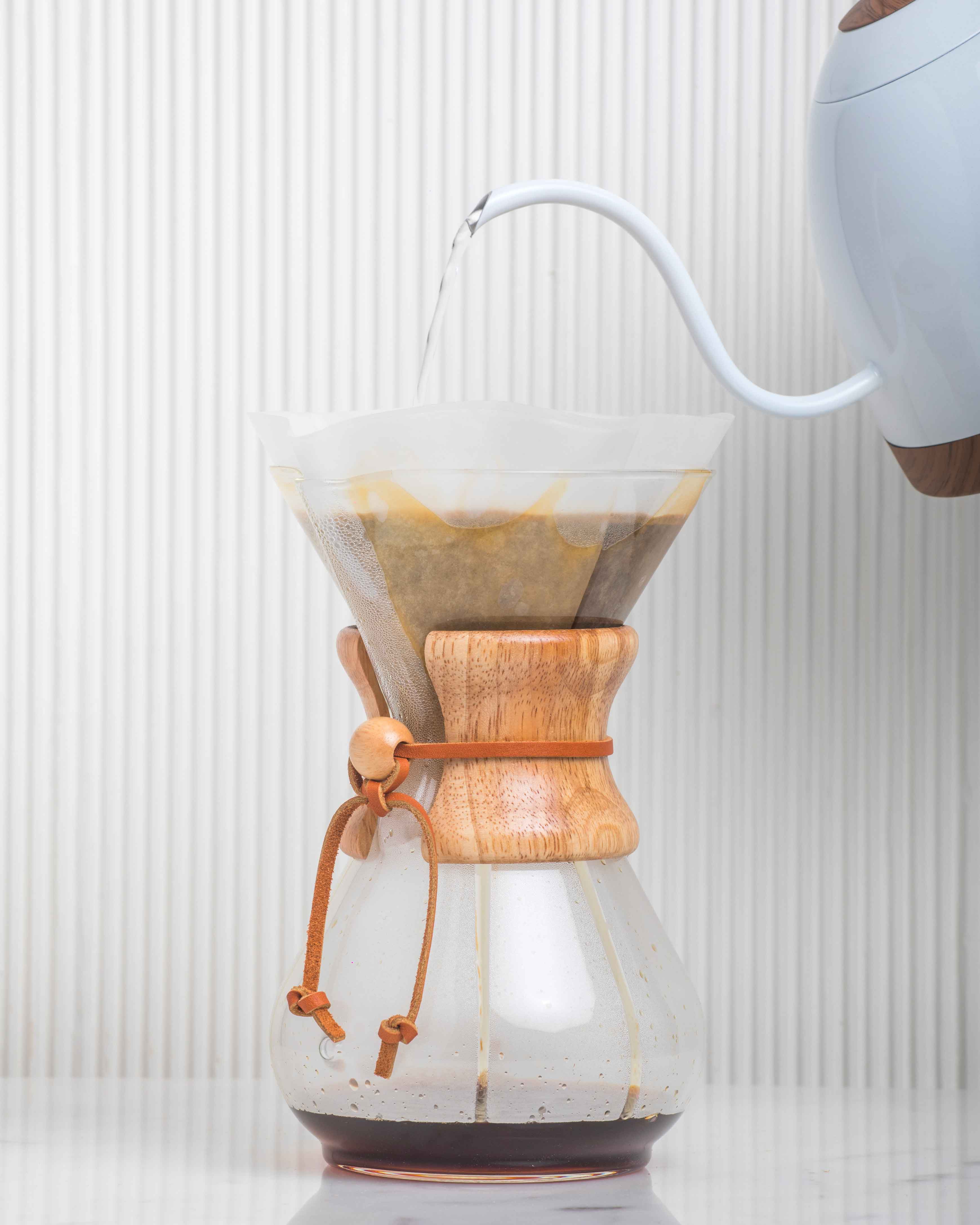 Prepare pure Arabica High Altitude coffee with Chemex
For preparation in Chemex with High Altitude pure arabica coffee, we recommend a coffee-water ratio of 1:10. For example, for 20g of previously ground coffee beans, add 200ml of water. Here is the method to follow to prepare a perfect Indian coffee:

1/ Fold the paper filter and place it in the Chemex coffee maker.
2/ Pre-wet the filter with hot water to eliminate unwanted aromas. Discard the water.
3/ Add the organic coffee beans, previously ground, to the filter.
4/ Pour the hot water (92-94°C) in three stages, starting with a "bloom" of 15-20 seconds.
5/ Pour the rest of the water in a spiral, from the center to the edge of the filter.
6/ Remove the filter and enjoy your pure Arabica coffee.
Lightly roasted, High Altitude specialty coffee unfolds all its aromatic complexity when given the necessary time to infuse. So opt for a gentle method such as V60, which favors a longer infusion time. The unique hazelnut notes of this organic High Altitude coffee bean will be highlighted by the gentle method (or slow coffee), for a specialty coffee that is always fresh.
In order to prepare a specialty coffee that is always fresh and continue to enjoy its intense and balanced aromas over time, it is necessary to adopt a few actions that will allow your coffee beans not to lose their strengths.
To preserve the quality of your High Altitude specialty coffee beans, follow these simple tips: use an airtight container for storage, protect from direct sunlight and excessive heat. Also avoid humidity and do not place your pure organic arabica coffee in the refrigerator.
We offer High Altitude specialty coffee only in beans. 200g in tin or pouch, prepare your High Altitude coffee as you wish to satisfy the specialty coffee lover in you.