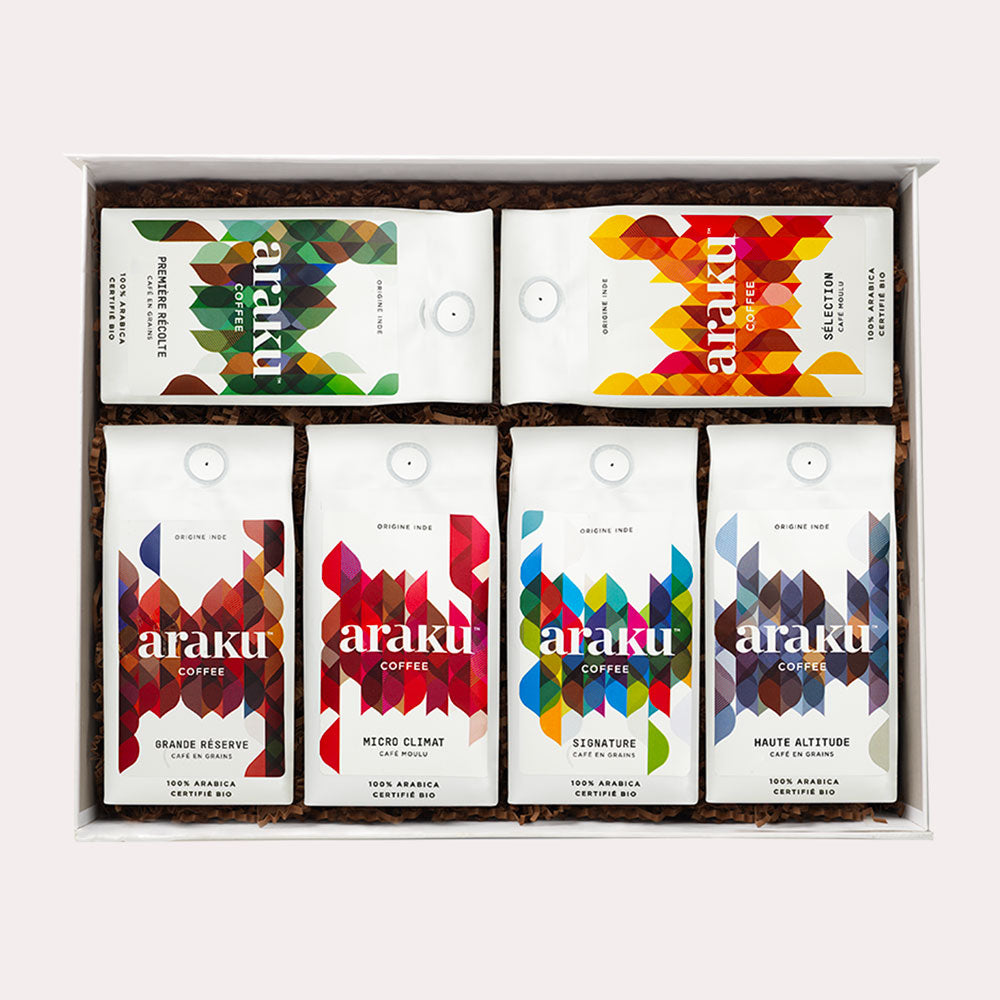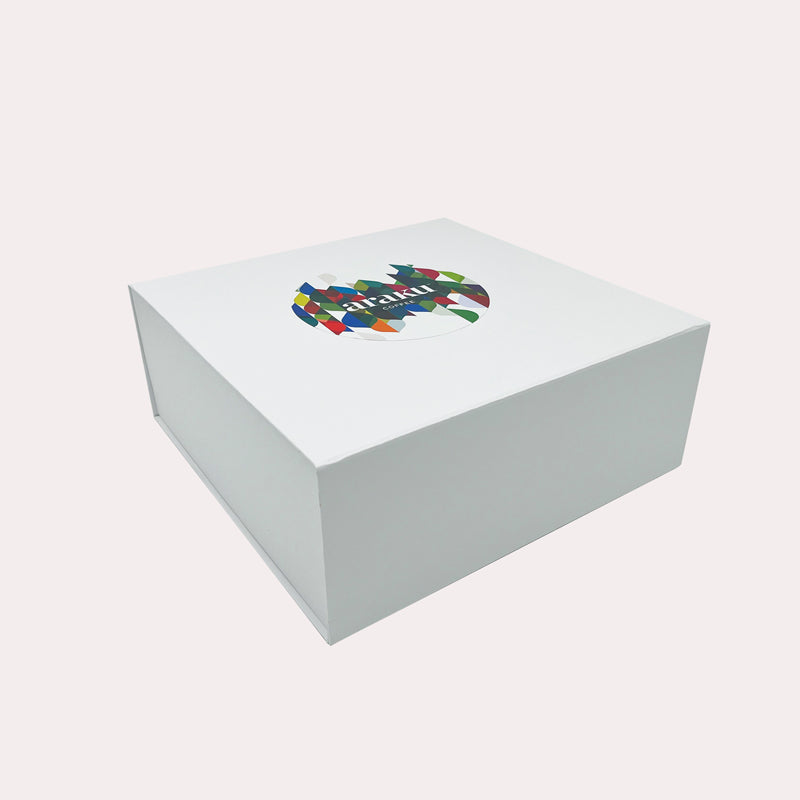 Red Earth Coffee Beans - 200G Pouch
Coffee box bringing together our 6 organic Indian specialty coffee terroirs. Only available in 200g pouches of coffee beans.
Araku in Adivasis language (tribal community living in the heart of the Araku highlands) means "Red Earth". Distinctive geological feature of this region of India where some of the world's best specialty coffees are produced. Discover our 6 terroirs in this coffee box. 6 pouches of 200g organic specialty coffee beans. Each terroir of the Araku plantation expresses a unique character, this box is made for coffee lovers wishing to discover all the subtleties of specialty coffee.
Signature Coffee: Notes of chocolate, green pepper and vegetal.
Selection Coffee: Notes of caramel, butter and dark chocolate.
Grand Reserve Coffee: Complex notes of yellow and red fruits, caramel, vanilla and leather.
Micro Climate Coffee: Almost candied red fruit and a touch of bitterness
High Altitude Coffee: Notes: Great finesse and marked hazelnut notes
Early Harvest Coffee: Notes: Red fruits, lemon and vegetal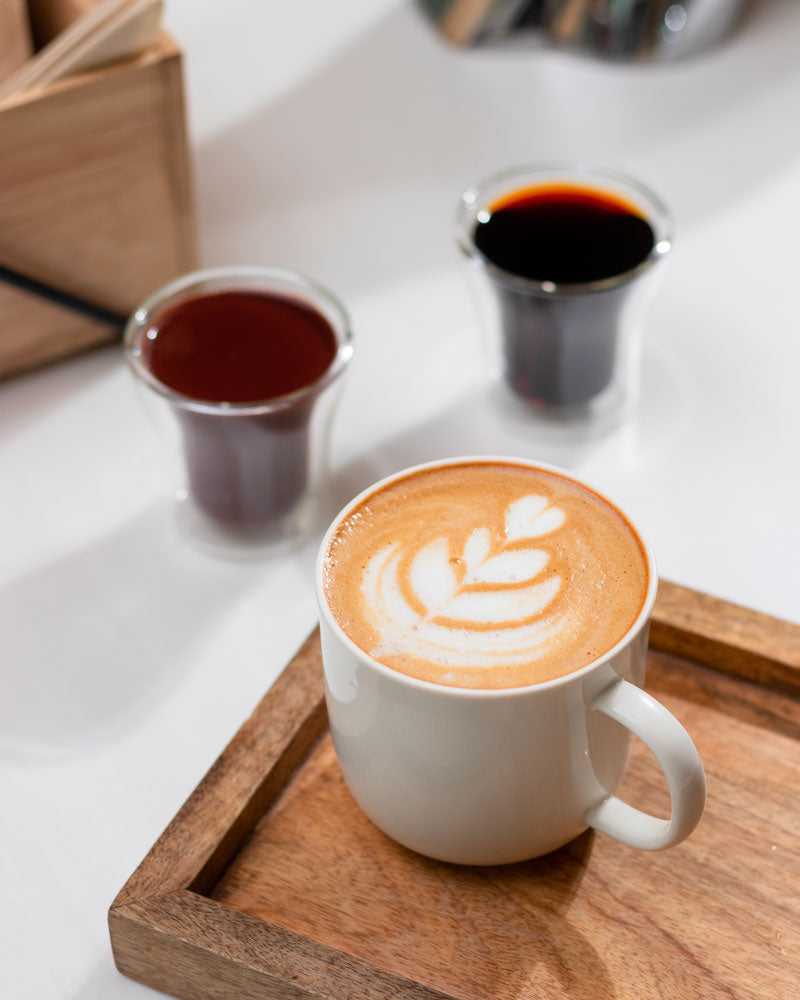 Specialty coffee: the best coffee in the world
All Araku coffees are specialty coffees. That is to say that they have been rated at least more than 80/100 according to strict criteria set up by the SCA (Speciality Coffee Association), an independent organization attesting to the exceptional quality of certain coffees. Thus the Signature organic coffee obtained a score of +86, the Selection of +86.5, the Grand Reserve of +88.5, the Micro-Climate of +87, the Early Harvest of +87 and the High Altitude of + 87.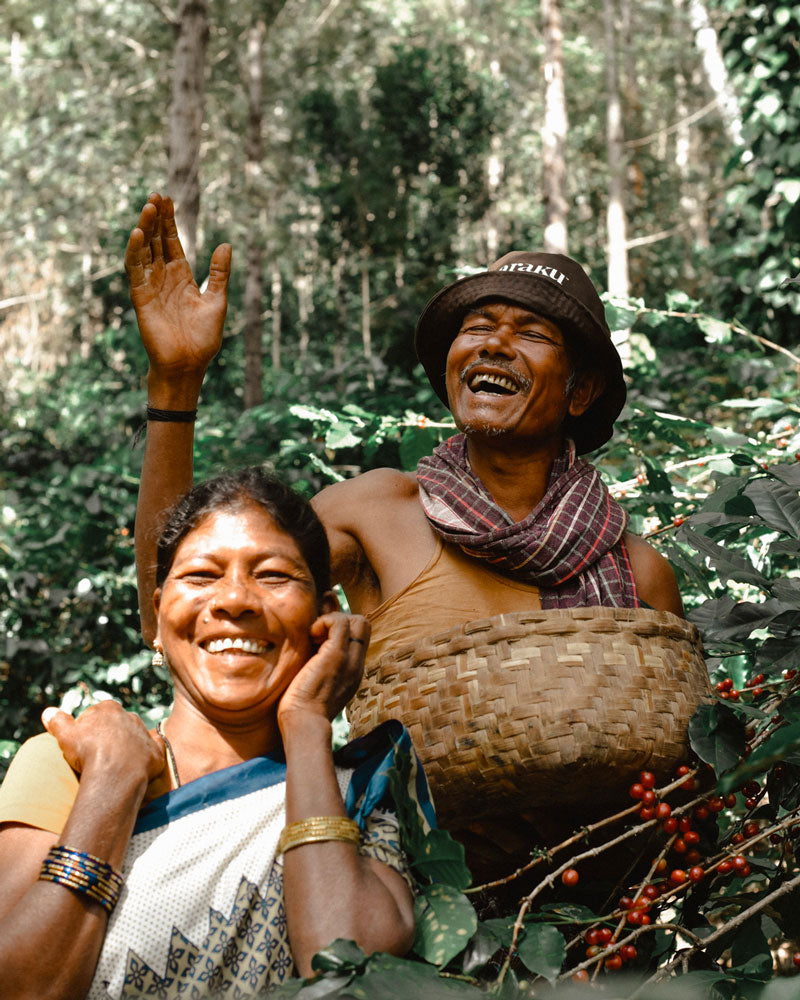 A fair trade coffee that respects people and the earth
Our commitment is to produce organic, sustainable and eco-friendly coffee in the heart of the Araku highlands, India. By practicing agroforestry, we preserve biodiversity and promote harmonious coexistence between different ecosystems. All our specialty coffee plots are grown according to the principles of organic farming, without the use of pesticides, chemical fertilizers or GMOs. They are certified by independent organizations, which guarantees their quality and compliance with organic standards. We adopt sustainable coffee growing practices, using natural methods to prevent diseases and pests. Our dual organic and fair trade certification demonstrates our dedication to producers and the environment.
India's specialty coffee is known worldwide for its exceptional quality, smoothness and balance. The country benefits from climate, humidity, soil and biodiversity conducive to coffee cultivation. Our organic coffee comes from the Araku highlands, a region located in the heart of the Eastern Ghats mountain range overlooking the Bay of Bengal.
When preparing specialty coffee, it is important to adjust your manual coffee grinder according to the preparation method you choose. For slow brewing methods like the French press or sous vide coffee maker, it is best to grind your organic coffee beans coarsely. On the other hand, for filtration methods like paper or metal filters, or percolators, a medium grind is recommended. If you choose pressure-based brewing methods like espresso or automatic espresso machines, you need to finely grind your organic coffee beans.
We offer 2 delivery methods. Standard home delivery (3 to 4 working days) and click & collect in our store 14 rue de Bretagne (75003).