The Chemex 8-Cup Drip Coffee Maker is famous for its harmonious balance of art and science. Thanks to its gentle infusion method, the Chemex slow coffee maker allows for homogeneous extraction which enhances the delicate aromas of your filter coffee. Every sip is a true pleasure as Chemex beautifully retains the unique flavors and nuances of each specialty coffee. For the complete experience, use Chemex paper filters specially designed for this filter coffee maker. You can find them in our online store.
Type of coffee machine: Chemex filter coffee maker
Materials: glass and natural wood
Capacity: 1L (8 cups of filter coffee)
Filters not provided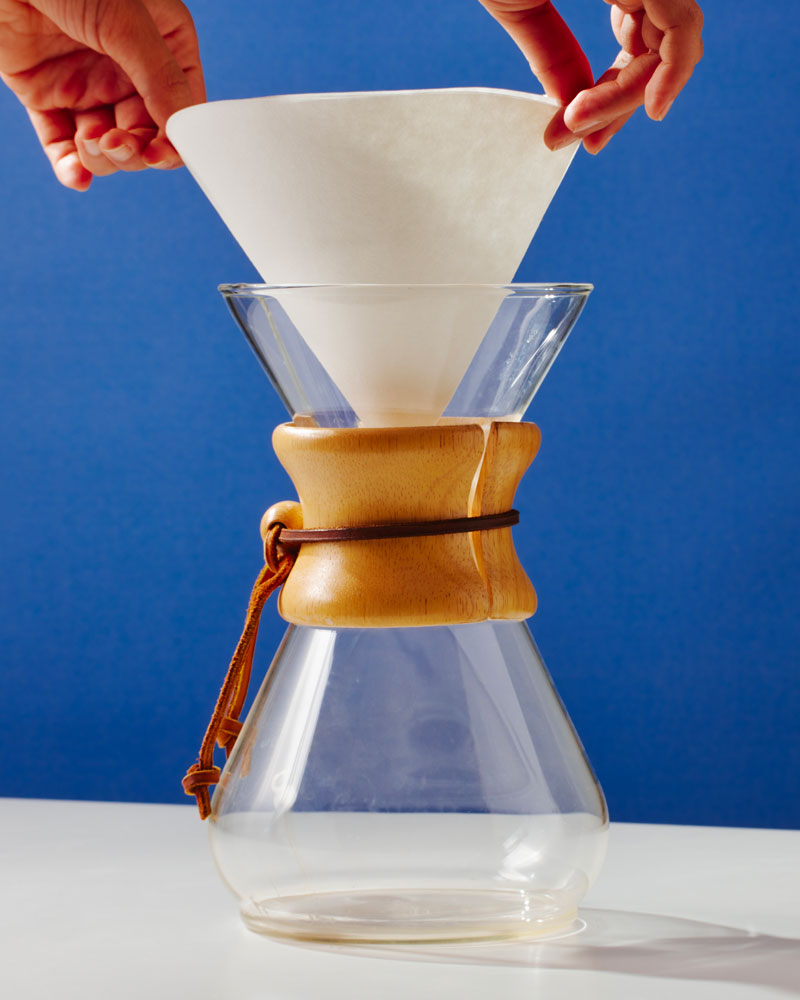 Chemex 8-cup filter coffee maker: The grind to use
When brewing coffee in a Chemex 8-Cup Drip Coffee Maker, the ideal grind should be medium to coarse. It is important to choose a grind that is coarser than that used for espresso, but finer than that used for light brewing methods like cold brew. If the grind is too fine, it risks clogging the paper filter of the Chemex 8-cup coffee maker, while a grind that is too coarse can result in bland coffee. For balanced and optimal extraction, it is therefore advisable to find a compromise between these two extremes in order to allow the Chemex 8-cup filter coffee maker to best diffuse the aromas of your coffee.
The Chemex 8-cup coffee maker
The Chemex 8-Cup Coffee Maker, invented in 1941 by eccentric chemist Dr. Peter Schlumbohm, is ideal if you like to enjoy a clear cup full of sweetness and nuance. This Chemex glass filter coffee maker is both easy to use and very beautiful. Its carafe, inspired by the Bauhaus movement, is made from non-porous materials, which allows it not to alter the taste of the coffee. Today, its hourglass shape and distinctive collar have become iconic in American design history.
The Chemex drip coffee maker uses a full immersion brewing method, where the water and coffee are in constant contact for the duration of the brew. This results in a smoother, rounder coffee in terms of flavors and aromas. In contrast, V60 is a percolation brewing method, where water passes through the coffee in a more rapid and direct manner. This results in a brighter, clearer coffee, with emphasis on the specific notes and flavors of the coffee.
Paper filters specially designed for the Chemex filter coffee maker are best suited to this method of coffee preparation. The filters specific to the Chemex 8-cup coffee maker are thicker than standard filters, which helps retain fine particles, oils and unwanted sediment, while preserving the natural aromas and flavors of the coffee. They play a crucial role in achieving a clear, clean brew. Chemex filters are also biodegradable, making them environmentally friendly. You can find them separately on our site.
After using your Chemex 8-cup filter coffee maker, first remove and throw away the used filter. Next, rinse the Chemex 8-Cup Coffee Maker with hot water to remove all coffee residue. To remove any stains or deposits, you can use a soft brush for gentle cleaning. Avoid the use of soap or detergents, as they may alter the natural flavors of your favorite coffee. Once rinsed, let the Chemex 8-cup filter coffee maker dry upside down on a rack in the open air to prevent mold from forming. To preserve the beauty of the wooden neck of your Chemex coffee maker, handle it with care and protect it from water.