The quality of coffee filter paper is paramount in preparing a delicious cup of specialty coffee. Thanks to their composition, these V60 Hario natural paper coffee filters allow you to fully extract all the flavors and aromas of your freshly ground coffee beans. In addition, they are biodegradable, thus contributing to the preservation of the environment. Before brewing your coffee, it is recommended to rinse the coffee filter with boiling water to remove any unwanted aromas that may be present in the paper. Compatible with the V60, these size 1 filters are perfectly suited to 01 drippers.
Coffee filter for dripper V60 T1
FSC certified natural paper
Conical shape perfectly adapted to the shape of the dripper to obtain homogeneous and balanced filtration
Suitable for preparations of 1 to 4 cups
Packaging: 100 units
Advantages of preparing filter coffee in V60
The V60 is a gentle extraction method (slow coffee) which allows total control of the extraction process: you can thus adjust the coffee grind, the water flow and the infusion time to obtain a coffee to your liking. taste. The V60 coffee maker's V-shaped cone and internal grooves allow for uniform and efficient extraction of coffee flavors. Hot water is poured in a spiral over the ground coffee, allowing for even extraction of flavors.
Furthermore, preparing filter coffee with a V60 is often considered a soothing and aesthetic ritual. The deliberate gestures involved in the process, such as precise pouring of water, can be a pleasant and relaxing experience. Long live slow coffee!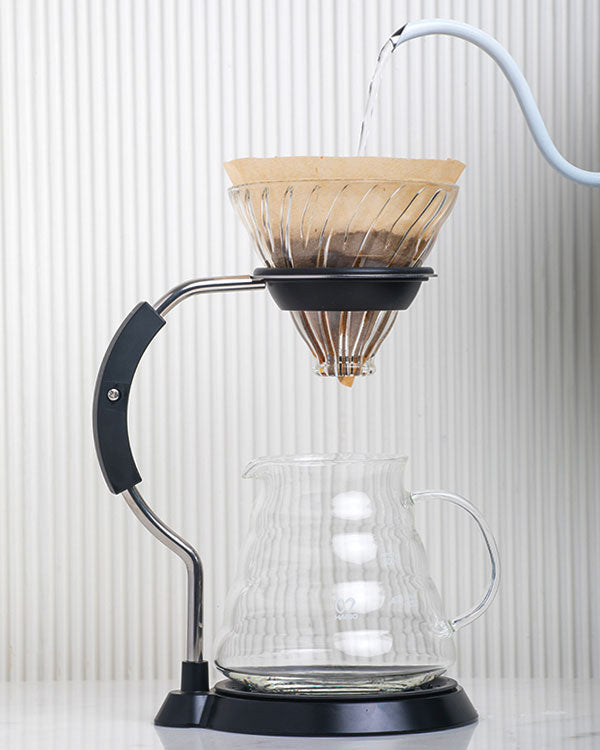 The V60 is a conical portafilter, manufactured by the Japanese company Hario. The letter "V" refers to the V shape of the cone, and the number "60" refers to the angle of the walls of the cone, which is 60 degrees. Thus, the term "V60" specifically refers to this type of conical portafilter used for brewing coffee.
Yes, there are different formats of V60 depending on the size of the filter holder and the capacity of the preparation. It is important to choose the V60 format according to your needs and the quantity of coffee you want to prepare. Smaller formats are generally more suitable for individual preparation, while larger formats are suitable for the needs of several people.
Per box, there are 100 V60 size 1 coffee filters.