Grand Reserve Coffee Beans - 1KG Pouch
Our pure Arabica coffee beans : a specialty grand cru coffee with the perfect balance between roundness and intensity. Complex notes of yellow and red fruits, caramel, vanilla and leather.
Recommended preparation methods :

1KG POUCH OF PREMIUM ORGANIC COFFEE BEANS
Perfect balance between roundness and intensity, the Grand Reserve specialty pure arabica coffee is Araku's grand cru. From the best plots, this exceptional Indian coffee is roasted with precision to bring out its complex notes of caramel, vanilla, yellow and red fruits and leather. This natural balance makes it a grand cru specialty coffee perfectly suited to all preparation methods.
If you are a big fan of pure Arabica coffee, you will be delighted by this coffee beans packaged in a one kilo airtight bag !
Notes : yellow and red fruits, caramel, vanilla and leather.
Process : 50% natural / 50% washed coffee
Roast : Medium
Variety : Pure Arabica coffee
Origin : Coffee India
SCA score : Grand cru specialty coffee beans +88.5
Label : Organic coffee / Fair trade coffee
Altitude : +1200 meters
Harvest : 100% Manual
Agroforestry : Cultivated under diversified shade (silver oaks, mango trees, jackfruit trees, pepper trees)
Packaging : Coffee beans pouch (1kg)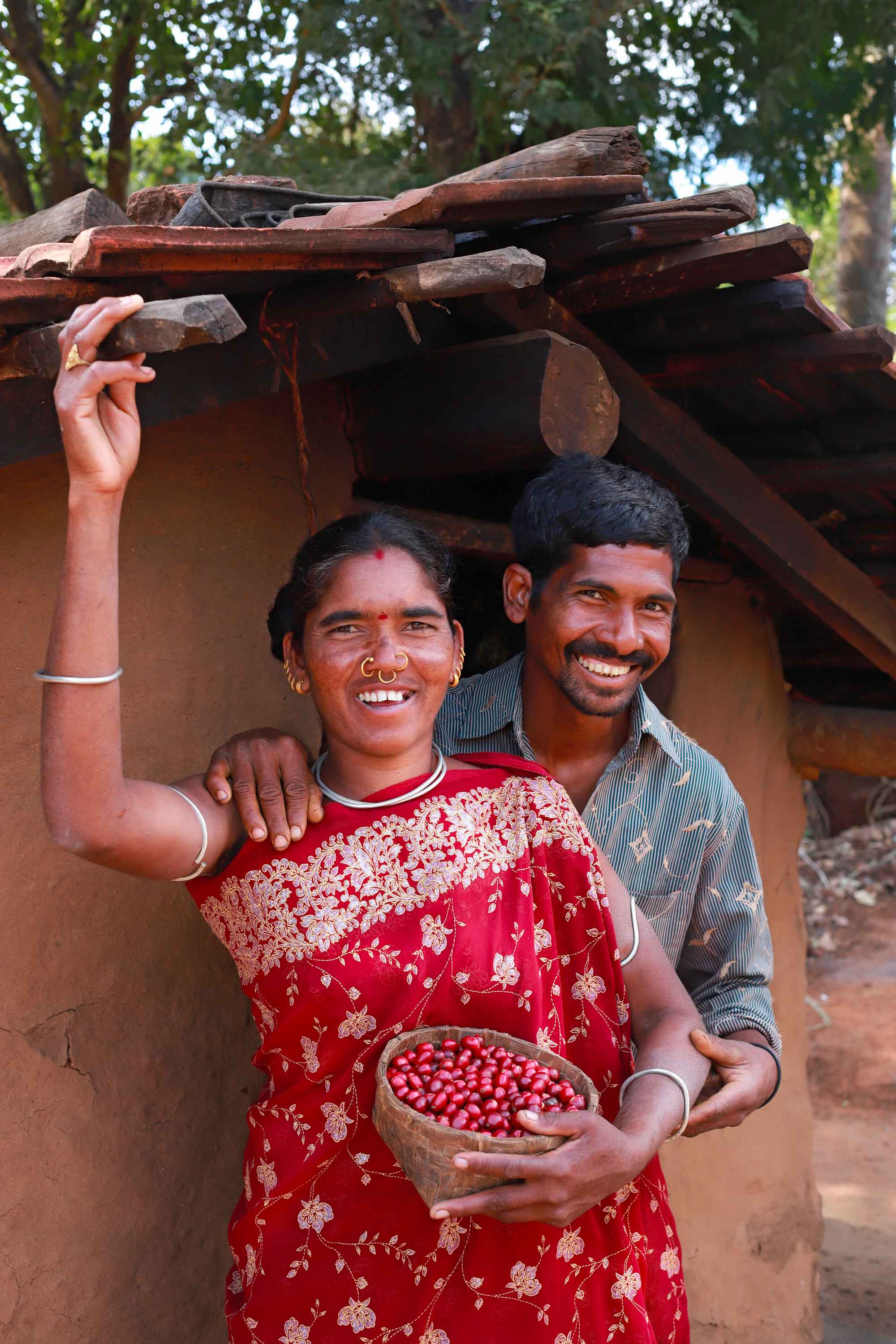 GULLELA THIRUPATHI, village of Kabada Bodaput
"I am really proud that my pure organic Arabica coffee has been selected for the prestigious Grande Réserve, a renowned grand cru. I am fully and passionately involved in the maintenance of my plot and my organic coffee beans. By cultivating according to the principles of organic farming, my specialty grand cru coffee benefits from high health quality and exceptional aromatic flavor, while preserving the environment in an exemplary manner.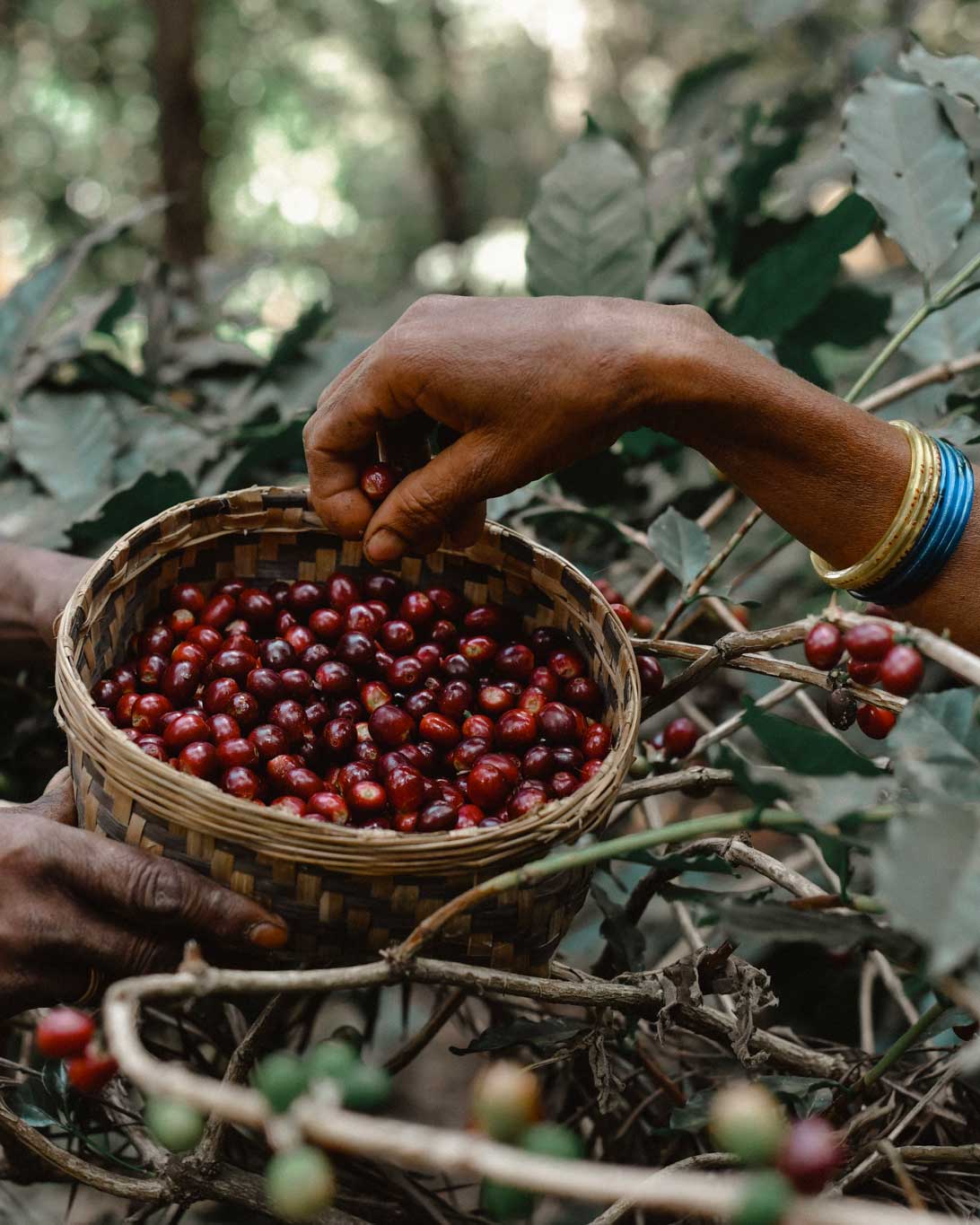 Café d'Inde Grand Reserve : the specialty grand cru coffee
Grand Reserve Indian coffee is a grand cru specialty coffee. With a tasting score of +88/100 awarded by the SCA (Speciality Coffee Association), our Indian coffee is one of the best coffees in the world. In addition to its aromatic complexity, this organic coffee bean is also recognized for its organic and sustainable production method. Indeed, the labeled Grande Réserve range is a range of fair trade coffee. Produced in limited quantities, this pure Arabica coffee is the pinnacle of excellence in the Araku Valley.
For a specialty coffee to be considered as such, it must be evaluated and ranked according to criteria established by the Specialty Coffee Association (SCA).
Here are some key elements that allow this designation :
- Taste quality
- Provenance and origin
- Cultivation and treatment
- Roasting and preparation
By combining these criteria, evaluators and professionals determine whether a coffee deserves to be called specialty coffee. A specialty coffee must score above 80 on a 100-point scale assigned by a certified coffee taster (SCAA) or approved Q Grader (CQI). At Araku Coffee, all of our specialty coffees have a rating above 85.
Our Grande Réserve 1kg bag of coffee beans obtained a score of 88.5/100, so it is considered a grand cru specialty coffee.
To prepare your specialty grand cru coffee, you must start by grinding your coffee into organic beans. Depending on the preparation, it is essential to adjust your manual coffee grinder according to the preparation method you are using. For slow brewing, such as with a French press or vacuum coffee maker, you will need to grind your coffee with organic beans to obtain a coarse grind. For filtration methods, such as paper filters, metal filters, or percolators, opt for a medium grind. On the other hand, for pressure preparation methods, such as espresso, we recommend grinding your coffee with organic beans to obtain a fine grind.
Grand Reserve organic specialty coffee is available in different formats to suit your consumption method :
- Organic coffee beans. Available in two formats : in a 200G tin and in a 1kg or 200G pouch of coffee beans
- Organic ground coffee : in 200G tin and 200G pouch