Selection Coffee Beans - 1KG Pouche
Round and powerful specialty coffee beans for lovers of strong espresso. Notes of caramel, butter and dark chocolate.
Recommended preparation methods:

1KG POUCH OF DEEP, GENEROUS AND FULL-BODIED ORGANIC COFFEE BEANS
The strongest specialty coffee in our range due to its roasting profile, Sélection Arabica coffee beans combine power and roundness with a slight hint of bitterness. Its aromas of butter, caramel and dark chocolate make it a specialty coffee perfectly suited to espresso and Italian coffee methods. This exceptional coffee grown biodynamically comes from carefully selected plots in the Araku highlands in India. For true connoisseurs, this coffee bean is presented in an airtight 1KG pouch, thus guaranteeing its freshness and exceptional aroma!
Notes: Aromas of caramel, butter and dark chocolate.
Process: 35% natural / 65% washed coffee
Roasting: Strong
Variety: Pure Arabica coffee
Origin: Indian Coffee
SCA Score: Specialty Coffee +86.5
Label: Organic coffee / Fair trade coffee
Altitude: +1000 meters
Harvest: 100% Manual
Agroforestry: Cultivated under diversified shade, with a majority of silver oaks intertwined with pepper trees
Packaging: Coffee beans pouch (1kg)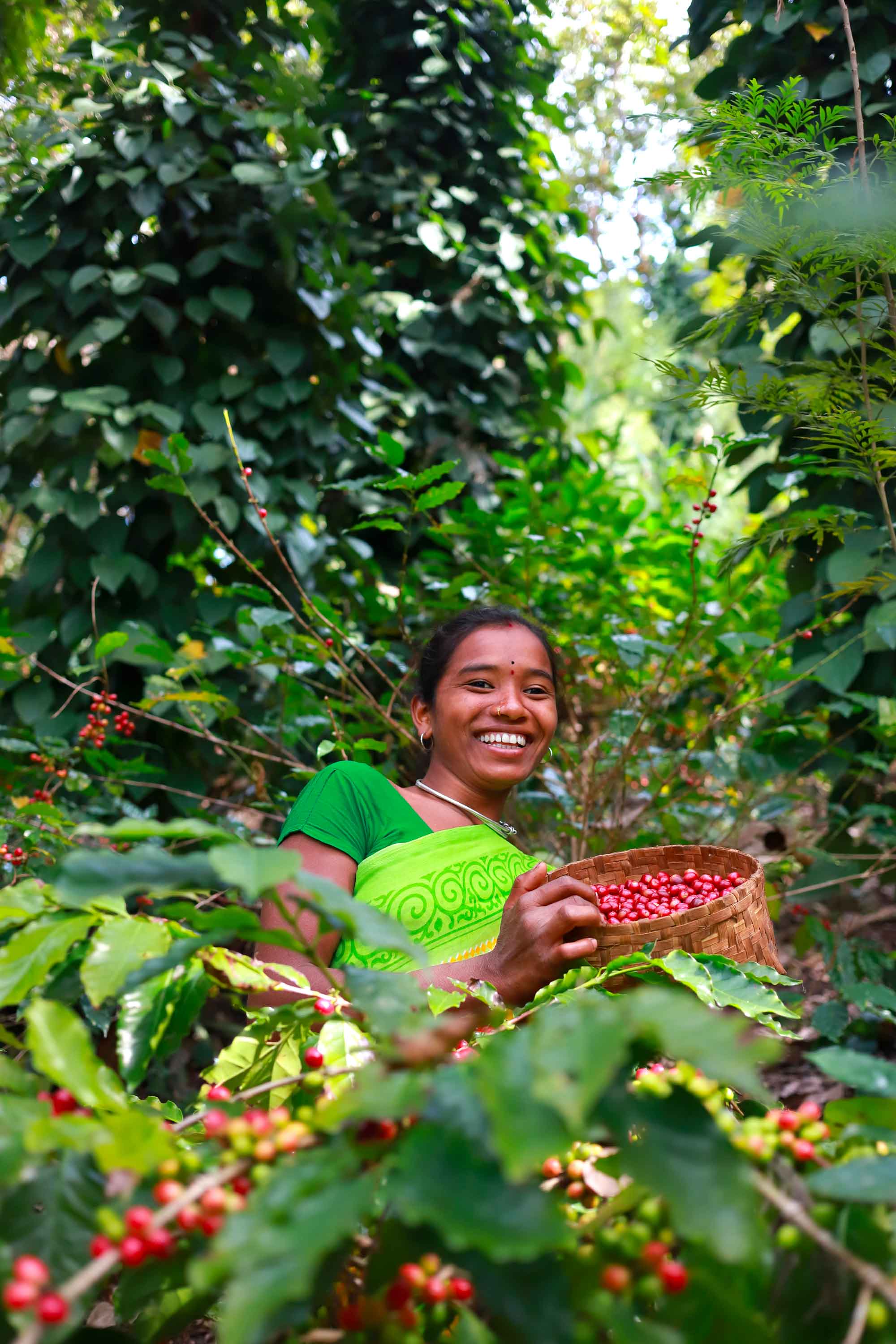 VANTHALA family, village of Kabada Bodaput
At the heart of their plot, this couple of producers of pure organic arabica coffee devotes attention to every detail. Thanks to adequate mulching and flourishing biodiversity, favored by soil rich in humus, the plot radiates vitality. This meticulous attention helps preserve the health of the coffee trees, which have never shown any trace of disease. This couple's reputation and unrivaled expertise in shade management and careful pruning of coffee trees sets them among the best in the field of organic coffee bean planting and production.
Prepare your espresso properly with our Selection coffee beans
Espresso involves passing hot water under high pressure through finely ground coffee, producing a highly concentrated coffee drink with a deep flavor. Sélection specialty coffee is perfect for this method. To make espresso, you will need an espresso machine, a bag of finely ground Arabica coffee beans, filtered water and a kitchen scale. We recommend starting with a ratio of 18g of coffee per cup. You can then experiment to find the perfect ratio according to your preferences.
All arabica coffee plots in the Araku highlands were analyzed and measured to classify them according to common criteria. Thanks to this study, we identified 6 distinct terroirs based on sunshine, soil quality, altitude and vegetation. The Selection organic coffee plantations are distinguished by their sunshine and their soil rich in humus making the coffee cherries particularly sweet and concentrated, which gives an exceptional coffee.
To prepare espresso coffee, it is recommended to use a fine to medium grind. The grind of coffee beans should be fine enough to allow optimal extraction of the aromas of pure Arabica coffee, but not so fine as to cause over-extraction or block the passage of water. A fine grind ensures a short extraction time and a more concentrated brew, which gives espresso coffee its rich, full-bodied character.
Offering different options, Indian Selection coffee adapts to your preferences. At Araku, you can find pouches of coffee beans or ground in 200G and 1kg or in the form of a 200G tin. In addition, our Nespresso biodegradable compatible coffee capsules are available in boxes of 10, 100 or individually.