Find your favorite Signature organic coffee and its balanced notes of chocolate and pepper in a single coffee capsule version. 100% plant-based, the coffee capsules are biodegradable, aluminum-free and compatible with Nespresso machines (except Vertuo). Biodegradable and compostable, our Signature organic coffee capsules are made from organic waste like corn starch and potato starch. The 100% Arabica coffee capsules are "Home Compost" certified and decompose in 20 weeks under domestic conditions, whether in your composter or in an organic waste bin. Sold individually, Signature organic coffee capsules are ideal for tasting the aromas of our specialty coffees and choosing your favorite. This will ensure you are sure of your choice the next time you order Araku Indian coffee.
Notes : Aromas of chocolate, green pepper and vegetal.
Process : 100% washed coffee
Roast : Medium
Variety : 100% Arabica Coffee
Origin : Coffee India
SCA Score : Specialty Coffee Beans +86
Label : Organic coffee / Fair trade coffee
Altitude : +1000 meters
Harvest : 100% Manual
Agroforestry : Cultivated under the shade of silver oaks intertwined with pepper trees
Packaging : Nespresso compatible biodegradable coffee capsules individually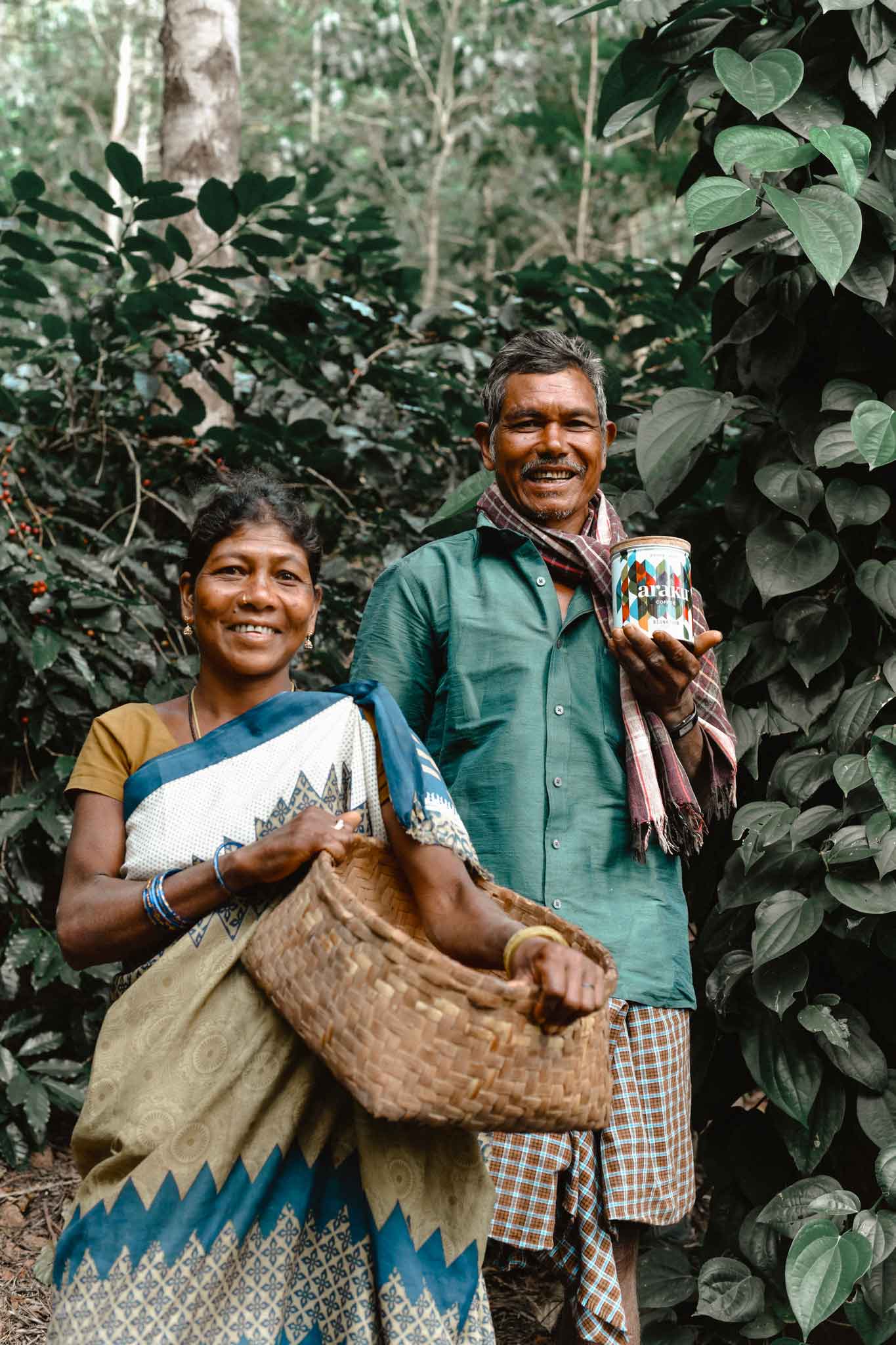 BOYI SIMHADRI, village of Ganjaiguda
"Before working with the cooperative, our biggest challenge was not receiving a fair price for our specialty coffee. Thanks to our partnership with the cooperative, we managed to triple the selling price of our organic coffee , while delegating the process of transforming the cherries into green coffee beans to the cooperative. This collaboration allowed us to generate sufficient profits to build a new, more comfortable house for our family."

At Araku Coffee, we are firmly committed to creating a sustainable environment by paying our farmers fairly.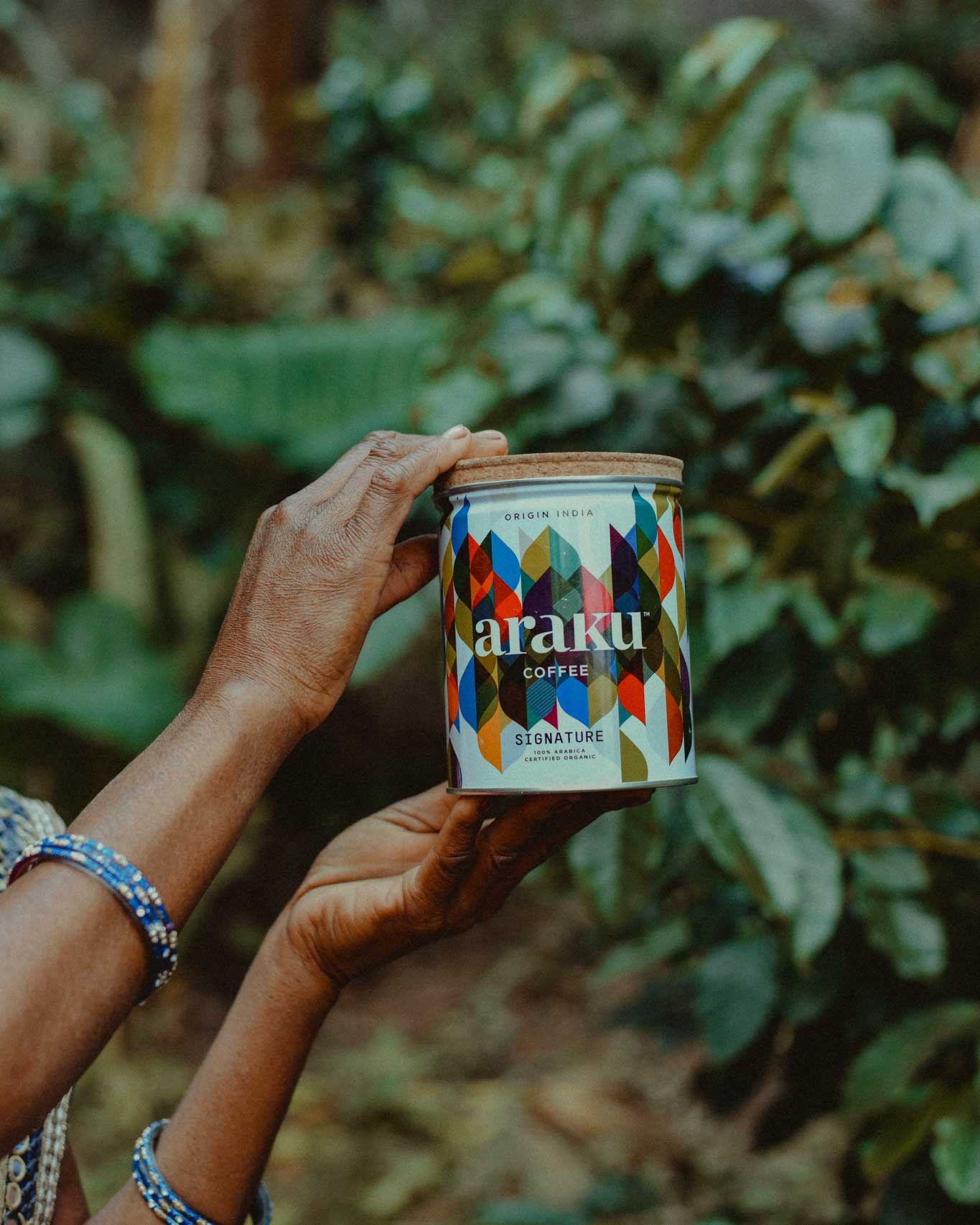 Recyclable and biodegradable coffee capsule
Made from biodegradable materials such as corn starch, potato starch and other organic components, our coffee capsules are recyclable and biodegradable. You can easily begin recycling your Signature specialty coffee capsules. When you have finished your Organic Signature Coffee, simply throw the coffee capsule into your home compost. Without aluminum, the biodegradable coffee capsule will decompose naturally, thus contributing to the preservation of the environment. If you don't have a composter at home, you can also place them in the organic waste bin or at a green waste collection point.
Signature coffee is 100% Arabica coffee grown in India according to the principles of biodynamic and regenerative agriculture. To be certified specialty coffee, a coffee must obtain a minimum score of 80/100. Our Signature organic coffee has a tasting score of 86/100 awarded by the SCA (Speciality Coffee Association), so it is considered a specialty coffee.
Signature organic coffee capsules are compatible with Nespresso machines, with the exception of the Vertuo range. You can enjoy our Signature specialty coffee at home or at work with a Nespresso machine.
We offer different options for Signature specialty coffee, whether beans or ground, you can find them in 200G cans, as well as 200G and 1kg sachets. In addition, our range of coffee capsules compatible with Nespresso, fully compostable, is available in boxes of 10, 100 or individually. 100% plant-based, our organic, aluminum-free and biodegradable coffee capsules always offer you fresh coffee to take anywhere.