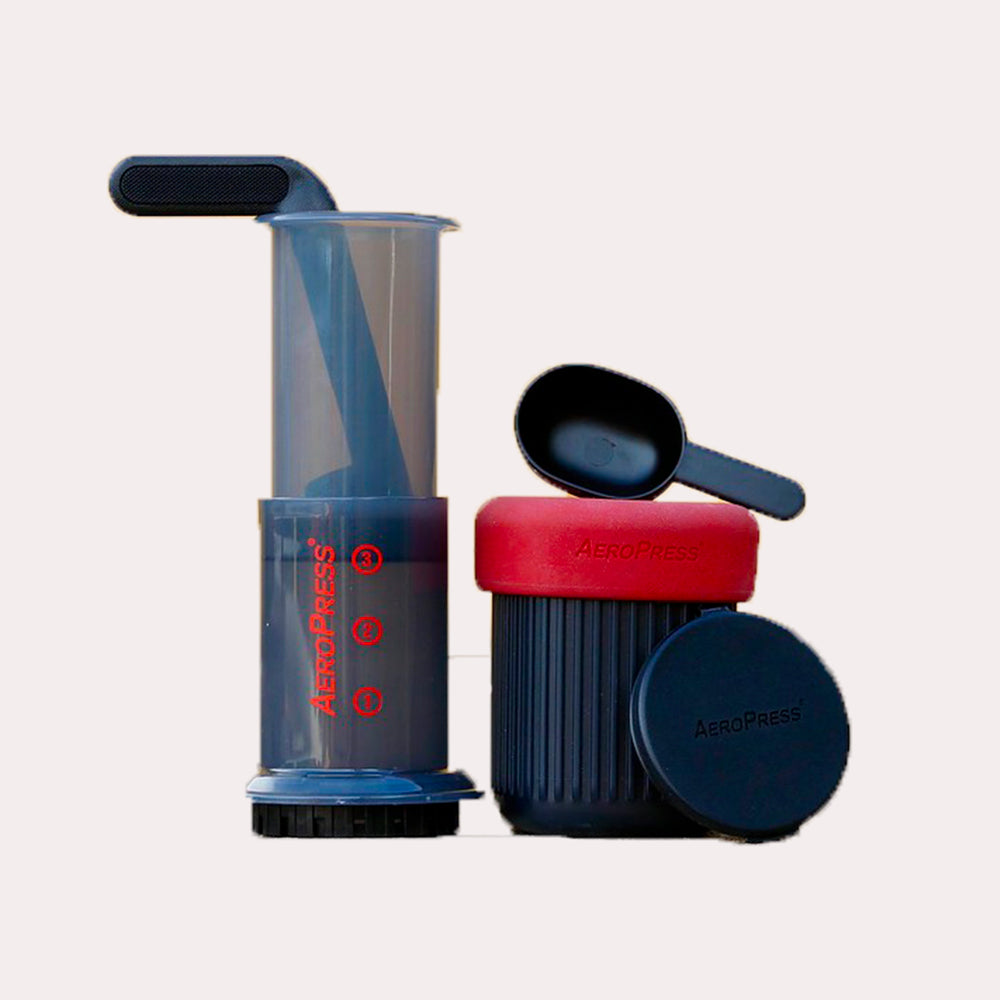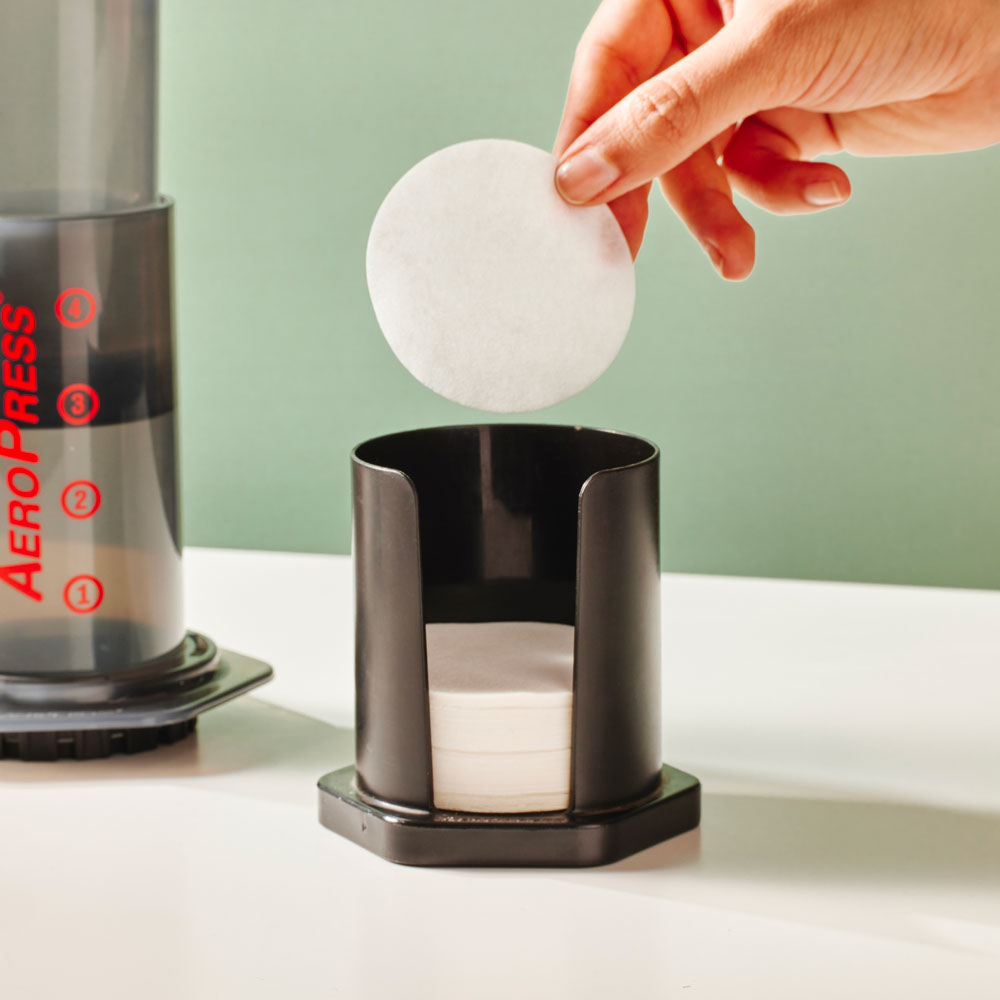 Aeropress GO
The Aéropress Go is the ideal portable coffee maker for specialty coffee lovers.
The compact version of the Aeropress coffee machine is designed especially for traveling espresso lovers! With this manual coffee maker, easily prepare rich, smooth and bitter-free specialty coffees in record time: 1 to 3 cups in just a few moments. Its ingenious system allows you to enjoy quick and easy cleaning. You can experiment with several different types of coffee between espresso, latte, Americano and iced coffee. To accompany your adventures, the AEROPRESS GO portable coffee maker comes with a carrying case and 350 micro-filters.
Type of coffee machine: Portable coffee maker
Capacity: 237 ml (1 to 3 espresso cups)
Weight: 0.326 kg
Dimensions: L 12 cm x D 9 cm x H 9 cm (container and piston)
Maintenance: The manual coffee maker must be cleaned after each use.
Filter: 350 specific filters for AeroPress
Supplied with a measuring spoon (14g)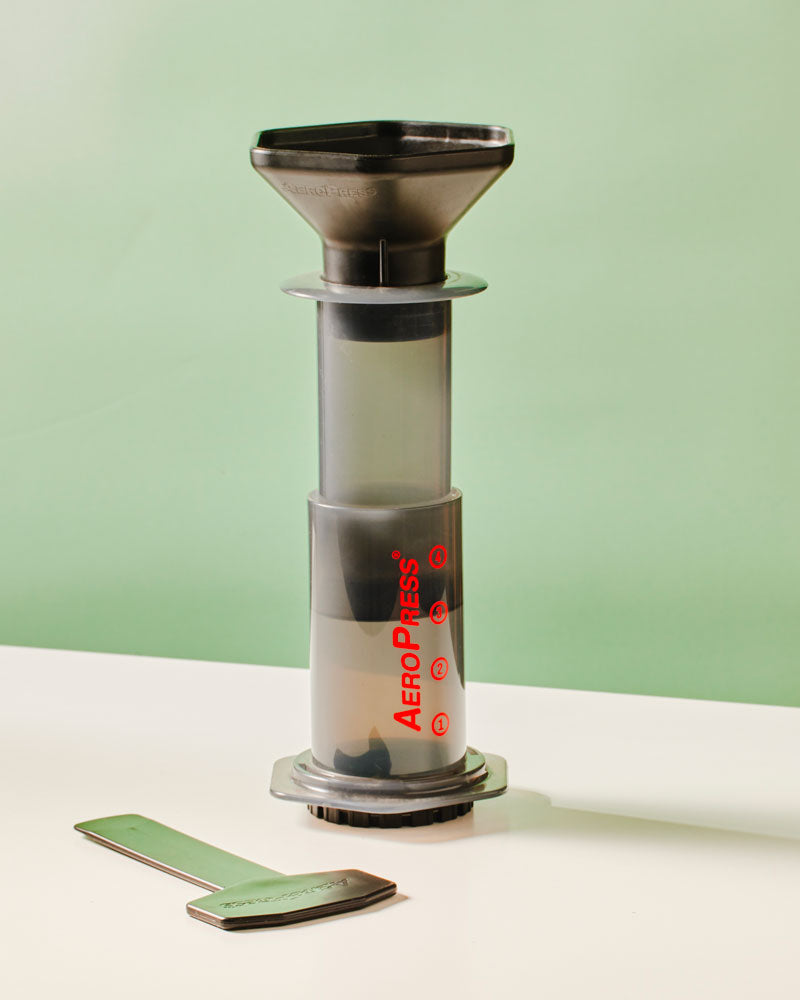 The history of the AeroPress manual coffee maker
The AeroPress coffee machine was invented in the United States by Alan Adler, a retired Stanford engineering professor. Adler began developing his portable coffee maker in 2004, intending to reduce the acidity and bitterness of his daily cup of coffee. His invention was a dazzling success, attracting specialty coffee aficionados around the world.
Make your coffee a success with the Aeropress portable coffee maker
To make your espresso, we recommend starting with a coffee-water ratio of 1:13, i.e. 18g of coffee to 230ml of water. You can use our Aéropress Go portable coffee maker in two ways, vertically or upside down to brew. Here is our recipe for vertical use:

Place the paper filter in the filter basket and rinse it with hot water.
Place 18g of ground coffee in the AeroPress chamber.
Pour half the amount of hot water (92-94°C) to cover the ground coffee and wait a minute.
Stir the wet grains three times, pour in the remaining water and wait 3 minutes.
Finally, insert the plunger and press gently until the extraction is complete.

Pro tip: add 10ml of water directly to your cup of coffee to further express its aroma and flavor.
The inverted method simply involves repeating the preparation steps of the vertical method... backwards. Obviously remembering to put the Aeropress back in the right place to extract the coffee. This method generally offers greater control over infusion time and allows for slower and more precise extraction. This can influence the cup rendering of your favorite specialty coffee.
One of the particularities of the AeroPress manual coffee machine is that it is very versatile. So you can prepare it with any Araku specialty coffee. Concerning the grinding, it is recommended to grind the coffee beans fine, similar to the texture of table salt. You can of course adjust these settings according to your preferences.
To maintain your AeroPress GO portable coffee maker, clean it after each use by rinsing the parts with hot water and occasionally use a cleaning solution. Store your manual coffee maker in a dry place, remember to replace the filters each time you use it.