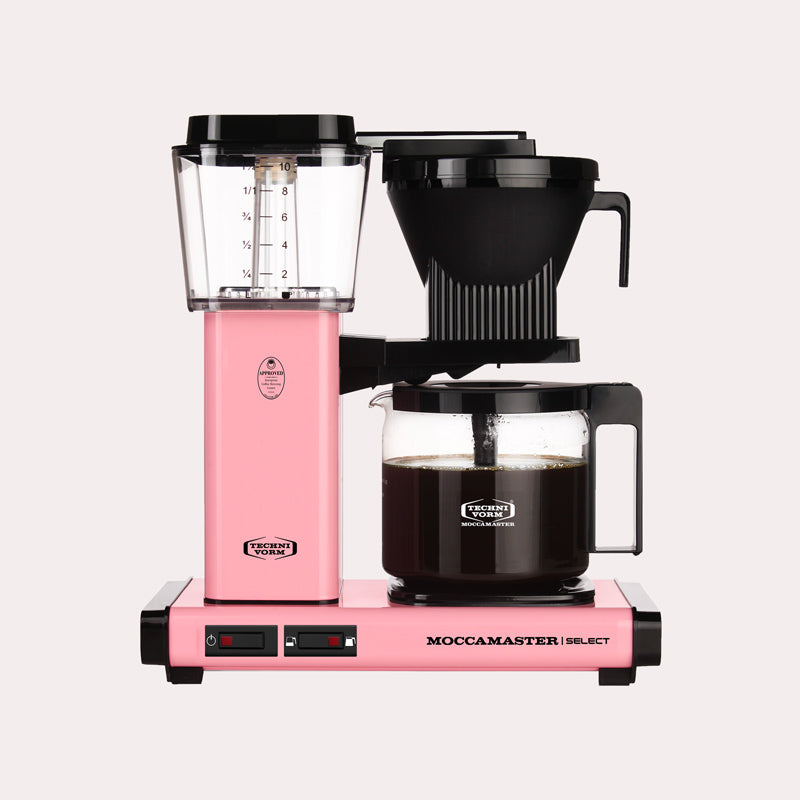 Moccamaster KBG Select Pastel Green
An ideal filter coffee maker for slow coffee that combines artisanal quality with optimal performance.
The pastel green Moccamaster KBG Select filter coffee machine, handmade in the Netherlands, is much more than just an electric filter coffee maker. Its retro and minimalist design with only two buttons makes it intuitive to use. You can choose between full or half carafe mode. The heating plates at the base of the drip coffee maker automatically adjust the temperature to keep your drip coffee hot for 40 minutes. Brew up to 1.25 liters of filter coffee in just 6 minutes. The Moccamaster KBG Select pastel green filter coffee maker guarantees optimal aroma extraction thanks to an ideal water temperature between 92°C and 96°C and a balanced contact time of 5.5 minutes. The jug is equipped with an ingenious self-stirring lid for even coffee brewing.
Type of coffee machine: Filter coffee maker
Materials: plastic, glass, stainless steel
Capacity: 1.25L (up to 10 cups of filter coffee)
Power: 1450W
Dimensions: L32 cm x D17 cm x H36 cm
Weight: 3.2kg
Automatic shutdown: yes
Color: Pastel Green
Accessories included: glass carafe, filter holder, paper filters
Maintenance: removable and washable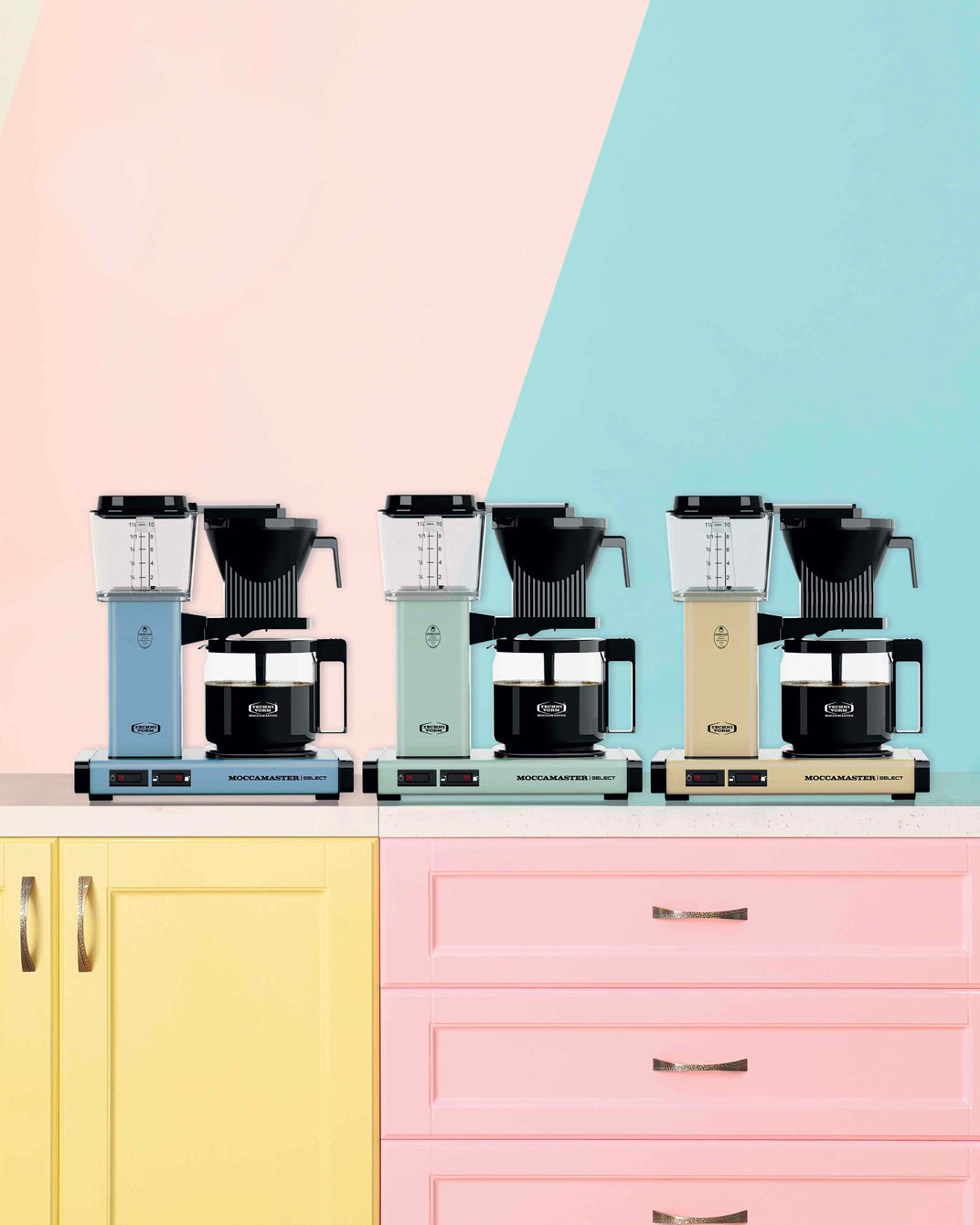 Designer filter coffee maker: which coffee to choose for a filter coffee?
Opt for specialty coffee: Look for high-quality coffees from producers who focus on the unique flavors and taste experience of coffee.

Choose the right roast: For filter coffee, light to medium roasts are generally recommended. They help preserve delicate aromas and obtain a cup with balanced flavors.

Prioritize freshness: Make sure you buy whole bean or freshly roasted coffee.

Choose a fine to medium grind: The grind of your coffee is of crucial importance in order to get the most out of the extraction.

Choose a filter coffee maker that guarantees a quality infusion and retains all the aromas of your favorite filter coffee.

By following these tips, you will be able to select a freshly ground specialty coffee, with a roast adapted to your preferences.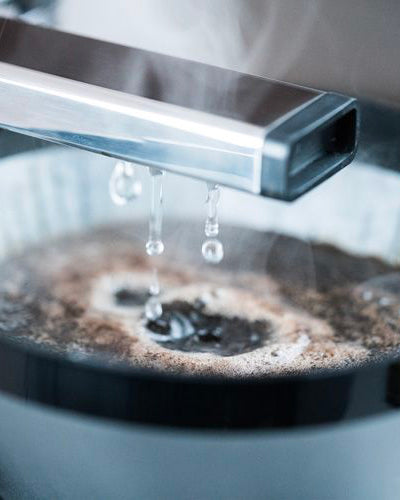 Moccamaster KBG Select Pastel Green: the preparation steps
The success of a filter coffee with the Moccamaster KBG Select Pastel Green filter coffee maker is based on a few essential steps:

Choosing your favorite specialty coffee
Grind coffee with a fine to medium size
Adapt the quantity of coffee to prepare: coffee/water ratio of 1 for 15 or 60 grams for 1 liter
Fill the tank of your filter coffee maker with water
Wet the filter to get rid of unwanted aromas
Place the filter in the Pastel Green coffee maker and distribute the ground coffee evenly
Press the button and let the magic happen
With its capacity of 1.25L of filter coffee, the Moccamaster KBG Select Vert Pastel filter coffee machine can prepare between 2 and 10 cups of filter coffee.
The extraction time of the Moccamaster KBG Select Pastel Green filter coffee maker is exactly 5 minutes 30s. A precision that allows a balanced infusion to enhance all the aromas of your specialty coffee.
In order to keep your filter coffee maker in good condition for as long as possible, here are our recommendations:
Clean the exterior of the filter coffee machine regularly with a damp cloth.
- After each use, clean the jug, the thermos and the filter holder by hand with a mild detergent.
- Do not put any liquid on the Moccamaster KBG Select Pastel Green filter coffee machine.
- Do not put the glass jug in a dishwasher.
- Cleaning the inside of the filter coffee maker is recommended twice a week.
- To ensure that your designer filter coffee maker always performs well, descale it regularly if you cannot use filtered water"