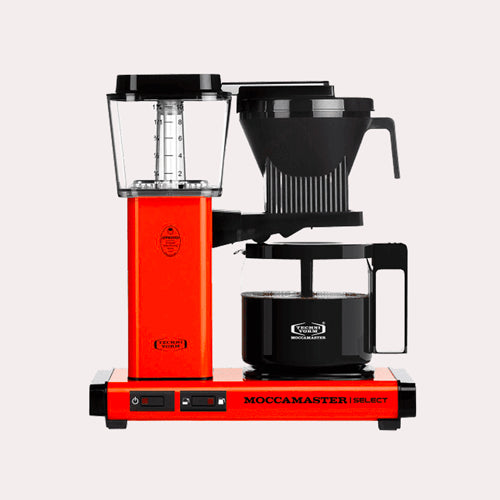 Moccamaster KBG Select Orange
This Moccamaster Orange filter coffee maker combines quality craftsmanship and professional performance
The orange Moccamaster KBG select is an exceptional filter coffee maker, entirely handmade in the Netherlands. Its refined and minimalist aesthetic offers you a unique experience. It brews a large batch of specialty coffee in just 6 minutes and keeps it hot for 40 minutes with its warming plates. The Moccamaster KBG Select filter coffee maker in orange guarantees ideal aroma extraction thanks to a water temperature oscillating between 92°C and 96°C, and an infusion time of 5.5 minutes. The jug is equipped with an ingenious self-stirring lid, ensuring a balanced concentration in each cup of filter coffee.
Type of coffee machine: Filter coffee maker
Materials: plastic, glass, stainless steel
Capacity: 1.25L (up to 10 cups of filter coffee)
Power: 1450W
Dimensions: L32 cm x D17 cm x H36 cm
Weight: 3.2Kg
Automatic shutdown: yes
Color: Orange
Accessories included: glass carafe, filter holder, paper filters
Maintenance: removable and washable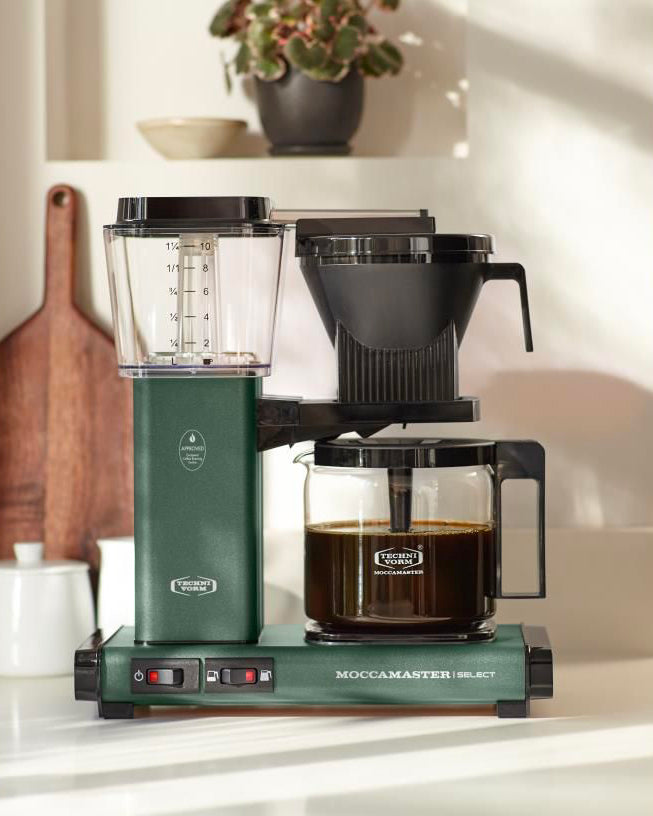 Electric Coffee Maker: The Best Way to Enjoy Specialty Coffee
In the world of specialty coffee, a craze has emerged in recent years around "slow coffee", in other words, the gentle method. A desire for a return to the original taste of coffee. And for this, filter coffee remains the infusion method allowing the deepest and most aromatic extraction. The Moccamaster KBG select coffee maker in Orange is the best filter coffee maker on the market today. It combines precise control of grind distribution, water temperature and brewing time, ensuring a richly flavored and perfectly brewed cup of coffee.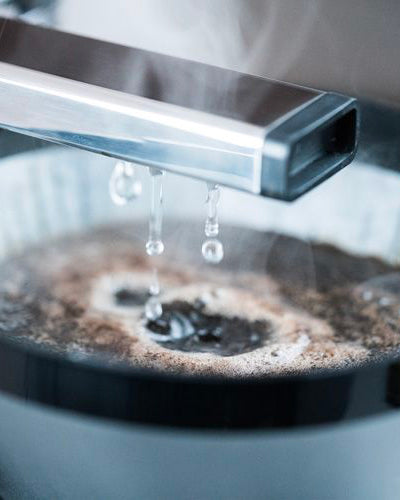 Moccamaster coffee maker vs classic filter coffee maker
The Moccamaster KBG select Orange coffee maker is the obvious choice for those looking for an exceptional filter coffee experience. It offers many reasons to prefer it. Precise infusion for perfect control of extraction time and temperature. Top quality construction with durable materials ensuring a long lifespan. Specialized certifications attesting to their compliance and performance. A designer, elegant and timeless filter coffee maker that seduces at first glance.
The key to filter coffee made with an electric coffee maker is the ideal grind, which is generally between fine and medium fine. This grind is halfway between that used for espresso and that used for mild methods such as Chemex or V60. By adjusting your grind to achieve this balance, you will achieve optimal extraction that will allow water to easily work its way through the coffee, resulting in a flavorful and balanced cup of filter coffee.
The Moccamaster KBG Select designer filter coffee maker in Orange features a smart warming plate system that keeps your coffee at the ideal temperature in its carafe for 40 minutes, allowing you to enjoy every sip of your filter coffee at your own pace.
Take care of your Moccamaster filter coffee maker by cleaning it regularly. Use a damp cloth to wipe the exterior of the drip coffee machine. After each use, clean the jug, the thermos and the filter holder by hand with a mild detergent. Avoid pouring liquids directly onto the filter coffee machine and do not put the glass jug in the dishwasher. To maintain the performance of your filter coffee machine, perform internal cleaning at least twice a week. In addition, it is essential to regularly descale your Moccamaster KBG Orange coffee maker to maintain its proper functioning.