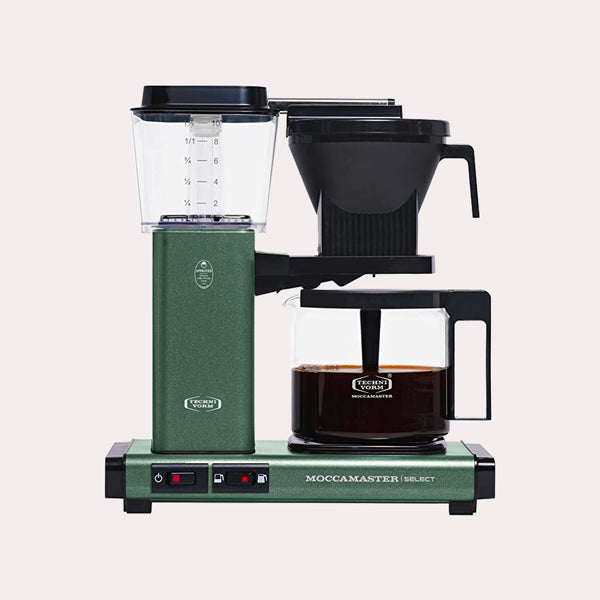 Moccamaster KBG Select Pine Green
This electric filter coffee maker perfectly combines quality craftsmanship and remarkable performance.
This pastel Pine Green filter coffee maker from the Moccamaster brand is entirely handmade in the Netherlands. Its minimalist design offers an intuitive experience. Easily select full or half carafe mode using a dedicated switch. The heating plates of the Moccamaster KBG Select Pine Green filter coffee maker automatically adjust the temperature to keep your specialty coffee hot for 40 minutes. In 6 minutes, prepare up to 1.25 liters of filter coffee. The Pine Green Moccamaster coffee maker ensures optimal aroma extraction thanks to a water temperature between 92°C and 96°C and an infusion time of 5.5 minutes. With its self-stirring lid, the jug guarantees optimal concentration in each cup of filter coffee.
Type of coffee machine: Filter coffee maker
Materials: plastic, glass, stainless steel
Capacity: 1.25L (up to 10 cups of filter coffee)
Power: 1450W
Dimensions: L32 cm x D17 cm x H36 cm
Weight: 3.2Kg
Automatic shutdown: yes
Color: Pine Green
Accessories included: glass carafe, filter holder, paper filters
Maintenance: removable and washable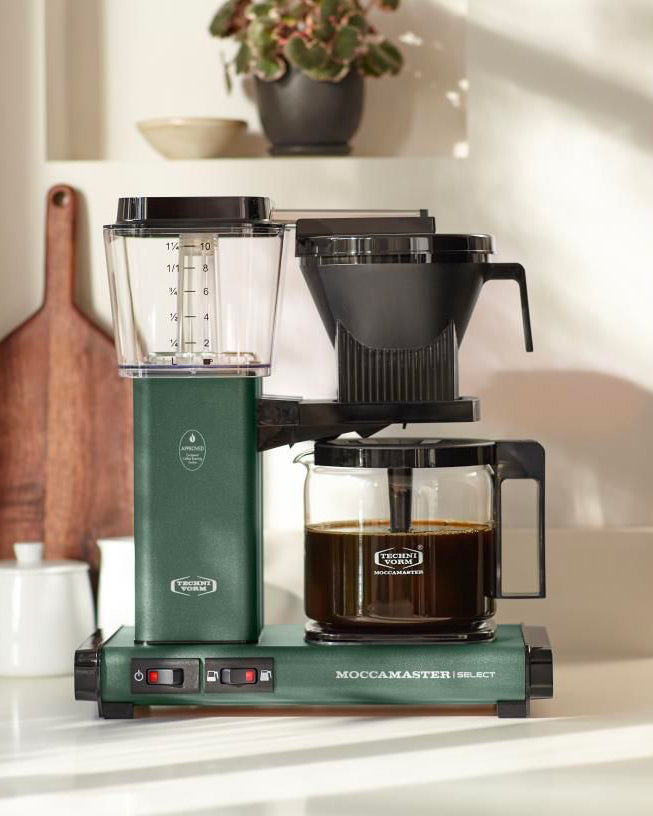 What grind for filter coffee?
To obtain perfect filter coffee, the ideal grind to add to your Moccamaster Pine Green electric filter coffee maker is generally between fine and medium fine. It must be coarser than the grind for espresso, but finer than that for gentle methods (Chemex, V60, etc.). This will give you a balanced extraction, allowing water to flow easily through the coffee without it being too dense or too light. Find the right balance to fully enjoy your favorite filter coffee.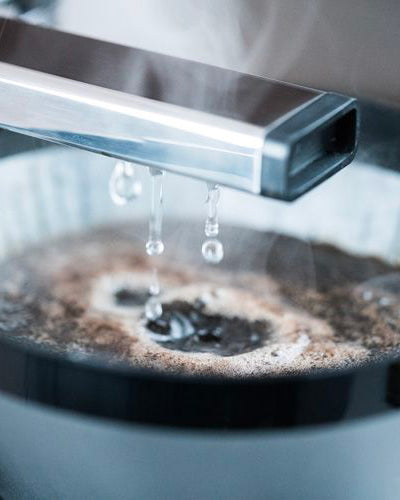 Moccamaster Pine Green coffee maker: The perfect dosage for a balanced filter coffee
The key to delicious coffee in an automatic drip coffee maker lies in the coffee-water ratio. Generally recommended between 1:15 and 1:17, this means 1 gram of ground coffee for 15 to 17 ml of water. So, to prepare 1 liter of filter coffee in your yellow Moccamaster coffee maker, you will need approximately 60 grams of freshly ground coffee. However, keep in mind that the perfect ratio may vary depending on your personal preferences for coffee strength and taste. Feel free to experiment with different proportions until you find the one that suits you best.
Yes, the Moccamaster KBG Select Pastel Pine Green coffee maker is an electric coffee maker. It requires being plugged into an outlet to work.
The Moccamaster KBG Select Pastel Pine Green filter coffee machine has a capacity of 1.25L which allows you to prepare 2 to 10 cups of filter coffee.
To ensure the proper functioning of your filter coffee machine, take the time to clean it regularly. Use a damp cloth to wipe the exterior of the designer filter coffee maker. After each use, wash the jug, thermos and filter holder by hand using a mild detergent. Avoid pouring liquids directly onto the electric filter coffee maker and do not put the glass jug in the dishwasher. In addition to cleaning the exterior, remember to clean the interior of the Moccamaster KBG Select Pine Green coffee maker at least twice a week. And don't forget to descale your machine regularly to maintain optimal performance.